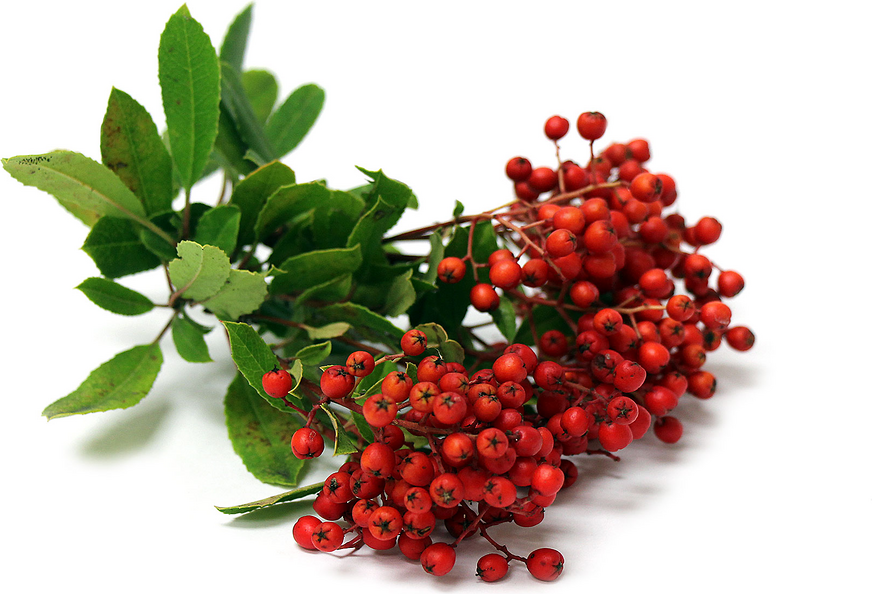 Christmas Berries (Toyon)
Inventory, lb : 0
Description/Taste
Christmas berries grow in large clusters of small fruits, averaging 5 to 10 millimeters in diameter, and have a round, oval, to oblate appearance. The fruit's skin is smooth, taut, semi-thin, and delicate, ripening from green to dark red, bright red, or yellow, depending on the variety. Underneath the surface, the pulp is dry, mealy, and ivory, encasing 3 to 6 brown seeds. Christmas berries have a neutral flavor with astringent, acidic, and tannic notes when raw, rendering the fruits unpalatable. Raw berries also contain cyanogenic glucosides, which are toxic when consumed in large quantities. When cooked, the poisonous compounds are dissipated, and the berries develop a sweet, tart, cherry-like taste. In addition to the berries, the dark green leaves are oblong, averaging 5 to 10 centimeters in length and 2 to 4 centimeters in diameter. The leaves have jagged, serrated edges and are leathery, covered in a waxy coating.
Seasons/Availability
Christmas berries are available in the late fall through winter.
Current Facts
Christmas berries, botanically classified as Heteromeles arbutifolia, are a type of pome fruit found on a perennial species belonging to the Rosaceae family. The brightly colored fruits develop in clusters on evergreen shrubs that typically reach 1 to 3 meters in height, sometimes reaching as high as 9 meters in wild optimal growing environments. Christmas berry shrubs are also fast-growing, with the capacity to extend over .9 meters each year. The species is native to California, where it is widely known as Toyon, a name derived from the Ohlone Native American tribe's name for the shrub, Tottcon. Though the fruits are commonly known as berries, Christmas berries are actually a type of palm fruit, meaning they contain a central core filled with several tiny seeds encased in edible flesh. When sliced in half, Christmas berries resemble little apples, and this likeness is due to both fruits being a part of the Rosaceae botanical family. In fact, the genus name, Heteromeles, is derived from the Greek words "heter," meaning "different," and "malus," meaning "apple." Christmas berries were named for their availability during the winter season, and the fruits were traditionally consumed by indigenous tribes in culinary and medicinal preparations throughout California. In the modern day, Christmas berries are rarely consumed raw due to their toxic elements, but cooked berries are safe to eat and are utilized by foragers in various culinary and beverage preparations. Christmas berries are also grown in home garden landscapes throughout California as an ornamental.
Nutritional Value
Christmas berries have not been studied for their nutritional properties. The berries contain cyanogenic glycoside, a chemical compound that releases hydrocyanic acid when digested. Hydrocyanic acid is toxic in large quantities and may lead to poisoning or death. It is important not to consume large amounts of raw Toyon berries and primarily eat cooked berries. Historically, indigenous tribes throughout California, specifically the Luiseno, Chumash, Kumeyaay, Cahuilla, Tongva, and Tataviam, used the leaves and berries in natural medicines. The leaves were traditionally steeped in boiling water to make a tea to soothe upset stomachs and regulate symptoms associated with menstruation. Leaves and bark were also made into an infusion and used as a wound wash and topical to reduce skin irritations. The berries were eaten to induce more saliva for better hydration.
Applications
Christmas berries are not consumed raw as they have an astringent, bitter, and unpalatable flavor. The berries also contain poisonous compounds when eaten in large quantities. Cooking the berries eliminates the toxic compounds, and adding sweeteners creates a palatable, sweet-tart, cherry-like flavor. Christmas berries are popularly simmered with sugar into jams and jellies, or they can be cooked into sauces for roasted meats. The berries can also be made into a filling and used in baked goods, custards, and other desserts. Try cooking and drying the berries into fruit leather as a unique snack. Christmas berries can also be dried and added to granola and baked goods, ground into powder, incorporated into smoothies, or sprinkled as a finishing spice and garnish. Among the indigenous tribes in California, Christmas berries were dried, ground into a powder, and added to handmade flat cakes and porridge. The berries were also cooked over a fire to remove their sour nature or mashed with water to create a tart, tangy drink. Beyond culinary preparations, Christmas berries are occasionally used to make homemade ciders and wines. The berries were also used for ornamental purposes, added to wreaths and centerpieces. Christmas berries were one of the few plants in California similar in appearance to English holly and were a common foraged décor for the holiday season. Christmas berries pair well with spices such as nutmeg, cinnamon, ginger, and cloves, sweeteners including agave, honey, maple syrup, and sugar, nuts such as almonds, walnuts, and pecans, and citrus zest. Whole, unwashed berries should be harvested, cooked, and immediately consumed for the best quality and flavor.
Ethnic/Cultural Info
Christmas berries are featured in several legends surrounding the origination of the name Hollywood in Los Angeles. The first legend states that Christmas berries, also known as California Holly, were found growing rampant across the Santa Monica Hills. The land was first purchased by real estate investor H.J. Whitley, also known as the "father of Hollywood." Whitley purchased 500 acres of land from E.C. Hurd in the late 19th century, and it was said there were canyons filled with California Holly, inspiring the name Hollywood. Intermixed with this legend is the rumor that Daeida Wilcox, the wife of wealthy prohibitionist Harvey H. Wilcox, who also owned 120 acres of land in the area in 1886, convinced her husband to name his new land Hollywood. It is said Daeida once spoke with a fellow traveler on a train ride back to Ohio, and the traveler owned an estate in Illinois known as Hollywood. Daeida was so taken with the name that she convinced Harvey to name their land Hollywood. In 1887, Harvey Wilcox subdivided his 120 acres of land and began selling it off in sections, and all of the sections were officially listed as a part of Hollywood on the county map. Despite the many myths and legends surrounding the origination of the name Hollywood, Christmas berries were an established plant of the region and were held in such high regard throughout history that they became the official plant of the City of Los Angeles on April 17th, 2012.
Geography/History
Christmas berries are native to the west coast of North America, found in Baja, California, California, and Southwestern Oregon, and have been growing wild for thousands of years. The shrubs are primarily found in coastal habitats and have also naturalized in inland chaparral woodlands and the Sierra foothills. Christmas berries thrive in partially shaded spots near irrigated areas, in canyons, along semi-dry, rocky slopes, and by creeks. The species was naturally spread through seed dispersal in animal excrement, and birds, bears, coyotes, and deer are all known to consume the leaves and berries. In the late 19th and early 20th centuries, Christmas berries were introduced commercially through horticulturist Theodore Payne, and in 1938, landscape architect Ralph Cornell extensively wrote about the species in his Conspicuous California Plants book. Today Christmas berries are still growing wild throughout their native region and are a commercial species utilized for urban landscapes and home gardens. In California, the shrubs are also planted as a fire-retardant species alongside houses and as hedges. Christmas berries are not a common crop in farmer's markets and are primarily a foraged ornamental and home-used culinary ingredient.
Recipe Ideas
Recipes that include Christmas Berries (Toyon). One

is easiest, three is harder.