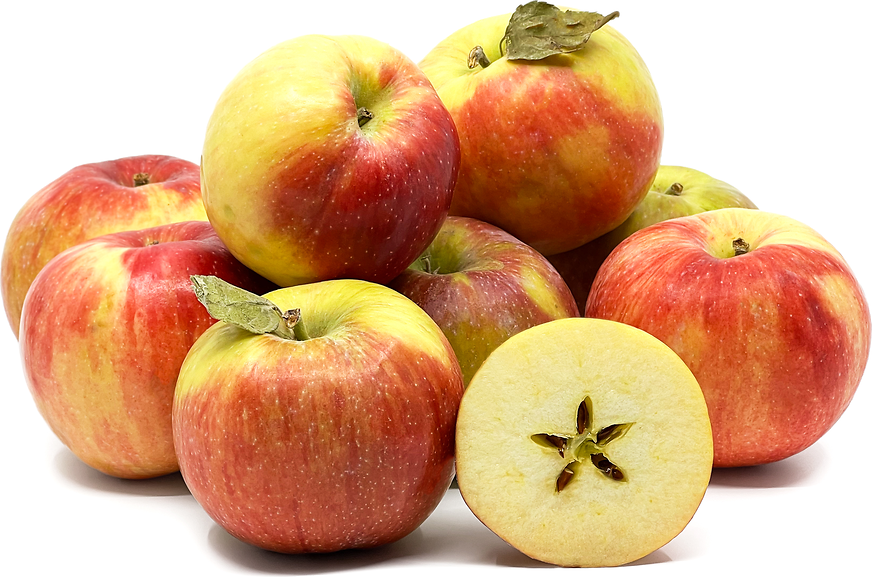 William's Favourite
Inventory, lb : 0
Description/Taste

William's Favorite apples are a variable variety, ranging in size from small to large depending on cultivation and climate, and have a conical shape with broad shoulders tapering to a narrow base. The apples sometimes exhibit angular faces, creating a slightly lopsided slant, and the brown stems are thin, elongated, and fibrous, extending from a shallow cavity. The skin is semi-thick, tough, and chewy, showcasing a yellow-green base coloring covered in large patches of bright red blush, striping, and striations. There are also faint yellow lenticels scattered across the surface. Underneath the skin, the yellow to ivory flesh is tinged with green and has a firm, aqueous, and crisp consistency. The coarse-grained flesh also encases a small central core filled with tiny, black-brown seeds. As the apples mature on the trees, the flesh may develop an occasional pink flush just below the skin and around the core, and the apple's texture will become drier and mealier with age. William's Favorite apples have a mild, sweet, and subtly tart flavor with delicate floral and fruity notes reminiscent of grapes, raspberries, and cane sugar.


Seasons/Availability

William's Favorite apples are available in the mid-summer through fall.


Current Facts

William's Favorite apples, botanically classified as Malus domestica, are an American heirloom variety belonging to the Rosaceae family. The firm-fleshed apples were discovered in 1750 in Boston, Massachusetts, and were selected as a commercial cultivar for their early-ripening, delicate flavor and crisp consistency. Despite their northeastern roots, William's Favorite apples became famous in the Southern United States as an early summer cultivar well-adapted to warmer climates. The variety is known by several names, including Lady's apple, Queen apples, William's Red apples, Southern Queen apples, William's Early apples, and William's apples, and is utilized by apple enthusiasts as a multi-purpose cultivar. William's Favorite apples were once a popular commercial cultivar in the 19th century, but over time, the variety's delicate flavor became too mild for changing consumer tastes. In the modern-day, the apples are labeled as a historic southern variety and are utilized as a specialty fruit in fresh and cooked preparations.


Nutritional Value

William's Favorite apples are a source of fiber to regulate the digestive tract, antioxidants to protect the cells against free radical damage, and vitamin C to strengthen the immune system while reducing inflammation. The apples also provide potassium to balance fluid levels within the body, vitamin K to assist in faster wound healing, and lower amounts of vitamins A and E, calcium, phosphorus, zinc, iron, and copper.


Applications

William's Favorite apples are a multi-purpose fruit suitable for fresh and cooked preparations. The apples can be consumed straight, out of hand, and the thick, chewy skin can be peeled or left intact, depending on preference. William's Favorite apples can also be chopped and mixed into slaws, stirred into fruit bowls, tossed into salads, blended into smoothies, or pressed into juice. The apple's delicate taste can be easily overpowered and should be served with lighter flavors on charcuterie boards and fruit platters. The apples can also be drizzled with chocolate, dipped into nut butter, or served as a fresh topping over yogurt, chia pudding, porridge, or cereal. In addition to fresh preparations, William's Favorite apples can be incorporated into crumbles, crisps, and turnovers, simmered into apple butter and apple sauce or baked with spices and nuts. In the South, the apples were frequently fried in a skillet with brown sugar, butter, and cinnamon and served as a savory-sweet breakfast topping and side to pancakes and waffles. William's Favorite apples can also be sliced into thin rings or pieces and dried for extended use. William's Favorite apples pair well with spices such as cinnamon, allspice, nutmeg, cloves, and ginger, dried fruits including cranberries, raisins, and cherries, cheeses such as blue, feta, and goat, and nuts including walnuts, pecans, and almonds. Whole, unwashed William's Favorite apples will keep for a few weeks when stored in the refrigerator. It is recommended to consume the variety immediately after harvest for the best quality and flavor. The apples will develop a drier, mealier texture if left too long in storage.


Ethnic/Cultural Info

William's Favorite apples were a popular apple variety for home gardens in the Southern United States in the mid to late 19th century. This period was recognized by pomologists in the South as the "Golden Age of Apples" and spanned from the 1840s to the 1900s. The Golden Age in the South established the region as a hub for commercial apple production in the United States, and there were several large apple nurseries, with many of these nurseries featuring between 150 to 500 apple cultivars in their catalogs. Private home acreages also created apple orchards in their gardens as a symbol of status. To encourage the planting of commercially popular apple varieties, the large southern nurseries would hire traveling salesmen to venture out to the nearby acreages and sell gratings of various apple trees. These salesmen would travel by horseback, carriage, and eventually cars, and they would introduce new varieties to farmers while also providing cultivation tips and tricks. Most of the traveling salesmen were considered helpful to the farmers and provided a source of up-to-date information surrounding apple cultivation in the South, but there were a few salesmen who sold mislabeled trees, muddling the reputation of the apple salesmen. The term "Tree Peddler" was coined for salesmen who misrepresented the apple varieties, and eventually, the name became a blanket term for all traveling apple salesmen.


Geography/History

William's Favorite apples are native to Massachusetts and were discovered as a chance seedling in 1750 in Roxbury, a neighborhood within Boston. The new variety was found by Captain Benjamin Williams and was originally known as Lady's Apple or Queen Apples. The apple's parentage is unknown, but in the 1830s, William's Favorite apples were released to public markets through the Massachusetts Horticultural Society and were later renamed to William's Favorite, eventually shortening to just William's apples, named after the apple's founder. After their release, William's Favorite apples were introduced to the South, where the variety became a favored orchard and private garden cultivar thriving in warmer climates. William's Favorite apples also achieved small-scale commercial success throughout the mid to late 19th century. In the early 1900s, the USDA shipped William's Favorite apples to England for potential propagation, and the variety became available across the Southern United States, especially in nurseries in Virginia, Tennessee, Georgia, North Carolina, Kentucky, and Maryland. Today William's Favorite apples are a rare variety localized to private orchards and select specialty growers. The variety fell out of favor with the introduction of modern apple cultivars and is mainly grown as a heritage apple. When in season, William's Favorite apples can be found through farm stands and fresh markets in the Eastern and Southern United States.