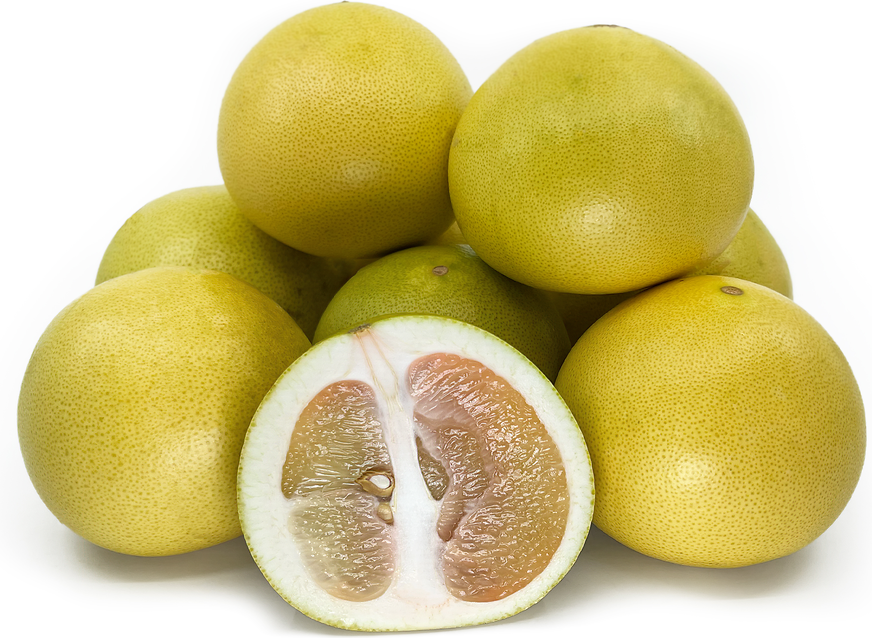 Red Globe Pomelos
Inventory, lb : 0
Description/Taste

Red Globe pomelos are a medium to large citrus, averaging 12 to 20 centimeters in diameter, and have a round to pyriform shape. The variety is one of the smaller pomelo hybrids, comparable to the size of some grapefruits, and the shape is variable depending on growing conditions. The rind is also thinner than other pomelos and has a smooth and taut nature with a slight give when squeezed. The rind ranges in color from yellow-green, golden yellow, to yellow-orange, largely dependent on climate and growing environment, and is covered in prominent, sunken oil glands, giving the surface a pebbled, dotted appearance. Underneath the rind, the semi-thick pith is white, spongy, and adhered to the flesh with a dry, cotton-like, springy feel. It is important to note that the pith has a lingering bitterness if tasted. The pith should be peeled and removed from the flesh before consumption. The flesh is encased in thicker membranes, dividing the fruit into 12 to 16 segments. Once the membranes are removed and discarded, the red-orange flesh is revealed. The coloring of the flesh widely varies, depending on climate, sun exposure, and other cultivation factors, and can appear pale, faintly blushed with red-pink hues, or it can be saturated with ruby red pigments. The coloring is also determined by the point it is harvested in the season. At the beginning of the season, Red Globe pomelos are paler, and in the mid to late season, the variety develops a more pigmented hue. The flesh is comprised of vesicles containing juice and pulp, giving the fruits a moderately succulent, soft, and tender nature, and there are inedible, cream-colored seeds embedded in the flesh, sometimes having over 20 in one fruit. Red Globe pomelos contain low acidity, creating a primarily sweet, sugary, and floral flavor with a tart, berry-like aftertaste.


Seasons/Availability

Red Globe pomelos are available in the mid-winter through early spring, typically found in markets from January through March.


Current Facts

Red Globe pomelos, botanically classified as Citrus maxima, are a hybrid variety belonging to the Rutaceae family. The pomelo-hybrid was created in the late 20th century in Southern California and was developed from a cross between a pomelo, blood orange, and mandarin orange. Red Globe pomelos are a boutique variety selected for their pigmented flesh, sweet-tart taste, and tender nature. The variety is not commercially produced, but it is grown on a small scale through specialty farms. Red Globe pomelos are also known as Valentine pomelos, as their peak season in markets occurs in the month of February. The pomelo hybrid is traditionally consumed fresh, but it is also a versatile variety sold throughout the United States for cooked preparations.


Nutritional Value

Red Globe pomelos are a source of potassium to balance fluid levels within the body, vitamin C to strengthen the immune system while reducing inflammation, and fiber to regulate the digestive tract. The variety also provides iron to develop the protein hemoglobin for oxygen transport through the bloodstream, calcium to build strong bones and teeth, zinc to repair damaged tissues, and other nutrients, including copper, phosphorus, and riboflavin. The red-pink pigments in the pomelo's flesh indicate the presence of anthocyanins, compounds that have antioxidant-like properties to protect the cells against the damage caused by oxidative stress and free radicals.


Applications

Red Globe pomelos have a sweet, tangy, and berry-like flavor suited for fresh and cooked preparations. The variety is typically consumed straight out of hand to savor the flesh's tender nature, and it is common for the segments to be removed from their membranes before serving. Red Globe pomelos can also be added to salads, and the flesh can be left in segments or gently broken apart into smaller pieces. Try serving pomelos as an accompaniment to seafood-based salads, ceviche, and side salads with avocado and herbs. The bright, zesty nature of the flesh complements salsas, and the juice can be whisked into salad dressings, marinades, and various sauces. Red Globe pomelos can also be used as a fresh chopped garnish over vegetables, meats, and side dishes, mixed into fruit medleys, or combined with dates, chocolate, and walnuts as a crunchy snack. In addition to fresh preparations, Red Globe pomelos can be simmered into jams, jellies, and preserves or used for their flavoring in cakes, muffins, bread, and other desserts and baked goods. Pomelo juice is also a popular mixer for cocktails, and the juice can be blended and frozen with ice to make sorbet. Beyond the flesh, the rind can be boiled in sugar and water. Candied pomelo rinds can be consumed on their own, dipped in chocolate, or chopped and added to granola or other desserts.


Ethnic/Cultural Info

Lisle Babcock is known among Central California citrus growers as a "citrus guru." Babcock and his wife Marylou owned Deer Creek Heights Ranch in Terra Bella, a small town in Central California, and specialized in cultivating unique citrus varieties, including Red Globe pomelos, for many years in the late 20th and early 21st centuries. Babcock always had a passion for growing and farming since he was a teen. He even continued to pursue knowledge around cultivation while majoring in biology in college. In 1987, Babcock moved away from Biology and decided to go entirely into farming, purchasing property with an heirloom orange grove. It took several years of experimentation to develop commercially viable fruits, and by the early 21st century, Deer Creek Heights Ranch had over 65 different types of citrus. In 2007, Babcock was the first grower to cultivate finger limes in North America and produced other unusual varieties of pomelos, tangerines, and lemons. Babcock continued growing unique citrus varieties into the 21st century until he sold the farm in 2017, but despite the farm changing ownership, a micro-brand known as Buck Brand Citrus remained to continue cultivating Babcock's citrus on the Deer Creek Heights Ranch property. Buck Brand Citrus currently operates under Homegrown Organics Farm.


Geography/History

Red Globe pomelos were developed in California at the University of California Riverside in the 1970s. Breeders Dr. James Cameron and Dr. Robert Soost crossed a Dancy mandarin with a Ruby blood orange and then selected the product of that cross for breeding with a Siamese Sweet pomelo. The variety was initially labeled pomelo hybrid 6C-28-18 and was thought to have acquired a juicy consistency from its blood orange parentage, its low acidity and size from the pomelo, and the floral taste from the Dancy mandarin. After its release in the late 20th century, Red Globe pomelos were chosen by a few specialty growers in California for small-scale commercial production. Buck Brand Citrus, a specialty citrus micro-brand operating within the portfolio of Homegrown Organic Farms in California, is one of the primary growers of Red Globe pomelos in the present day. When in season, Red Globe pomelos are sold through select distributors, markets, and online retailers throughout the United States, including the famous Berkley Bowl in Northern California. The variety is also offered as budwood for home garden cultivation.