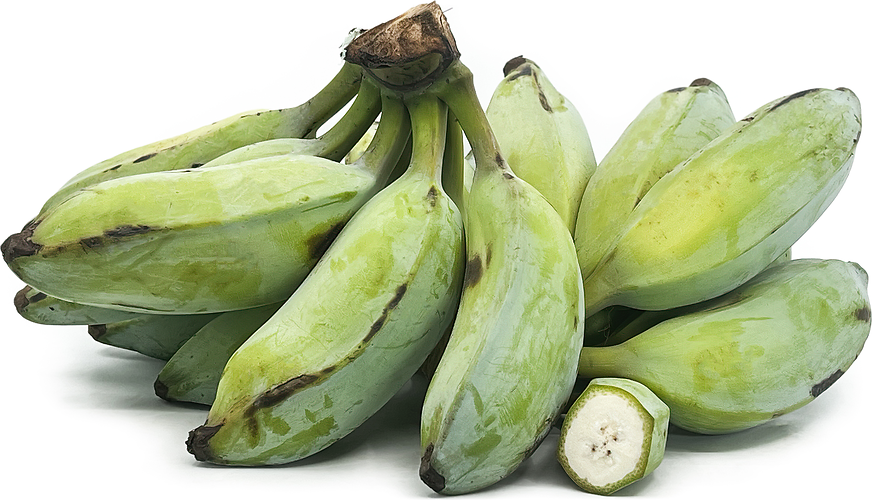 Sri Lanka Ash Plantains
Inventory, lb : 0
Description/Taste

Ash plantains are a small to medium-sized varietal and grow in loose bunches with cylindrical to tapered, angular fruits. The plantain's peel is thick, smooth, taut, and fibrous, showcasing yellow-green hues when young with brown markings. When preparing green Ash plantains, the peel is often cut from the flesh as it is stiff and cannot be easily peeled. The surface is also enveloped in a dusty, blue-grey bloom, giving the variety its distinct appearance. Underneath the peel, the raw flesh is white, dense, starchy, crisp, and firm. The flesh is also mostly seedless, sometimes dotted with black, unnoticeable, underdeveloped seeds. Ash plantains must be cooked before consumption and develop a tender and slightly chewy consistency, similar in texture to a potato, but softer. Cooked Ash plantains also have a neutral, bland, and mild taste, allowing them to absorb accompanying flavors.


Seasons/Availability

Ash plantains are available year-round.


Current Facts

Ash plantains, botanically classified as Musa paradisiaca, are a specialty variety belonging to the Musaceae family. The fruits grow in bunches on upright, tightly layered stems reaching several meters in height, and the plantains are picked when green for cooked culinary preparations. Ash plantains are also known as Mondan bananas, Alu Kesel, and Grey bananas. It is said the variety acquired its "ash" or "grey" moniker from the dusty coating on the plantain's surface, giving it the appearance of being covered in ash. Ash plantains are primarily localized to Asia and Southeast Asia and are most commonly found in Sri Lanka and Southern India fresh markets. The plantains are traditionally used green and are cooked as a textural and nutritional component in culinary recipes.


Nutritional Value

Ash plantains are a source of fiber to regulate the digestive tract, potassium to balance fluid levels within the body, vitamin C to boost the immune system, and calcium to build strong bones and teeth. The plantains also provide vitamin A to maintain healthy organ functioning, magnesium to control nerve functions, iron to develop the protein hemoglobin for oxygen transport through the bloodstream, and other nutrients, including zinc, vitamin K, and vitamin B6.


Applications

Ash plantains have a mild, bland, and neutral taste suited for cooked preparations. The variety must be heated before consumption and readily absorbs accompanying flavors in recipes. Ash plantains are famous for their use in curries throughout India and Sri Lanka and are treated like a vegetable more than a fruit. The plantains are sliced into pieces and cooked with aromatics, spices, vegetables, and creamy sauces, served over rice as a complete meal. In Sri Lanka, alu kesel kirata is a specialty coconut curry incorporating Ash plantains. In addition to curries, Ash plantains can be boiled, pureed, and used as a thickener for soups, pan-fried in oil and tossed in aromatics as a side dish, or mashed and fried into patties. Ash plantains can also be used in fried sambal recipes, cooked and served with fried cabbage, meat dishes, or eggplant sides, or stir-fried and tossed with vegetables. Beyond savory dishes, Ash plantains are occasionally simmered in coconut milk and sugar or are ground into flour for baked goods. Ash plantains pair well with spices such as turmeric, cinnamon, cardamom, paprika, and cumin, curry leaves, pandan leaves, cilantro, mustard seeds, aromatics including garlic, onions, and chile peppers, tomatoes, eggplant, potatoes, and coconut milk. Whole, unwashed Ash plantains will keep for several weeks when stored in a cool, dry, and dark location, such as the refrigerator.


Ethnic/Cultural Info

Ash plantains are traditionally used in natural medicines throughout Sri Lanka and are viewed as a soothing, cooling ingredient. Ash plantains are consumed to boost immunity and are often eaten with rice to strengthen the body after suffering from various diseases. Ash plantains are also eaten to ease constipation and are thought to reduce inflammation in the stomach and digestive tract. While less common, plantains are sometimes eaten to cool the body during periods of mourning, as grief is thought to raise internal temperatures. In addition to the fruits, plantain leaves are used as plates in rural areas of Sri Lanka, and the leaves can grow up to 61 centimeters in length.


Geography/History

Ash plantains are native to Southeast Asia and are considered an ancient variety primarily found in Sri Lanka and Southern India. The history of Ash plantains is mostly unknown, but bananas and plantains, in general, have been present in Sri Lanka since 341 CE. The earliest written reference to bananas in Sri Lanka is in the Sarartha Sangragaha, a medical manuscript by famed physician and King Buddhadasa. Seed remains have also been found in the Ratnapura District in Sri Lanka, thought to be over 12,000 years old. Over time, many varieties of bananas and plantains have been selectively bred in Sri Lanka for culinary, cultural, and medicinal purposes. Today, Ash plantains are a specialty cooking plantain favored for their thickening nature, mild flavor, and starchy texture. The variety is grown in the dry and intermediate zones of India and Sri Lanka and is a home garden and commercially grown cultivar. When in season, Ash plantains are typically found in local markets in Southern India and Sri Lanka and are also sold at roadside stands, directly through growers, and at select grocers. The Ash plantains featured in the photograph above were sourced from Spar market in Sri Lanka.