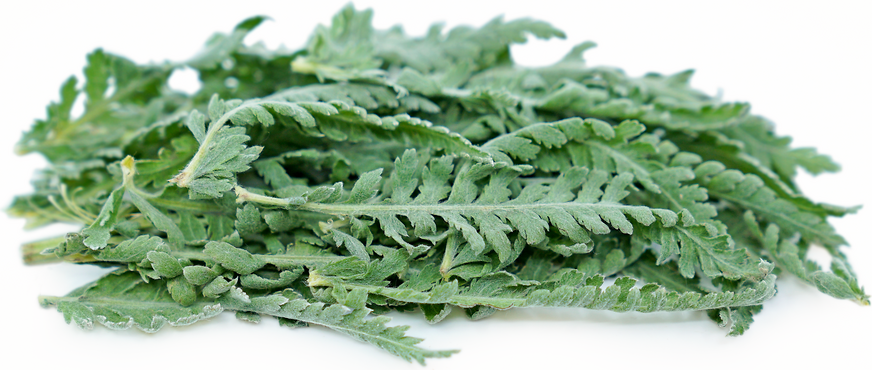 Yarrow
Inventory, bunch : 0
This item was last sold on : 08/08/22
Description/Taste
Yarrow is a soft, perennial herb that can reach up to 90 centimeters tall. It has long, slender, upright stems that sprout umbrella-shaped canopies of tiny white flowers that look like flattened daisies. The long, green, feathery leaves grow 7 to 12 centimeters long, giving the plant a lacey, fernlike appearance. The entire plant is edible, and it is said that the leaves are best harvested when the plant is in bloom. Yarrow offers a powerful licorice-like aroma and a naturally sweet flavor with a bitter finish, often compared to anise and tarragon.
Seasons/Availability
Yarrow is available in the summer.
Current Facts
Yarrow is botanically classified as Achillea millefolium in the Asteraceae, or aster family, and is closely related to chrysanthemums and chamomile. Yarrow is not just a single plant, and there are more than a hundred different varieties that fall inte Achillea genus. Common wild Yarrow typically has white or cream-colored blooms, while cultivated varieties come in many colors, from yellow to purple, or shades of pink and red. The scientific name, millefolium, means "thousand leaved," indicatif the plant's feathery, fernlike leaves. Common Yarrow is known by several nicknames, many of which refer to the herb's historical use on ancient battlefields to stop wounds from bleeding, including Soldier's Woundwort, Bloodwort, Knight's Milfoil, d Herbe Militaris. In the southwestern United States, Yarrow is often called Plumajillo, Spanish for "little feather," likely a reference to the plant's featherlike leaves.
Nutritional Value
Yarrow contains vitamins A and C, potassium, zinc, magnesium, calcium, phosphorus, and niacin and is known for its astringent and anti-inflammatory properties. It also contains flavonoids, plant-based chemicals that aid digestion by increasing saliva and stomach acid. Yarrow has a long history of use in traditional medicine and has been employed as an herbal remedy for treating inflammation, topical wounds, digestive disorders, anxiety, neurological disorders, and more. Thanks to its astringent properties, Yarrow has also been used in mouthwash to treat tooth and gum issues, as well as in soaps, face wash, and shampoos. It is important to note that Yarrow may cause allergic skin irritation for people sensitive to other plants of the same family, such asarigolds and daisies. Common Yarrow can also be toxic to dogs and other animals, although the plant's tannins give it a bitter taste that can naturally deter animals from overconsumption.
Applications
Young Yarrow leaves are best for fresh culinary applications, though the leaves and flowers can also be dried and ground into a spice. Yarrow has a strong, potentially overpowering flavor, so it is recommended to be used sparingly. The bittersweet leaves can be used as a fresh leafy vegetable or garnish in salads, soups, or stews, and their flavor works well in cream-based desserts like ice cream. Yarrow can also be used to flavor sodas, oils or vinaigrettes, meat or vegetable marinades, and pasta or risotto dishes. The leaves can even be steeped in an anti-inflammatory tea. In medieval times, Yarrow was a popular ingredient in beer and mead and is still used today as a substitute for hops and barley. Just like other soft herbs, Yarrow does not stand up to heat and should instead be added toward the end of cooking. Its bold flavor is nicely balanced when mixed with other soft herbs like tarragon, chervil, or parsley. Fresh Yarrow does not keep well and should be stored upright in a glass of water in the refrigerator, used within a few days, or dried for extended use.
Ethnic/Cultural Info
Yarrow has been used for thousands of years in Western Europe and China as a tool for divination. It was also used in early Christian days to ward off evil spirits, and in ancient China, it was believed to balance yin and yang. But perhaps its most wideread and long-standing reputation throughout Europe, North America, and Asia is for its ability to slow and stop blood flow. Legend has it that Yarrow's botanical name, Achillea millefolium, was derived from the Greek mythical hero, Achilles. Accordto Greek mythology, when Achilles was born, his mother held him by the ankle and dipped him in yarrow tea. Achilles grew up to be a seemingly invincible war hero until a wound to his ankle—the only area the yarrow tea had not touched—took his life ding the Trojan war. It was said that Achilles used Yarrow to stop the bleeding of his wounded warriors, a tradition that carried on into many more battles to come, earning the herb its many nicknames like Soldier's Woundwort, Staunch Grass, and Herba militaris, as it was known by the ancient Romans.
Geography/History
Yarrow is native to the temperate regions of Asia and Europe and was brought by the colonists to North America, where it quickly naturalized. It can now be found growing wild in dry, disturbed soil of grasslands, meadows, pastures, and along roadsides throughout the United States. Yarrow is a drought-tolerant plant that grows well in warm and sunny climates, propagates via root stems, and can spread rapidly, which is why it is often considered an aggressive weed. Yarrow can be foraged from the wild or found at local farmers markets and specialty stores.
Recipe Ideas
Recipes that include Yarrow. One

is easiest, three is harder.