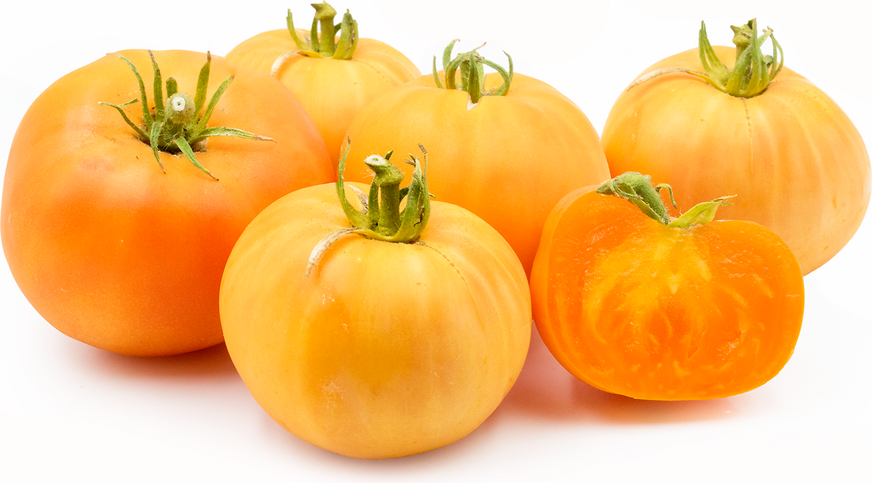 Dr. Wyche's Yellow Heirloom Tomatoes
Inventory, lb : 0
Description/Taste
Dr. Wyche's Yellow tomatoes are very large, each fruit weighing up to one pound, and they have a slightly flattened globe shape. Their skin is smooth and relatively free of blemishes, and it ripens to a glowing, golden-yellow color. Their juicy, firm flesh houses few seeds and offers a lush, sweet, almost tropical flavor with low acidity. Dr. Wyche's Yellow tomato is an indeterminate variety, producing heavy, reliable yields of the hefty fruit along tall vines with sparse foliage. The plant will produce all season long, and will require staking or caging to support the weight of these gorgeous yellow-orange fruits.
Seasons/Availability
Dr. Wyche's Yellow tomatoes are available in the summer months.
Current Facts
Dr. Wyche's Yellow tomatoes are botanically classified as Solanum lycopersicum or Lycopersicon esculentum, and like all tomatoes, they are in the nightshade family. Dr. Wyche's Yellow tomato is an heirloom variety that has been passed down among Midwestern farmers in the United States. This variety was originally called the Hot Yellow tomato, but was renamed after Dr. John Wyche, one of the earliest members of the Seed Saver Exhange, after his passing. There is also a tomatillo from Dr. Wyche's collection sharing the same name, known as the Dr. Wyche's Yellow tomatillo.
Nutritional Value
Tomatoes are rich in vitamins A and C, and they are full of fiber. Yellow tomato varieties like Dr. Wyche's Yellow have valuable amounts of beta-carotene, the pigment that gives orange and yellow tomatoes their color and helps neutralize free radicals that may damage human cells. Tomatoes also offer a good dose of vitamin B and potassium, which is important for regulating blood pressure, nerve function, and muscle control, and they are well known for their exceptional antioxidant content.
Applications
With their low acidity level and sweet, fruit-like flavor, Dr. Wyche's tomatoes are perfect for eating fresh. Like most beefsteak-type tomatoes, they are great for slicing atop burgers and sandwiches, thanks to their large size. In addition to eating raw, they can be sautéed, grilled, or roasted, which can enhance their natural flavor, and used for sweet tomato sauces, soups, and salsas. Try pairing with fresh herbs, young and soft cheeses, avocado, chilies, or watermelon. Dr. Wyche's Yellow tomatoes should be stored at room temperature until ripe, after which refrigeration can slow the process of decay.
Ethnic/Cultural Info
Dr. John Wyche, for whom this variety is named, was a gardener, seed preservationist, and dentist from Hugo, Oklahoma. He is also rumored to have been a circus owner, and it is believed that he used the manure of elephants to fertilize his gardens, and lion and tiger waste to keep out rabbits and other wildlife.
Geography/History
Dr. Wyche's Yellow tomato was sent to renowned tomato gardener, Craig LeHoullier, by fellow gardener, John D. Green, in 1992. It is said that Green originally received the seeds for this variety, known at the time as Hot Yellow, from Dr. John Wyche just before he passed away in 1985. Prior to its commercial release, the tomato was renamed in Wyche's honor. Craig LeHoullier was the first to grow out the heirloom and list it in the Seed Savers Exchange yearbook. Dr. Wyche's Yellow tomato is known to be a good choice for home gardens, and like many tomato varieties, it needs warm weather to thrive as tomatoes cannot withstand any frost.
Podcast