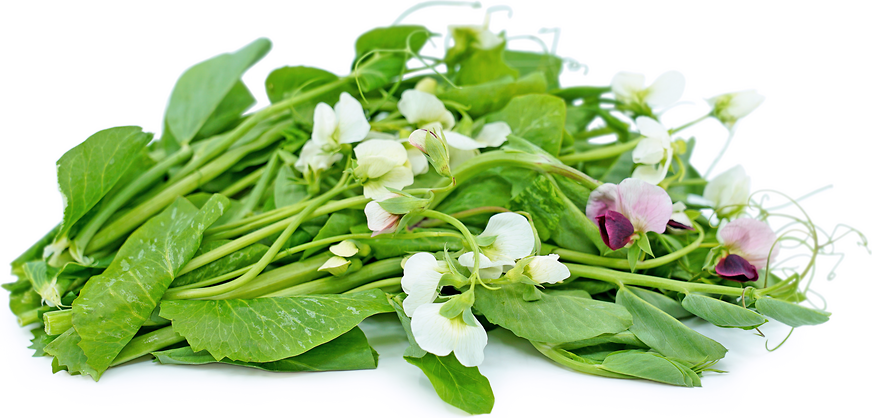 Pea Tendril Blossoms
Inventory, 3 lbs : 0
Description/Taste
Pea blossoms grow along climbing vines that are comprised of hollow green stems with thin, coiling tendrils and tender green leaves. The flowers range in color from white, pink, to purple and can be solid or showcase variegated hues of multiple shades. Pea blossoms have soft, pliable, and broad petals and generally contain five green sepals that support the base of the bloom. Each flower bears a distinctive petal arrangement with large top and smaller bottom petals, creating a delicate and unique appearance. Pea blossoms are crunchy and lush, emitting a mildly grassy aroma. When consumed, the flowers have a slightly sweet, green flavor reminiscent of peas mixed with a faint vegetal minerality.
Seasons/Availability
Pea blossoms are available in the early spring and again in the fall.
Current Facts
Pea blossoms, botanically classified as Pisum sativum, are the flowers of an herbaceous annual belonging to the Fabaceae family. The seasonal flowers grow on the climbing vines of pea plants and are highly favored for their crisp texture, aesthetically pleasing nature, and mild pea flavor. Pea blossoms are harvested from English pea varieties, also known as common or garden peas, and are only in bloom for a short season. It is important to note that sweet pea flowers belonging to the Lathyrus genus are not edible and are toxic if consumed in large quantities. The flowers may cause lathyrism, a condition with symptoms such as paralysis, tremors, or muscle atrophy. Sweet pea plants are grown for decorative blossoms, and the flowers should only be reserved for bouquets and ornamental purposes. Edible Pea blossoms are not a new culinary ingredient, consumed since ancient times, but the flowers did not become popular in dining establishments in the Western world until the late 20th century. Pea blossoms are regarded as a fresh ingredient utilized by chefs as a garnish, and the flowers provide familiar pea-like flavors in an unexpected form. Pea blossoms are often found still attached to the tendrils as the entire pea plant, including the tendrils, flowers, stems, and leaves, are all edible.
Nutritional Value
Pea blossoms have not been studied for their nutritional properties, but pea plants, in general, are a source of vitamins A and C to strengthen the immune system and boost collagen production within the skin. The plants also contain fiber to stimulate the digestive tract, provide some antioxidants to protect cells against free radical damage, and minerals such as zinc, potassium, calcium, and manganese.
Applications
Pea blossoms have a sweet, subtly vegetal pea flavor well suited for fresh preparations as an edible garnish. The petals are fragile and can be sprinkled over green salads, placed on creamy dips on appetizer plates, or lightly pressed onto avocado toast. The flowers complement light vinaigrettes and can be used as an edible garnish over pasta, roasted meats, soups, tacos, and egg-based dishes. Pea blossom can also be frozen into ice cubes for festive beverages or used to decorate desserts such as cakes. Chefs frequently coat the petals in a mixture of egg whites and sugar to create a crunchy, candied flower. In addition to the flowers, Pea blossoms can sometimes be found still attached to the young tendrils and are piled on top of seafood, stir-fries, sushi, or main dishes as a whimsical garnish. Pea blossoms pair well with other spring vegetables including radishes, spring onions, mushrooms, asparagus, and fava beans, citrus, salty cheeses, seafood such as crab, lobster, scallops, shrimp, and white fish, root vegetables, herbs such as basil, mint, and dill, and aromatics including ginger, shallots, and garlic. Pea blossoms should be used within 1 to 2 days of purchase for the best quality and flavor.
Ethnic/Cultural Info
Pea blossoms were used in a decade-long research experiment performed by scientist Gregor Mendel to study the nature of gene inheritance. Mendel was a teacher at a monastery in Austria and taught botany, biology, and physics. During his genetics study, Mendel selectively cross-bred different varieties of pea plants in the monastery garden to learn how traits are inherited. Mendel examined seven attributes such as plant size, blossom color, and seed shape, and pea plants were favored for the study as they are easy to cross, grow quickly, and can be controlled, preventing outside factors from disrupting the data. In 1865, Mendel had studied approximately 30,000 pea plants and eventually documented his findings in a piece titled Experiments in Plant Hybridization, published in the journal of the Proceedings of the National History Society of Brünn. Mendel's research was largely ignored when it was first published, and it wasn't until the early 1900s that scientists began valuing his studies, which was 16 years after his passing. In the present day, Mendel is often regarded as the "Father of genetics," and pea plants are also still used in modern genetic experiments.
Geography/History
Peas are believed by experts to be one of the oldest cultivated crops and are descendants of wild varieties native to regions of Western Asia, North Africa, and the Eastern Mediterranean. Pea plants have been growing wild for thousands of years, and once selected for cultivation, the seeds were quickly spread across Asia and Europe through trade routes. Over time, new cultivars of peas were bred from the wild varieties, developing many of the pea cultivars commonly grown in gardens in the present day. In the 15th century, peas were introduced to the New World through explorers and were extensively planted throughout North America. Pea blossoms are one of the lesser-known edible parts of the pea plant and are considered more of a novel ingredient than an everyday staple. Today Pea blossoms are utilized on a small scale in culinary applications worldwide, and the fresh blooms are found seasonally through farmer's markets, Asian markets, specialty distributors, and home gardens.
Recipe Ideas
Recipes that include Pea Tendril Blossoms. One

is easiest, three is harder.