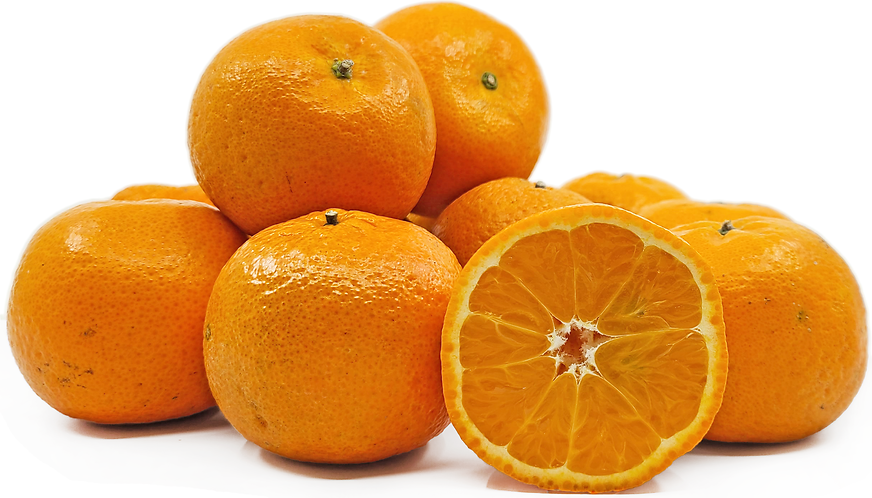 Swatow Jiaokan Mandarins
Inventory, lb : 0
Description/Taste

Swatow Jiaokan mandarins are medium to large fruits, averaging 7 to 9 centimeters in diameter, and have a round to oblate shape, slightly flattened at both ends. The mandarin's skin is semi-thick, textured, glossy, and has a slight give when squeezed, covered in sunken oil glands creating a pebbled surface. The rind also appears in shades of dark orange, sometimes blushed with small red patches, depending on cultivation. The rind is tightly adhered to the flesh, making the fruits somewhat difficult to peel, and the orange flesh is divided into 9 to 10 segments by chewy membranes. The flesh is also lightly fibrous, aqueous, and succulent, either being found seedless or containing a few seeds with a hollow, cottony center. Swatow Jiaokan mandarins emit a faint citrusy fragrance and have a mild, subtly sweet, tangy, and sour flavor.


Seasons/Availability

Swatow Jiaokan mandarins are available in the late fall through winter.


Current Facts

Swatow Jiaokan, botanically classified as Citrus reticulata, is a Chinese mandarin variety belonging to the Rutaceae or citrus family. The name Swatow is derived from a city in the Guangdong Province of China, also known as Shantou. Swatow Jiaokan mandarins are a variety cultivated in China as an export citrus. The oranges are highly favored for their early-fruiting, productive nature, hardiness, and extended storage capabilities, allowing the fruits to be exported into Southeast Asia. Swatow Jiaokan mandarins are sometimes labeled as Lucky Swatow Jiaokan, a descriptor used for specially cultivated oranges packaged for the Lunar New Year. The fruits are sold in supermarkets according to size, ranging from M to XXL, and are primarily eaten fresh. Swatow Jiaokan mandarins can also be used in recipes as a substitute for common mandarin varieties.


Nutritional Value

Swatow Jiaokan mandarins are an excellent source of vitamin C to strengthen the immune system while reducing inflammation and provide vitamin A to maintain healthy organ functioning. The fruits also contain potassium to balance fluid levels within the body, calcium and phosphorus to protect bones and teeth, and other nutrients, including zinc, manganese, folate, and B vitamins.


Applications

Swatow Jiaokan mandarins have a subtly sweet, tangy flavor well suited for fresh and cooked preparations. The mandarins must be sliced as they are difficult to peel by hand, and some consumers may wish to remove the membranes around the flesh segments as they can have a slightly chewy consistency. Swatow Jiaokan mandarins can be eaten fresh, out of hand, or sliced into green salads, mixed into fruit bowls, or chopped and stirred into yogurt, oatmeal, or parfaits. In addition to consuming the fruits in segments, Swatow Jiaokan mandarins can be juiced and used to flavor dressings, vinegar, oils, and sauces or blended into smoothies. The fruits also provide bright and zesty flavors to chocolate, cakes, muffins, bars, scones, and other desserts. In China, Swatow Jiaokan mandarins are popularly soaked in water, flattened, and boiled in sugar to create an orange cake. This sugary treat is consumed as a stand-alone dessert or incorporated into a variation of "eight treasures rice," a dish comprised of sticky rice, dried fruits, red bean paste, nuts, and other decadent toppings. Swatow Jiaokan mandarins pair well with spices such as cinnamon, cloves, allspice, nutmeg, and ginger, vanilla, maple syrup, chocolate, and herbs, including mint, thyme, basil, and rosemary. Whole, unwashed Swatow Jiaokan mandarins will keep for 2 to 3 weeks when stored in the refrigerator. In professional cold storage, the mandarins can keep up to six months.


Ethnic/Cultural Info

Lucky Swatow Jiaokan mandarins are primarily cultivated and exported from China to Southeast Asia for the Lunar New Year. One of the largest markets for the oranges in Southeast Asia is in Singapore, and before the New Year, Lucky Swatow Jiaokan can be found in various sizes, offered in decorative boxes, wrappers, or sold loosely. The size of the mandarins and the packaging are indicators of the price of the fruits, as the more elaborately packaged and the larger the fruit, the more expensive it will be. During the Lunar New year, there is a belief that large mandarins placed in a basket in the home symbolize a box of gold, welcoming success, prosperity, and good luck into the house for the upcoming year. Presenting golden-orange fruits to friends and family is also a blessing of good luck as it represents giving gold to that individual. It is common to see families bring mandarins over to a friend's house and present the fruits in groupings of 2 or 4. The Chinese believe that good things come in pairs, and when offering the fruits, both hands are used as a sign of respect. Lucky Swatow Jiaokan mandarins are a popular variety seen in supermarkets in Singapore as the fruits have one of the longest shelf lives of the mandarins sold for the Lunar New Year. The mandarins can be shipped long distances without being damaged, and they also hold up well in Singapore's hot and humid climate, allowing the fruits to last for a few weeks as decorations and gifts. When displayed as decoration, Lucky Swatow Jiaokan mandarins are sometimes paired with golden "good luck" pumpkins. The small, symmetrical pumpkins also symbolize prosperity, gold, and abundance, a pairing to welcome great success and fortune into the house for the year to come.


Geography/History

Swatow Jiaokan mandarins are native to Swatow, also known as Shantou and Santow, a city along the east coast of the Guangdong Province in southeastern China. The history of the mandarins is mostly unknown, with some records indicating the variety may be a hybrid between a sweet orange and a tangerine. Swatow is also situated beside the city of Chaozhou in Guangdong, an area known for its citrus production, which has propelled Swatow growers to commercially cultivate citrus fruits, mainly for export. Swatow Jiaokan oranges were selected for commercial cultivation for their durability in transport and ability to survive long-distance shipping. Today Swatow Jiaokan mandarins are exported from China to Southeast Asia, specifically Singapore, Thailand, and Taiwan, and are sometimes shipped to regions of Europe. Depending on the size, appearance, and cultivation methods of the oranges, the variety may be sold individually at lower prices as a generic market fruit, or they are specially packaged in ornate decorative boxes and promoted as a gift during the Lunar New Year. The Lucky Swatow Jiaokan mandarins featured in the photograph above were sourced from FairPrice Supermarket in Singapore.