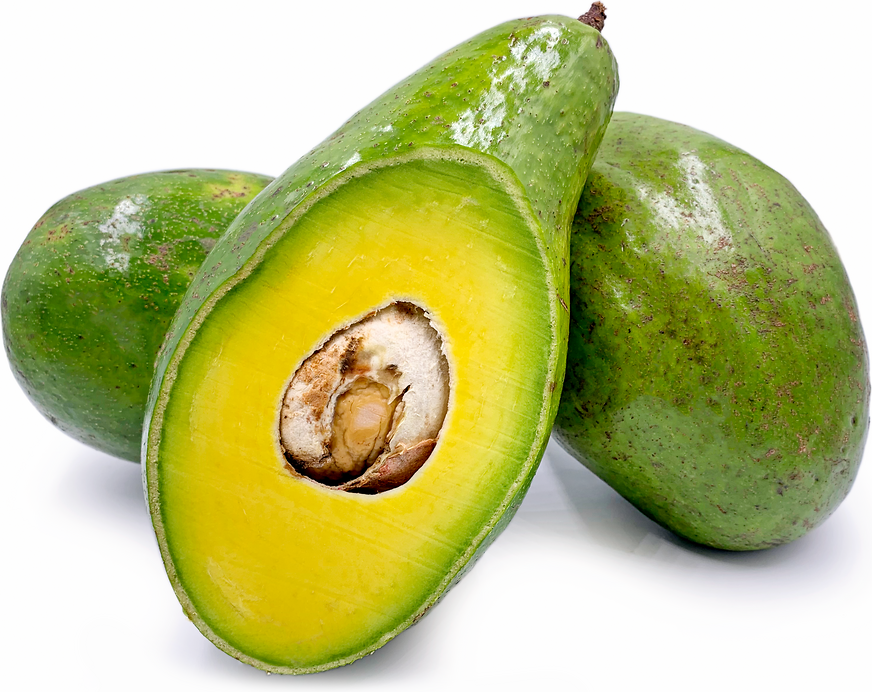 Ghanaian Avocados
Inventory, lb : 0
Description/Taste
Ghanaian avocados range in size, shape, color, and flavor, thanks to a large gene pool in the country. There are many local varieties and hybrids that offer unique fruit and fruiting qualities, from early bearing to late season, and from green-skinned to dark purple-black fruit at maturity. The peel may be thick and pebbled, as found in the Guatemalan race of avocados, thin and delicate, typical of the Mexican race, or smooth, leathery, and thin-to-medium in thickness, characteristic of the West Indian race. Ghanaian avocados vary from pear-shaped to rounded, and can weigh as much as a pound or more. The pale green or yellow flesh can be more watery, fibrous, dry, or buttery, depending on the variety and its oil content. The flavor varies from mild to rich, and offers hints of sweetness or nuttiness.
Seasons/Availability
Ghanaian avocados are available year-round in the local markets.
Current Facts
Avocados, scientifically known as Persea americana, are botanically classified as a berry, and they belong to the laurel family. In Ghana, the avocado is often called "paya" or "pear", perhaps adapted from its original nickname, "alligator pear". All three avocado races (Mexican, West Indian, and Guatemalan) can be found in Ghana, however identifying local varieties and hybrids can be problematic, as nearly all subsequent plantings since their original introduction have been made from seed sources rather than grafted materials. Avocados are typically grown from grafted trees to ensure uniformity and produce fruits that are true to their parent variety, whereas in Ghana, avocados have been grown from unregulated seed-based propagation, leading to genetic diversity throughout the country.
Nutritional Value
Avocados have the highest source of protein of all fruits, and have more potassium per serving than bananas. They also contain dietary fiber, folate, vitamin C, vitamin K, and vitamin E. They are considered a "nutrient booster" because they enable the body to absorb more fat-soluble nutrients. Avocados are most well known for being a good source of monounsaturated fat, second only to olives among fruits in oil content. However, green-skinned varieties are generally known for having lower fat and calorie content than their richer, darker counterparts, as they typically contain less oil and more water content.
Applications
Ghanaian avocados can be used in raw and cooked applications, though they are most often used raw. In Ghana and other African countries, avocado is simply eaten on its own, sliced into fruit or vegetable salads, mashed to make avocado sandwiches, or processed into oil. It may also be served as an accompaniment to staple Ghanaian foods like Waakye, a dish of cooked rice and beans, Ampesi, a dish made of boiled yams, plantains, or cassava served with a stew or gravy, or Kenkey, sour dough dumplings made from fermented maize or cassava and served with peppered stew. The high fat content of certain avocado varieties pairs well with acidic fruit and vegetables like tomatoes, and the buttery flesh is well suited for mashing. Green-skinned varieties, however, are known to have firmer flesh that holds its shape and is ideal for slicing or cubing, whereas mashing may result in a water texture. Pair Ghanaian avocados with salt, olive oil, nuts, citrus, fresh herbs, aged cheeses, meats, and seafood. Store avocados at room temperature until fully mature. Whole, ripe avocados will keep for two to three days in the refrigerator, while cut avocados will keep for a day or two.
Ethnic/Cultural Info
Early 21st century studies taking place at the University of Ghana's Forest and Horticultural Crops Research Centre are aiming to establish and strengthen the avocado industry in the country. Ghana began pushing initiatives to increase production of cash crops, and although the primary crops are cocoa, nuts, and tomatoes, more focus is being directed at the avocado market thanks to the crop's worldwide value and the country's potential to contribute its diverse varieties. When it comes to commercial avocado production, Ghana has faced setbacks due to the lack of research on genetic diversity, little information for proper identification and characterization of locally grown varieties, and scarce documentation of the crop's history in the country. This knowledge and research is essential for selecting and breeding trees that are not only high-yielding and adapted to the climate, but also proven to be of high quality with traits of economic value. The Forest and Horticultural Crops Research Centre now has a collection of documented commercial cultivars that will serve as an avocado genetic library – the first in the country – to supply growers with grafted material and help improve efforts to introduce, conserve, characterize, select, and improve on both local and introduced varieties grown in Ghana.
Geography/History
There is no consensus among historians on exactly when the avocado was first introduced in Ghana, but it is widely believed that missionaries brought it into the country during pre-colonial times. Records show that the first planting of avocado trees occurred in Aburi, a town near Ghana's capital city, circa 1870. By the early 1900s, cultivation spread to other areas of the country, and by the 1960s, cultivars like Lula, Choquette, Ettinger, and Fuerte were introduced (mostly by the United States). However, current identification of these cultivars and their crosses proves to be challenging because the trees have since been grown from seed, not growing true to their parent variety. Today, Ghanaian avocados are widespread throughout the forest regions of the country. They are not commercially produced, and are instead grown by smallholders, scattered amongst cocoa and other farms, or grown in home gardens, as they are easily adaptable to the hot and humid climate.
Recipe Ideas
Recipes that include Ghanaian Avocados. One

is easiest, three is harder.