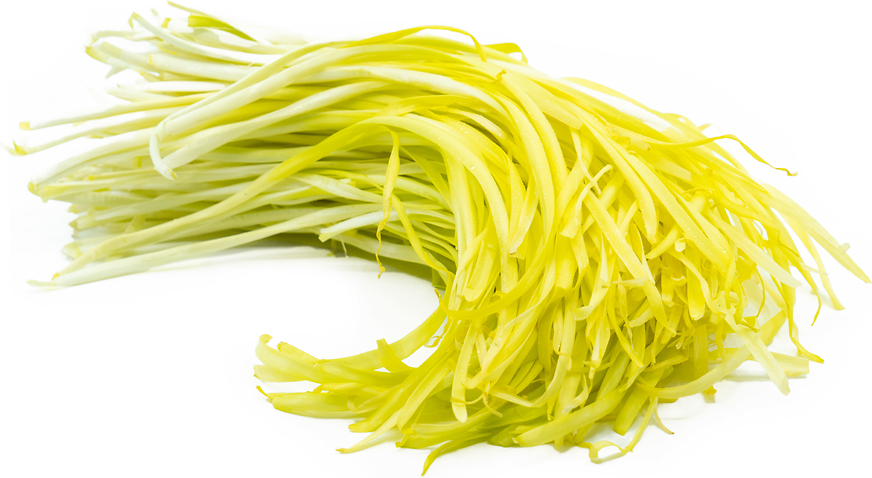 Yellow Chives
Inventory, lb : 0
Description/Taste
Yellow chives grow in clumps of slender, elongated leaves averaging 15 to 20 centimeters in length and have a cylindrical appearance ending in a curved tip. The leaves are thin, delicate, and flat, notably solid and not hollow. Yellow chives are wider than common garden chives and showcase pale shades of yellow and white, the coloring dependent on the growing conditions. Each leaf has a crisp, succulent, and tender consistency and is easily damaged as they are fragile in nature. Yellow chives are known for their robust, garlic-like aroma and have a clean, vegetal flavor mixed with mildly sweet nuances of garlic and onions.
Seasons/Availability
Yellow chives are available year-round, with peak seasons in the spring and summer.
Current Facts
Yellow chives, botanically classified as Allium tuberosum, are a specialty crop produced as a delicacy for culinary preparations belonging to the Amaryllidaceae family. The pale bunches of leaves are derived from Chinese chives, also known as Garlic chives, Asian chives, and Chinese leeks, a plant native to southwestern China that has been incorporated into medicinal and culinary uses for thousands of years. Yellow chives are created from Chinese chive plants that have been grown without sunlight, a process known as forcing. In China, Yellow chives are grown from green Chinese chive plants that have already sprouted green leaves, and each plant can be forced only 1 to 2 times a year. Once the plant's green leaves have reached fifteen centimeters in length, they are trimmed, leaving a small base of stubby leaves that are left in darkness to regrow. As the plants are cultivated in darkness, they are nourished with liquid kelp to encourage new pale yellow and white leaves to form. These plants are void of chlorophyll, the green pigment commonly found within leaves, as forcing prevents photosynthesis from occurring. Growing Chinese chives without sunlight creates an aromatic plant with a delicate texture and milder flavor. Yellow chives are mainly used in Chinese cooking, especially in Cantonese and Shaanxi cuisine, and are known as Gau Wong, Jiu Huang, Chinese Yellow chives, Golden chives, and Albino chives. The chives are viewed as a vegetable rather than an herb and are traditionally stir-fried to create a pleasant, crunchy texture. In the modern-day, Yellow chives have expanded in popularity to other Asian cuisines, including Japanese, and have become a specialty item sold through markets worldwide.
Nutritional Value
Yellow chives are a good source of vitamins A and C to strengthen the immune system, boost collagen production, and reduce inflammation. The chives are also a source of calcium to protect bones and teeth, fiber to regulate the digestive tract, and B vitamins to promote healthy brain functioning. In Traditional Chinese Medicine, chives, in general, are considered a warming food that increases circulation and improves energy flow.
Applications
Yellow chives have a fragrant, garlicky flavor well suited for savory cooked preparations. The chives are customarily found in markets wrapped in tissue paper to protect the leave's delicate nature and are treated as a vegetable in dishes rather than an herb. Yellow chives cook quickly and can be stir-fried for 1 to 2 minutes to create a crisp consistency. It is important not to overcook the leaves as they can develop a chewy texture. The pale leaves can be used in any recipe calling for green Chinese chives or Garlic chives and will impart a milder flavor. Yellow chives can be sliced into smaller pieces, and stir-fried with eggs, meats, and seafood, or they can be minced and combined into savory noodle and rice dishes. The chives can also be used to flavor dumplings, spring rolls, and wontons, or they can be cooked into side dishes and salads. In Cantonese cuisine, Yellow chives are popularly mixed into noodle soups and light broths. They can also be used as a variation of green chives over bagels and cream cheese and in dips and spreads. Yellow chives pair well with seafood such as shrimp, clams, and fish, meats including beef, pork, and poultry, tofu, mung beans, mushrooms, flavorings such as oyster sauce, soy sauce, and hoisin, and aromatics including ginger, garlic, and chile peppers. Whole, unwashed Yellow chives should be immediately consumed for the best quality and flavor. The leaves have a short shelf life and will only keep 1 to 2 days when loosely wrapped in a plastic bag and stored in the refrigerator. The leaves should also not be exposed to excessive amounts of light as they may develop a green hue with translucent ends, a sign of aging.
Ethnic/Cultural Info
Yellow chives are a traditional ingredient in longevity noodles, a celebratory dish served during birthdays, Chinese New Year, and other special occasions. Longevity is a valued blessing in Chinese culture as a long life promotes prosperity, happiness, and deeper meaning. This blessing is represented in longevity noodles as the dish is made with chewy noodles that have not been cut. It is believed that consuming longevity noodles on a special holiday blesses the consumer and leads to a healthy, prosperous life. The practice of eating longevity noodles dates back to the Han Dynasty, spanning from 206 BCE to 220 CE. Legend has it that Emperor Wu, ruling from 141 to 87 BCE, was conversing with his ministers about the amount of space between the nose and upper lip. Emperor Wu coyly stated that the longer the groove between the nose and lip, the longer the person will live. This idea spread among his ministers and eventually reached the public, creating a belief that people with longer faces would have a longer life. Over time, the long face myth became intertwined with long noodles as the Chinese word for face, lian, sounds similar to the word for noodle, mian. Long noodles became a symbol for long life, and the superstition was further embedded into the culture during the Tang Dynasty, 618 to 907 CE, as seen in Liu Yuxi's poem. Yuxi wrote of people holding up long noodles with chopsticks while speaking blessings for a newborn's future, one of the first records of consuming longevity noodles on a birthday. Longevity noodles are still consumed in the present and are customarily served at the end of a meal as a blessing. Yellow chives are a favored vegetable for imparting a garlicky flavor without being overpowering. The chives also provide a tender crunch to create depth of flavor when eaten with the springy noodles.
Geography/History
Yellow chives are specially grown Chinese chives, also known as Garlic chives, which are native to China. The chives were first discovered in the Shanxi Province of Southwestern China and have been cultivated as a culinary ingredient for over 3,000 years, as early as the Chou Dynasty, spanning from 1027 BCE to 256 BCE. Yellow chives are considered distinct from green Chinese chives as their flavor is milder and there are plants specifically grown to produce Yellow chives once or twice a year in China. The process of experimenting with vegetables grown in different environments was a traditional practice among Chinese households, especially in rural areas. Historically, vegetable variability was limited to what was growing in the household's garden. Families would experiment with growing the plants in darkness or pickling the vegetables to create different versions for diverse textures and flavors. When it was discovered that Chinese chives could be grown in darkness to produce tender, yellow leaves, Yellow chives became a culinary staple, prepared as a vegetable to impart a mild, garlic, and onion-like flavor. Over time, the use of Yellow chives also expanded to neighboring countries, including Japan and countries in Southeast Asia. Today Yellow chives are a specialty item offered in limited quantities throughout the year in Asia, sold at fresh markets, grocers, and through distributors. Outside of Asia, Yellow chives are primarily found through Asian markets in the United States, Europe, and Australia, or they are purchased directly from a local grower.
Recipe Ideas
Recipes that include Yellow Chives. One

is easiest, three is harder.