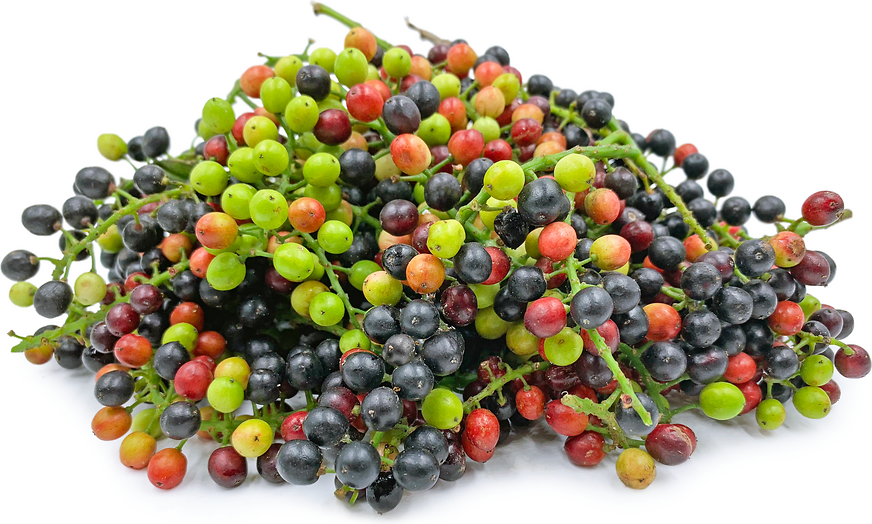 Bignay Fruit
Inventory, lb : 0
Description/Taste

Bignay fruits are small in size, averaging less than one centimeter in diameter, and have a fairly uniform, round-to-oval shape. The berries grow in loose clusters of 20 to 40 berries and hang in pendant-like bunches from the tree's branches. The fruit's skin is smooth, taut, and thin but tough, and when ripe, they develop a slight sheen. A distinct characteristic of Bignay fruits is their staggered ripening. The berries mature at different times, showcasing multi-colored bunches on a single tree. When unripe, Bignay fruits are bright green to yellow-green, transitioning through shades of yellow-orange, orange, red, dark red, to purple, almost black when mature. It is important to note that the skin of ripe fruits contains a pigmented juice that will stain skin and fabric, and it is recommended to wear gloves when handling mature fruits. The fruit's flesh is translucent, soft, aqueous, and tender, encasing a central ivory seed. Unripe Bignay fruits will have an acidic, tart, and sour taste reminiscent of cranberries. Ripe Bignay fruits develop a sweeter taste and are sweet and tangy. Some consumers note a subtly bitter aftertaste, which is said to be present on some palates and absent on others.


Seasons/Availability

Bignay fruits are available year-round and fruit at different times, producing multiple crops throughout the year. In northern Australia, Bignay fruits have a peak season from April through September, while in Florida, their peak season occurs from August through February. In Southeast Asia, the fruits generally appear between February and September, depending on the region and growing environment.


Current Facts

Bignay fruits, botanically classified as Antidesma bunius, are a rare, tropical species belonging to the Phyllanthaceae family. The clustering berries grow on evergreen trees reaching 15 to 30 meters in height and are primarily found in the wild throughout Southeast Asia. Bignay fruits are known by many regional names, including Buah Buni or Berunai in Malaysia, Boni, Hooni, or Wooni in Indonesia, Bignai and Bugnay in the Philippines, Ma Mao Luang in Thailand, Choi Moi in Vietnam, Kho Lien Tu in Laos, and Chunka and Moi-Kin in Queensland. The fruits are also known as Chinese Laurel fruit, Queensland cherry, Salamander tree, Wild cherry, and Currant tree. Bignay fruits have been foraged from wild trees since ancient times, and throughout history, the fruits have remained a primarily wild species. The tropical trees are sometimes planted in villages and home gardens, harvesting the fruits for sale in local markets, but when viewed on a global scale, Bignay fruits are considered rare. In their native regions, Bignay trees are favored for their ornamental nature, and the fruits are also used fresh and cooked in culinary and medicinal preparations.


Nutritional Value

Bignay fruits are a source of vitamin C to strengthen the immune system, vitamin A to maintain healthy organ functioning, calcium to build strong bones and teeth, and iron to develop the protein hemoglobin for oxygen transport through the bloodstream. The fruits also provide anthocyanins, natural compounds in the flesh that have antioxidant-like properties to protect the cells against the damage caused by free radicals and other nutrients, including phosphorus, niacin, and riboflavin. In the Philippines, Bignay fruits are utilized in natural medicines to reduce symptoms associated with anemia and heart conditions.


Applications

Bignay fruits have a sweet, tart, and subtly acidic flavor suited for fresh and cooked preparations. The fruits are traditionally eaten raw out of hand and are only consumed fresh in their dark red or purple, almost black stages. Unripe Bignay fruits are acidic and sometimes used as a substitute for vinegar in recipes. In Java, Bignay fruits are tossed into salads and are eaten with rujak uleg, a famous dish of bean sprouts, cucumber, pineapple, cingur, tempe, and lontong. They are also added to fish dishes, stews, or cooked into sauces to add sour notes to seafood. In addition to fresh preparations, Bignay fruits can be simmered into jams and jellies or infused into syrups. The berries can also be smashed, pressed into juice, and stirred into beverages. If the fresh-pressed juice is sour, it can be left to settle, revealing a layer of astringent sediment that can be removed for a sweeter drink. Bignay fruits are used throughout Southeast Asia in teas, red wine, and liquors such as brandy. Beyond the fruits, young Bignay leaves are incorporated into rice-based dishes, soups, curries, and stews. When cooked, the leaves will turn brown, but their crisp, succulent texture will remain. Bignay fruits have a short shelf life and should be immediately consumed when ripe for the best quality and flavor.


Ethnic/Cultural Info

Bignay fruits are generally localized to Southeast Asia, but a few trees can be found in Florida thanks to plant explorer Dr. David Fairchild. Dr. Fairchild acquired a Bignay seedling in the Philippines and planted the tree in the Fairchild Tropical Botanic Garden. Dr. Fairchild sought to introduce a berry into South Florida that would act as an alternative to blueberries and appease visitors from the northern United States who favored seasonal berries. Dr. Fairchild was one of the most famous American scientist and plant explorers, spending the majority of his career traveling the world in search of plants suitable for cultivation in the United States. He developed the division of the Foreign Seed and Plant Introduction, a section within the United States Department of Agriculture when he was only 22, and throughout his career, he introduced plants such as cherry trees, nectarines, mangos, soybeans, bamboos, dates, and alfalfa. Dr. Fairchild spent the years after his retirement establishing a botanic garden to showcase the plants he discovered on his journeys. The Fairchild Tropical Botanic Garden opened in 1938 and is an 83-acre property located just south of Miami, Florida. In addition to the garden, Dr. Fairchild's residence, known as the Kampong, is a nine-acre property in Coconut Grove with many diverse plants. Dr. Fairchild and his wife were inspired by traditional villages in Java, and the property holds so much plant diversity that it is registered as part of the National Tropical Botanical Garden. It is the only botanical location registered outside of Hawaii belonging to the National Tropical Garden, and the Fairchild's private residence is also home to another Bignay tree planted by Dr. Fairchild himself.


Geography/History

Bignay fruits are native to a vast region extending throughout Southeast Asia and south into northern Australia. The fruit grows on trees that thrive in tropical to semi-evergreen forests and are generally found in hot, humid lowlands or mountain plains as high as 1,400 meters. The trees are primarily found in the wild and grow alongside riverbanks, in distributed land, on forest edges, on roadsides, and in open land. Bignay trees are also sometimes grown in home gardens or in villages in Southeast Asia. Historically, Bignay trees have remained localized to their native regions. In the early 20th century, Bignay fruits were introduced to the United States and were planted in Southern Florida through the efforts of Dr. David Fairchild. The United States Department of Agriculture acquired seeds from the Philippines in 1905, 1913, and 1918. Today Bignay fruits are not commercially cultivated and are foraged from wild and village-planted trees as a local delicacy. The fruits can be found in village markets in Southeast Asia, New Guinea, Northern Australia, and the Pacific Islands.