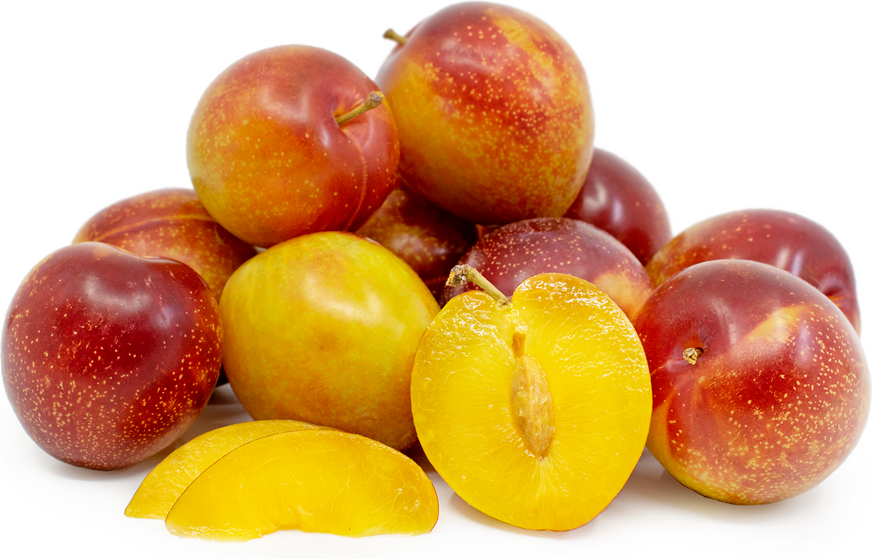 Sierra Plums
Inventory, 8 lbs : 0
Description/Taste
Sierra plums are very small and round or oval, measuring between 1.2 and 3.5 centimeters in diameter. They grow in clusters along the dark branches, hanging from skinny stems. Their smooth skins are firm and ripen from pale green to yellow with red spots and blush or a dark purplish red depending on the variety. They have bright orange-yellow fleshy pulp that clings to a smooth central pit. Sierra plums are juicy with a balanced sweet-tart tang.
Seasons/Availability
Sierra plums are available in the late spring and through the summer months.
Current Facts
Sierra plums, also commonly known as Klamath plums or Pacific plums, are a wild species botanically classified as Prunus subcordata. They are the only plum species native to the Western United States. Named for their prevalence in the foothills of the Sierra Nevada Mountains, the small, wild plums are popular with birds and deer. The trees and fruits are known for attracting wildlife and are sold commercially as ornamentals. Keeping an eye on the wildlife helps foragers and growers determine when Sierra plums are ripe.
Nutritional Value
Sierra plums are a good source of vitamins C and A and fiber. They are a source of copper, potassium, vitamin K, and B-complex vitamins. The fruits contain small amounts of vitamin E, folate, iron, magnesium, manganese, phosphorus, selenium, zinc and calcium. They are also a source of sorbitol, a natural sugar alcohol, and contain a high amount of antioxidant rich phenols like carotene, crypto-xanthin and lutein-zeaxanthin. Dried Sierra plums contain oxalates, which should not be consumed in excess by people with kidney or gallbladder issues.
Applications
Sierra plums are used raw and are cooked in both sweet and savory applications. Wash and halve or slice the fruits to remove the pit and add pieces to fruit or green salads. Cook them with sugar and pectin for preserves, jam or jellies. Combine them with spices and raisins for plum chutney. Fresh or dried Sierra plums pair well with strong cheeses, poultry, pork, cinnamon, and vanilla. Grill halved plums brushed with olive oil or mix cooked plums with honey or lime. They can be used in baked recipes for scones, muffins, pies or tarts. Juice the fruits for a sweet-tart beverage or for fermenting into wine. Ripen Sierra plums at room temperature or in a paper bag in the refrigerator. They will keep in the refrigerator for up to a week.
Ethnic/Cultural Info
Sierra plums were a part of the diets of Native American tribes in Northern California's Sierra Nevada Mountains. They gathered the fruit when ripe and dried it for the winters. In the early 1830s, trappers from the Hudson Bay Company arrived in the region and found the fruit which they called the Wild Plum. The Wild plums were rediscovered in the 1840s by Oregon Trail pioneer Captain Lassen. Miners flooding into California for the Gold Rush of '49 also mentioned the Wild plums.
Geography/History
Sierra plums are native to California's Coastal Range and Sierra Nevada Mountains. The trees grow in an area that reaches from central California into southern Oregon and some have been reported growing as far north as British Columbia and as far south as Yosemite. They prefer the cool, drier climates of the foothills and canyons, but are tolerant of the wetter, warmer weather of the Coastal Range along the Pacific Ocean. Sierra plums are known to grow in several of the National Parks in California and Oregon, though they are not under conservation and aren't thought to be endangered. The Western plum, as it is sometimes called, is one of 5 known species native to the United States. They are primarily spotted in the wild in their native range or cultivated and sold at farmer's markets in Oregon, California and to a small extent in Nevada and Washington.
Podcasts