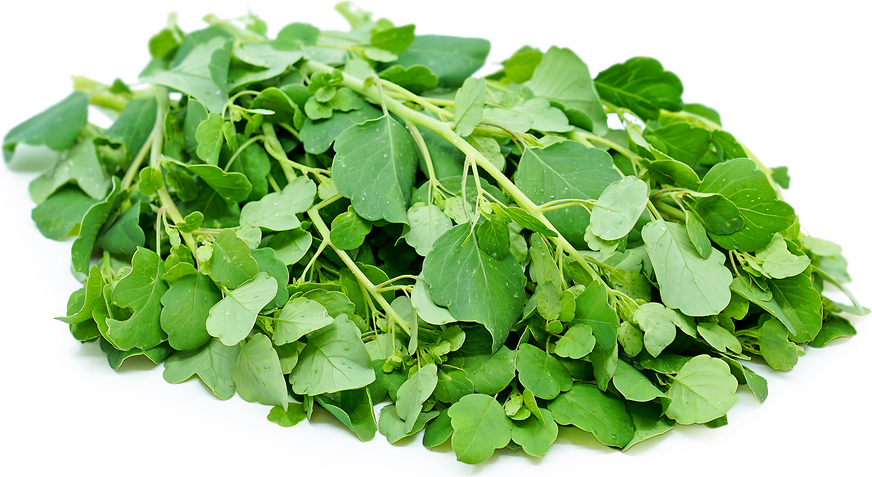 Papalo
Inventory, lb : 0
Description/Taste
Papalo is a tall, branching herb comprised of slender, erect, and fibrous green stalks with oval leaves averaging 2 to 7 centimeters in length. The leaves range in color from blue-green to dark green and are sturdy, broad, smooth, and flat with scalloped edges. The surface of the leaves may display small pinhole-like spots, which are translucent glands that contain the plant's fragrant essential oils. Papalo leaves are also connected to the main branches with thin stems, giving the leaves a fluttering, airy appearance in the wind. The leaves are generally harvested from the plant when young as they contain a milder flavor and more tender texture. Mature leaves will contribute a stronger, sometimes unpleasant bitter flavor. Papalo has a complex flavoring composed of herbal, sharp, vegetal, and piquant flavors. The taste is often likened to the spiciness of nasturtiums, the bitterness of arugula, and the zesty, green flavor of cilantro mixed with citrus, mint, and cucumber.
Seasons/Availability
Papalo is available in the late spring through fall, with a peak season in the summer.
Current Facts
Papalo, botanically classified as Porophyllum ruderale, is an ancient quelite herb belonging to the Asteraceae family. Quelite herbs are wild plants native to Mexico, Central, and South America with a rich history of being used as a food and medicinal source. Many plants within the quelite grouping, including Papalo, grow naturally without the need for cultivation and provide a flavorful addition to culinary dishes. Papalo is an annual plant that thrives in warm, tropical to subtropical climates and can reach between 1 to 2 meters in height. The herb is known by many regional names, including Papaloquelite, Bolivian Coriander, Mampuitu, Yerba Porosa, and Cravo-de-Uruba. It is also known as Summer Cilantro, as the herb is a popular substitute for cilantro in home gardens during the hot summer season. The name Papalo was derived from the Nahuatl word for butterfly. Experts believe the plant was given this name in honor of the way the leaves flutter in the wind and its ability to attract beneficial pollinators, including butterflies, when flowering. There are two types of Papalo, known as broadleaf and narrow-leaf, and broadleaf is the most common version seen in culinary markets as narrow-leaf leaves are said to contain a soapy, unpleasant flavor. In the modern-day, Papalo is favored throughout the Americas for its distinctive, complex taste and is primarily used fresh as an herbal flavoring.
Nutritional Value
Papalo has not been extensively studied for its nutritional properties, but the robust herb has been a part of folk remedies for thousands of years. In Bolivia, Papalo is believed to help lower blood pressure, and indigenous populations consumed the herb to reduce inflammation. In Mexico, curanderos or Mexican herbalists recommend eating Papalo to improve digestion and assist with other stomach ailments.
Applications
Papalo is mainly used fresh as a garnish and flavor enhancement, added at the end of preparations to preserve the herb's unique taste. It is important to note that Papalo can be used as a cilantro substitute, but it has a stronger flavor and should be used sparingly. Lightly tearing or chopping the leaves will enhance the aromatic nature of Papalo, and the greens can be incorporated into salads or mixed into egg, bean, and fish dishes. Papalo is also commonly used to flavor salsas, sauces, and guacamole. In Puebla, Mexico, Papalo is sprinkled as a topping over tacos, floated over soups, or layered into rice dishes. Papalo is also used as a fresh herb in the well-known cemita sandwich, a combination of fried or fatty cuts of beef, pork, or poultry layered with avocado, chile peppers, and cheese. The herb provides a sharp, fresh flavor to cut through the richness of the sandwich, creating a dynamic layering of flavors. Papalo pairs well with papaya, citrus, cucumbers, tomatoes, avocados, tomatillos, mushrooms, greens such as kale, mustard, and romaine, queso fresco, seafood, and meats such as carne asada and carnitas. Papalo should be used immediately for the best quality and flavor, but the greens will keep for a couple of days when wrapped in a damp paper towel and stored unwashed in the refrigerator. Sprigs of the herb can also be kept upright in a glass of water in the fridge. Papalo is not recommended for drying as it significantly loses its flavoring.
Ethnic/Cultural Info
In Bolivia, Papalo is known as Killi and Quirquiña and has traditionally been used as a culinary and medicinal ingredient of the Quechua people. The herb is mainly incorporated fresh, and it is common for restaurants throughout Bolivia to place a vase full of Papalo on tables for added flavoring. The leaves are plucked fresh from the plant and lightly torn to release their robust, herbal flavor. While Papalo is utilized in a wide array of dishes, the round leaves are favored for llajwa, a Bolivian salsa comprised of Papalo, tomatoes, and rocoto chile peppers. In addition to llajwa, Papalo is also an ingredient in soltero, a fresh salad composed of cheese, chiles, aromatics such as tomato and onions, and corn. Soltero is a favorite side salad for Bolivian picnics and potlucks.
Geography/History
Papalo is an ancient herb believed by experts to be native to South America. The herb was spread in the early ages throughout Central America, Mexico, and into the Southwestern United States and was used as a culinary ingredient in the Aztec and Incan Empires. Papalo also pre-dates cilantro, an Asian herb often interchangeably used with Papalo, introduced to Mexico in the 1500s through Chinese mine workers. During this time, the colonizing Spaniards gave Papalo a new name, Mampuitu, meaning "skunk." The Spanish considered the odiferous nature of Papalo unpleasant when planted in large groupings and deterred native Mexicans from using the herb. Despite their efforts, Papalo continued to be a treasured flavoring but eventually became overshadowed by the popularity of cilantro. Today Papalo still grows wild from the Southwestern United States to South America. In Mexico, it is a favored herb in the state of Puebla, and in South America, the greens are extensively used in Bolivia, sold in local markets and grocers. Though Papalo is found wild in New Mexico, Arizona, and West Texas of the United States, it is not typically sold outside Mexican markets. Papalo is most famously used in California by Chef Alice Waters. Waters encountered the herb in 1999 and purchased every available seed at the time for her Chez Panisse restaurant garden.
Recipe Ideas
Recipes that include Papalo. One

is easiest, three is harder.