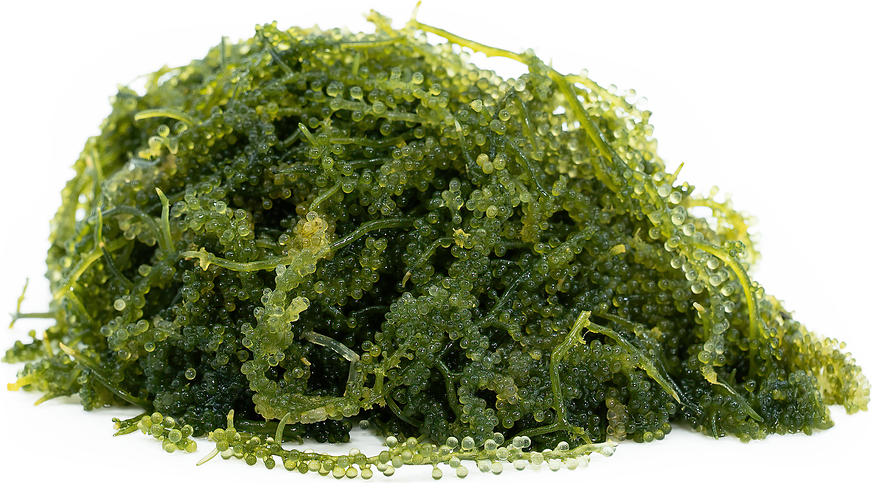 Sea Grapes
Inventory, lb : 0
Description/Taste

Sea Grapes are small in size and are comprised of strands of tightly packed, tiny bulbs reaching up to thirty centimeters in length. The strands, also known as fronds, are typically cut or separated into smaller pieces for commercial sale, and the individual bulbs along the fronds are very small, ranging 0.1 to 0.2 centimeters in diameter. The bulbs are also uniform and have an oval-to-round appearance. Sea Grapes generally exhibit a dark forest green to pale green, translucent hue and have a smooth, taut, and slippery feel. When consumed fresh, Sea Grapes have a distinct, popping texture, as the tiny bulbs are crushed in the mouth, bursting with small amounts of salty liquid. The entire frond is edible and is crunchy, succulent, and textured. The more the frond is chewed, a slight pleasant sliminess is released following the initial popping sensation. Sea Grapes emit a subtle seaweed and marine-like scent and have an initially briny, ocean-like taste followed by umami nuances. Some consumers may also experience a touch of fish and saltwater notes, depending on the palate.


Seasons/Availability

Wild Sea Grapes are available from May through August. When commercially produced, Sea Grapes are available year-round.


Current Facts

Sea Grapes, botanically classified as Caulerpa lentillifera, are an aquatic algae species belonging to the Caulerpaceae family. The green algae are native to the warm, shallow, coastal waters of Asia and have been foraged and commercially grown as a unique food source. Sea Grapes are known by many regional names, including Kubiretsuta and Umibudo in Japan, Latoh in Singapore, Rong Nho or Rong Nho Bien in Vietnam, Lato or Arosep in the Phillippines, Latok in Saba, Malaysia, Bulung in Indonesia, Bada Podo in Korea, Green Caviar, and Vegan Caviar. The tiny strands of small green bubbles are mainly added to culinary dishes as a textural component and are noted for their crunchy, popping sensation. In Japan, the crunch of Sea Grapes is famously described using the onomatopoeia "puchi-puchi," meaning "pop-pop." In the modern day, Sea Grapes are commercially cultivated to maintain a uniform size, flavor, and texture, and the strands of bubble-like nodes are eaten in clumps in an array of raw and cooked culinary dishes. It is important to note that Sea Grapes, spelled in two words, are distinct from Seagrapes, spelled with one word. Seagrapes are a different species, Coccoloba uvifera, native to South Florida and the Caribbean.


Nutritional Value

Sea Grapes are a source of fiber to regulate the digestive tract, calcium to build strong bones and teeth, and vitamin C to boost the immune system. The algae also provide potassium to balance fluid levels within the body, iron to develop the protein hemoglobin for oxygen transport through the bloodstream, and other nutrients, including iodine, copper, magnesium, phosphorus, zinc, omega-3 fatty acids, and vitamins K and E. In Japan, Sea Grapes are thought to improve skin complexion as they are said to contain hyaluronic acid to hydrate and nourish the skin. The algae are also believed to be filled with antioxidants to provide anti-inflammatory and antibacterial properties.


Applications

Sea Grapes have a briny, salty, and marine-like taste suited as a fresh ingredient or garnish. The algae lose their crunch and flavor if cooked, so it is recommended to only use Sea Grapes in raw dishes or add fronds to cooked dishes as an edible topping during plating. Sea Grapes are primarily consumed in East Asia, Southeast Asia, and Oceania cuisines. The fronds are sometimes sold fresh, but they are also offered dehydrated in a solution that requires them to be soaked in water. Once rehydrated and rinsed, Sea Grapes can be tossed into salads, layered over eggs, served with cucumbers as a salty addition, or added to rice and noodle bowls. In the Philippines, Sea Grapes are mixed into ensaladang lato, a salad of chopped tomatoes, shallots, mangoes, and grilled seafood. They are also added to stir-fries or dipped into sauces as a snack. In Japan, Sea Grapes are customarily used as a garnish for sashimi or used in umibudou kaisendon, a rice bowl of seafood and sauces. Less commonly, Sea Grapes are also used to flavor jams and ice cream. Sea Grapes pair well with soy sauce, mirin, tamari, or sesame oil, edamame, carrots, radishes, and onions. Sea Grapes should be immediately consumed for the best quality and flavor.


Ethnic/Cultural Info

Sea Grapes are nicknamed "Longevity Seaweed" in Okinawa, Japan, for their rich nutritional properties. The prefecture is comprised of a chain of islands approximately 400 miles southwest of mainland Japan, and the name Okinawa translates to mean "rope in the open sea." Okinawa is a tropical region with warm waters maintaining a temperature of around twenty-five degrees Celsius, an ideal temperature for Sea Grape cultivation. Sea Grapes have been naturally growing in Okinawa since ancient times, and for many centuries, Okinawans would seasonally harvest the algae as a food source. The island of Miyako in the Okinawa Prefecture produces most of the Sea Grapes grown around the islands. The algae were once known as N'kyafu and Kubirezuta, but as they increased in popularity and became commercially produced in Okinawa, the algae's name was changed to Umibodu, a more friendly, marketable name meaning "Sea Grapes." Okinawa is considered a blue zone, meaning it has one of the highest concentrations of individuals with long life expectancies. The prefecture has also been called the "Land of Immortals," and much of the Okinawan's extended life success is attributed to their vegetable and fruit-based diets. Scientists have estimated that Okinawans consume more than eighteen different fruits and vegetables a day, including Sea Grapes, and their philosophy surrounding food is to use "food as medicine." Sea Grapes are consumed regularly in Okinawa, and there is a belief that algae contain beneficial fucoidans that contribute to overall health and immunity. In Okinawa, Sea Grapes are traditionally served in Izakayas, or Japanese pubs, and are served in a small dish with beer as a crunchy snack. The algae are also served on top of rice bowls and sashimi.


Geography/History

Sea Grapes are native to the warm waters of the Western Pacific and have been growing wild in the ocean since ancient times. The algae naturally form in shallow waters along sandy bottoms and rocks and was historically a foraged ingredient used as a food source in Asia. Sea Grapes were commercially cultivated in the Philippines in the 1950s. It is said that the first commercial production occurred in the city of Cebu, where the algae was accidentally introduced to a fishpond. In 1968, residents in Okinawa, Japan, noticed a demand for Sea Grapes on mainland Japan and began cultivating the algae for commercial sale. The crunchy algae are customarily farmed in greenhouses with water tanks that maintain a warm water temperature, allowing algae to grow year-round. Outside of Japan, Sea Grapes have expanded in production to China, Vietnam, and Taiwan. Today Sea Grapes are sold as a delicacy in East Asia and Southeast Asia and are consumed as a domestic ingredient and as an exported good. In Asia, the species can be found fresh or dehydrated through farmer's markets, select grocers, and distributors. The Sea Grapes featured in the photograph above were sourced from Takashimaya Shinjuku in Tokyo, Japan.