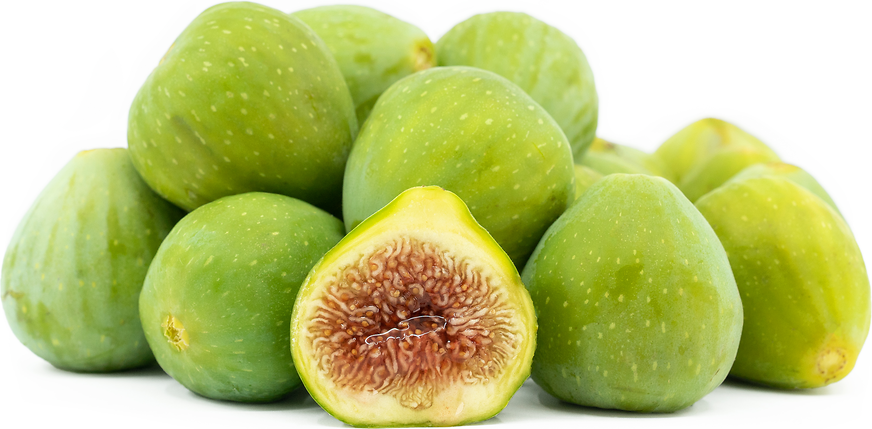 Adriatic Figs
Inventory, lb : 0
Description/Taste
Adriatic figs are a medium to large varietal, averaging 50 grams in weight, and have a pyriform shape. The figs bear a short, thick, and sometimes curved neck approximately 1 to 2 centimeters in diameter, and the base of the fruit is bulbous and curved. At the bottom of the fig is a small opening, also known as the eye. The fig's skin is thin, easily damaged, and when ripe, the skin can be quickly separated from the flesh. The skin also showcases a yellow-green hue with pale green to white dappling, and the surface is matte with subtle ridging, occasionally covered in a soft bloom. Underneath the surface, the flesh is comprised of tiny, undeveloped flowers tightly packed and filled with a honeyed liquid and small seeds. Each Adriatic fig may contain as many as 1,600 edible seeds, providing a distinct crunch to the fruit's soft, tender, aqueous, and succulent flesh. The maroon to red-pink flesh is also speckled with white and is sometimes hollow in the center. Adriatic figs have a rich, sweet, and sugary flavor with jammy, floral, and honeyed nuances.
Seasons/Availability
Adriatic figs are available in the summer. The variety's breba crop, a small batch of fruits that ripen from the previous year's growth, is available in June. The main crop occurs in August.
Current Facts
Adriatic figs, botanically classified as Ficus carica, are a mid to late-season variety belonging to the Moraceae family. The figs grow on trees reaching 3 to 6 meters in height and were first recorded in Italy, cultivated for centuries as an all-purpose variety. Worldwide, Adriatic figs are known by several regional names. The figs were initially known as Verdone, named by Italian botanist Giorgio Gallesio sometime in the 18th or 19th centuries. The name Verdone translates from Italian to mean "greenfinch," a descriptor given for the fig's green skin. Over time, the variety also acquired the names Fico de Fragola in Italy, Grosse Verte in France and England, and Adriatic in the United States. Adriatic figs are not commercially produced on a broad scale due to their delicate skins, making them difficult to ship or sell in stores. The variety is mainly found through specialty growers at farmers markets or through fig enthusiasts in their home gardens. Adriatic figs are a seasonal delicacy valued for their rich, sugary-sweet flavor, unusual coloring, and sticky, creamy nature.
Nutritional Value
Adriatic figs are a source of potassium to balance fluid levels within the body, magnesium to control optimal nerve functioning, and calcium and phosphorus to build strong bones and teeth. The figs also provide fiber to regulate the digestive tract, iron to develop the protein hemoglobin for oxygen transport through the bloodstream, and other nutrients, including vitamins A, K, and C, copper, and zinc. Beyond vitamins and minerals, Adriatic figs have high sugar content, contributing to the fig's sweet flavor.
Applications
Adriatic figs have a rich, sugary flavoring suited for fresh, cooked, and processed preparations. The figs can be eaten straight out of hand, including the skin, but some consumers choose to peel the skin before eating. Adriatic figs are also a popular accompaniment to soft cheeses and nuts on charcuterie boards, and their sweet taste is balanced by serving with cream or crème fresh. Try slicing fresh figs over cereal, yogurt, or ice cream for added texture or chopping over French toast with a drizzle of caramel. Adriatic figs can also be simmered into pastes, jams, and marmalades or tossed into salads. When made into a paste, the sticky mixture can be used as a filling in bars, pastries, and other desserts, or it can be used as a sweetener. Adriatic figs can also be incorporated into bread, pies, tarts, and crumble cakes, cooked into fritters, or roasted with honey and topped with herbs, other fruits, and syrup. In addition to fresh preparations, Adriatic figs can be candied and preserved whole in a sugar-based syrup. They can also be dried for extended use and consumed as a chewy snack, yogurt topping, or protein bar ingredient. Adriatic figs complement nuts such as hazelnuts, almonds, and pistachios, chocolate, citrus, raspberries, grapes, cheeses including mascarpone, goat, and gorgonzola, rhubarb, and herbs such as thyme, basil, mint, rosemary, and parsley. Whole, unwashed Adriatic figs have thin, easily damaged skin, making them highly perishable. It is recommended to eat the variety immediately after purchase for the best quality and flavor. The figs can also be kept for a few days when stored in the refrigerator's crisper drawer in a sealed container.
Ethnic/Cultural Info
Adriatic figs are traditionally dried in California. According to the California Farmland Trust, California produces 100% of the dried figs in the United States and 98% of fresh figs. The Golden State is known for fig production in the San Joaquin Valley, a dry, sunny, and hot valley conducive to developing sweet, concentrated fig flavors. The San Joaquin Valley is also known as a part of California's Central Valley and is recognized for growing other crops, including sugar beets, almonds, tomatoes, grapes, citrus, and pistachios. When cultivating figs, the fruits are left on the tree to ripen and partially dry to develop an optimal flavor. The figs are further dried in the sun after harvest until they have reduced in moisture. Adriatic figs have been a popular variety for drying in California since 1884. The large figs dry to a golden coloring and contain high sugar content, becoming concentrated and flavorful with dehydration. Though Adriatic figs are a specialty variety compared to the five main commercially grown figs in California, they have remained a favorite among fig enthusiasts for making fig pastes.
Geography/History
Adriatic figs were first recorded in Central Italy in the 18th and 19th centuries. The exact date of origin is unknown, but the variety was widely cultivated throughout Rome and was eventually spread to countries across Europe, including France and England. Adriatic figs were also introduced to California and Australia in the late 19th century. In 1865, W.B. West, a grower in Stockton, California, received the variety from an English nursery. It was later discovered that many growers in California had the same figs, despite the trees being labeled under various regional names. In 1885, G.N. Milco was responsible for naming the variety Adriatic in the United States when he discovered a ten-year-old tree growing on the Captain Gray Ranch in Atwater, California. Today Adriatic figs are grown worldwide in home gardens and specialty farms and are a seasonal delicacy in Europe, mainly in Italy, France, and England, South Africa, Australia, Palestine, and in California, Florida, and Georgia in the United States.
Recipe Ideas
Recipes that include Adriatic Figs. One

is easiest, three is harder.
Podcasts