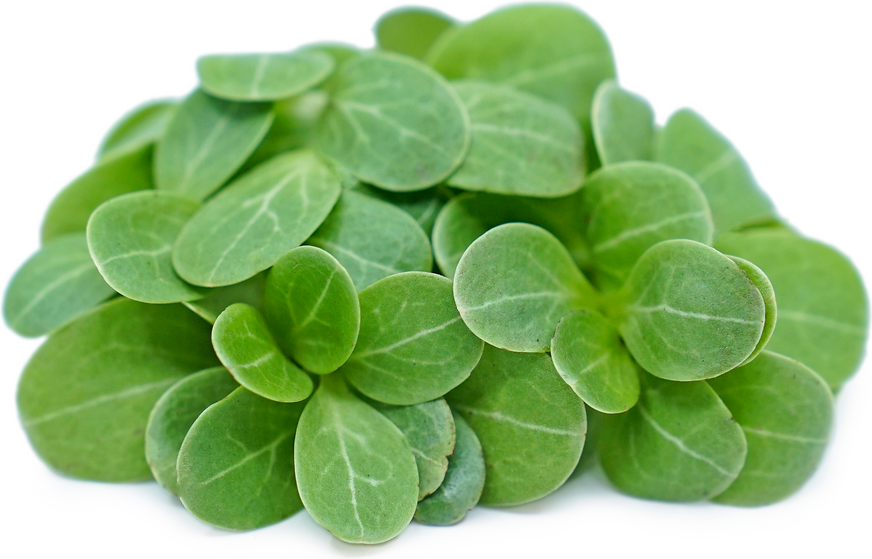 Micro Cucumber™
Inventory, 4 oz : 0
This item was last sold on : 04/21/23
Description/Taste

Micro Cucumber™ is comprised of 1 to 2 small, broad, and flat leaves attached to narrow stems. Each leaf has a round to oval appearance with curved, even edges, tapering slightly towards the pale green stem. The leaf's surface is also smooth with a vibrant green hue and bears prominent white veining that extends around the edges and runs through the center of the leaf. Micro Cucumber™ has a crisp, succulent, and tender consistency. The greens contain a light vegetal flavor with cucumber, herbal, and subtly sweet, melon-like nuances.


Seasons/Availability

Micro Cucumber™ is available year-round.


Current Facts

Micro Cucumber™ consists of young, edible seedlings that are a part of a trademarked line of specialty microgreens grown by Fresh Origins Farm in San Diego, California. The succulent, crisp leaves are an innovative, proprietary creation developed for chefs to reimagine the way herbal, vegetal flavors are traditionally used. In culinary preparations, Micro Cucumber™ imparts a light and refreshing green flavor in savory and sweet dishes. The microgreens can be placed individually on small plates as a procured garnish, or a handful of the greens can be quickly sprinkled across larger preparations for added flavor and textural layers. Fresh Origins produces over 115 microgreens with unique flavors, and the tiny greens are available year-round for chefs to express their creativity through fresh, natural, and edible garnishes.


Nutritional Value

Micro Cucumber™ has not been studied for its nutritional content. Like other microgreens, Micro Cucumber™ may provide some iron to develop the protein hemoglobin for oxygen transport through the bloodstream, potassium to balance fluid levels within the body, and zinc to boost the immune system against viruses and bacteria. The microgreens may also contain lower amounts of magnesium, copper, B vitamins, phosphorus, and calcium. It is important to note that the vitamins and minerals are found primarily within the leaves and not in the stems of the microgreens. Growing conditions also significantly impact the nutritional content, and Fresh Origins cultivates their microgreens in a natural setting, an ideal climate for healthy, optimal greens.


Applications

Micro Cucumber™ is best used fresh as an edible garnish to showcase the green's delicate, vegetal flavor. The microgreens provide increased textural and visual appeal and are traditionally added at the end of cooking as a finishing element to prevent the leaves from wilting. It is important to note that Micro Cucumber™ has such a mild flavoring that it can be easily overpowered by other ingredients and should be served with lighter dishes to showcase its flavor. Micro Cucumber™ can be sprinkled fresh over salads, mixed into a bed of greens for seafood, or strategically placed on bite-sized appetizers as a delicate garnish. The microgreens can also be topped over roasted meats, piled on avocado toast, or floated on soups. In addition to using the microgreens as an edible garnish, chefs can incorporate Micro Cucumber™ in exciting new ways, such as layering the greens into a cucumber tea sandwich or adding into stir-fries as a refreshing pop of flavor. Micro Cucumber™ pairs well with citrus, herbs such as thyme, mint, basil, and parsley, avocado, radish, peas, tomatoes, nuts including almonds, pistachios, and macadamia, meats such as poultry, turkey, and beef, and seafood including fish, scallops, crab, and lobster. Whole, unwashed microgreens will generally keep 5 to 7 days when stored in the refrigerator in a sealed container.


Ethnic/Cultural Info

In the United States, Micro Cucumber™ is a favorite microgreen in mixology as it is an exclusive, modern creation that captures the essence of cucumbers in a fresh and vegetal, leaf form. Microgreens became popular at fine-dining establishments in the late 20th century for adding vibrant flavors into a dish, and in the early 21st century, mixologists also began using microgreens to elevate cocktails. Craft culture and sustainability are two of the most popular focuses of mixology in the present day, and the industry has shifted from traditional garnishes to fresh, edible microgreens to add increased flavor and texture. Microgreens are also visually appealing, as the greens look like mature herbs but in a compact, whimsical form. Micro Cucumber™ can be garnished or muddled into lemonades, mojitos, citrus-forward beverages, or earthy, herbal drinks. The tiny greens can also be infused into bitters, syrups, or tinctures, or they can be paired with edible cucumber blossoms for a dynamic visual.


Geography/History

Micro Cucumber™ was developed at Fresh Origins Farm in San Diego, California, the leading American producer of naturally grown microgreens since the mid-1990s. Fresh Origins has been using the mild Southern California climate year-round to produce robust, healthy, and flavorful microgreens for over twenty years, and the farm closely partners with chefs to create innovative varieties with unique flavorings. Fresh Origins also has the highest level third-party-audited food safety program and is a certified member of the California Leafy Greens Marketing Agreement, which follows science-based food safety practices to promote transparency and honesty in production. Today Micro Cucumber™ can be found through select distribution partners of Fresh Origins across the United States, including Specialty Produce, and are also found through partners in Canada.