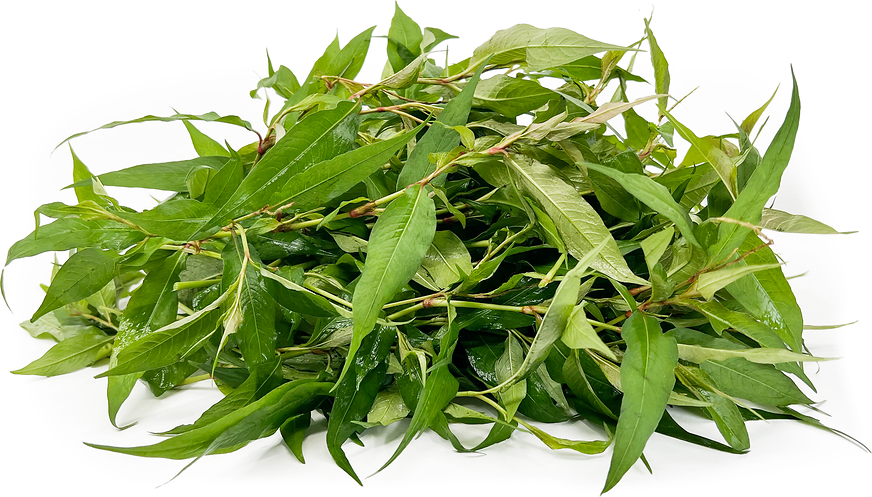 Laksa Leaves
Inventory, bunch : 0
Description/Taste
Laksa leaves grow in alternate formations along jointed, cylindrical stems, producing a leafy, bush-like shrub. The leaves are elongated, tapered, and blade-like, averaging 5 to 7 centimeters in length and 1 to 2 centimeters in diameter, have a lanceolate to lanceolate-ovate shape with a point on the non-stem end. The leaves also showcase dark green hues, sometimes marked with a burgundy to crimson crescent shape at the base near the stem. Younger Laksa leaves typically do not bear the burgundy markings, and the degree of coloring will vary depending on the variety. Laksa leaves have a soft, pliable, and crisp consistency with a smooth surface. The stems are cylindrical, succulent, and green to red, ranging 2 to 3 millimeters in diameter, and showcase prominent nodes at each leaf connection. Laksa leaves are aromatic and release a scent reminiscent of epazote mixed with cilantro. The leaves and young stems are edible, containing an herbal, grassy, and green flavor with musky citrus and spice nuances, followed by a peppery, zingy, and tangy aftertaste. It is important to note that young, tender leaves are the preferred element for culinary use. Mature leaves tend to develop a bitter and acrid flavor with a toothsome texture.
Seasons/Availability
Laksa leaves are available year-round.
Current Facts
Laksa leaves, botanically classified as Persicaria odorata, grow from an herbaceous, creeping perennial belonging to the Polygonaceae family. The plant is low-growing and somewhat shrub-like, reaching between 15 to 50 centimeters in height, and is native to warm and humid regions of Southeast Asia. Laksa leaves are an aromatic, flavorful herb that has been used since antiquity as a culinary flavoring and medicinal ingredient. The leaves are known by many regional names, including Rau Ram in Vietnam, Daun Kesum and Daun Laksa in Malaysia, Laksa leaf in Singapore, Pak Paeo in Laos, Pak Pai in Thailand, and Hot mint, Cambodian mint, Vietnamese mint, and Vietnamese cilantro. There are two types of Laksa leaves present in the wild, but the elongated, lanceolate-shaped Laksa leaves featured in the photograph above are the most common type found in Southeast Asia for culinary preparations. Another type of Laksa leaf is more round to oval and dark green, but that specific type is challenging to cultivate and is sold at premium prices as a finishing herb. Laksa leaves have a distinct flavor that many chefs regard as irreplaceable in soups, curries, and noodle dishes. The leaves are common in recipes throughout Southeast Asia and Northeastern India and are especially highlighted in dishes found in Singapore, Malaysia, Vietnam, Thailand, and Laos.
Nutritional Value
Laksa leaves are a source of vitamin A to maintain healthy organ functioning, vitamin C to strengthen the immune system, potassium to balance fluid levels within the body, and calcium and phosphorus to build strong bones and teeth. The leaves also contain antioxidant-like properties to reduce inflammation and protect the body against free radical damage. In Southeast Asia, Laksa leaves are used as a natural medicine to relieve symptoms associated with digestion, bloating, and bacterial infections. The leaves are also made into extracts and are applied topically to the scalp to treat dandruff and remove skin impurities and are rumored to help reduce symptoms associated with snake bites.
Applications
Laksa leaves have a robust, peppery, and grassy-herbal flavoring well suited as a fresh garnish or herb. The leaves are primarily used raw, as cooking the greens for extended periods will lessen their flavor. Laksa leaves are commonly incorporated fresh into green or fruit salads, or they are lightly torn and mixed into stir-fries, noodles, and rice dishes. The aromatic leaves can be cooked into omelets for depth of flavor, or they can be chopped into marinades, sauces, and pastes. In Vietnam, Laksa leaves are incorporated into fresh spring rolls, tossed into salads, or stirred into main dishes with proteins such as frog, duck, eggs, or seafood. The leaves are also used in Manipur, a state in Northeast India, where they are ground into a paste-like side dish with ghost peppers and nuts. In Laos, the fragrant herb is an integral flavoring in larb. This national dish is comprised of minced meat with aromatic herbs, spices, and crunchy vegetables to create a tangy and refreshing salad, favored as a meal on hot, humid days. One of the most popular ways to use Laksa leaves is for flavoring stews, curries, and soups. Throughout Southeast Asia, Laksa leaves are lightly torn or shredded to mask fishy flavors and add herbal elements into sweet, sour, spicy, and savory soups. The leaves are also used in Peranakan dishes, a unique blend of Chinese, Indonesian, and Malay cooking. Some of the typical Peranakan dishes with Laksa leaves include nasi ulam, nasi kerabu, and asam pedas. Laksa leaves pair well with aromatics like lemongrass, mint, ginger, chile peppers, green onion, and garlic, seafood such as crab, prawns, fish, and squid, coconut milk, tomato, lime juice, carrots, cabbage, and peanuts. Whole, unwashed Laksa leaves will keep up to one week when stored in a glass of water and covered with a plastic bag in the refrigerator.
Ethnic/Cultural Info
Laksa leaves are most famously known for their aromatic flavoring in the Southeast Asian noodle soup of the same name, Laksa. There are two main types of Laksa noodle soup, known as curry laksa and Assam laksa. Within these types, there are subcategories, including lasae, Nyonya laksa, Katong laksa, Penang laksa, Thai laksa, and Indonesian curry laksa. Both types of soups are generally comprised of thick, chewy noodles, a protein such as seafood or chicken, vegetables, and fresh herbs, and there are many variations throughout Southeast Asia using available ingredients and flavor preferences. Laksa leaves are traditionally shredded and incorporated into soups to help mask fishy notes and release a bright, clean, and aromatic scent and flavor. In Singapore, laksa noodle soup is a popular street food served throughout the city in fine dining establishments to individual hawker food stalls. Laksa leaves are a vital, non-negotiable ingredient in Singaporean laksa, so much so that the locals refer to the herb simply as Laksa instead of its Malay name Daun Laksa. In Thailand, laksa soup is also found at Wat Chayamangkalaram, a Buddhist temple. This temple is home to a shrine dedicated to the Laksa Ang Kong, or the Laksa Buddha. Legend has it that this Buddha loved laksa noodle soup. For centuries, devoted Buddhists have brought bowls of homemade laksa to give as offerings at the shrine in honor of the noodle soup-loving Buddha and the soup is the only accepted offering for this particular Buddha.
Geography/History
Laksa leaves are native to Southeast Asia and have been growing wild since ancient times. The fast-growing plant thrives in warm and damp, tropical to subtropical climates and is typically found beside streams, lakes, and water sources. The herb was later spread from Southeast Asia to Asia through migrating peoples and trade. Laksa leaves are commonly found growing in the wild, with many Southeast Asians viewing its prolific nature and presence similar to common weeds. The aromatic shrubs are also commercially produced and cultivated in home gardens for culinary and medicinal use. In the mid to late 20th century, Laksa leaves were introduced to Europe, Australia, and the United States through Southeast Asian immigrants. Today Laksa leaves are a culinary staple in Southeast Asia, foraged from wild plants or purchased through wet markets. Outside of Asia, the plant is a specialty herb sold through select growers, distributors, and Asian markets. The Laksa leaves featured in the photograph above were purchased from a local vendor at the Geylang Serai Market and Food Center in Singapore.
Recipe Ideas
Recipes that include Laksa Leaves. One

is easiest, three is harder.