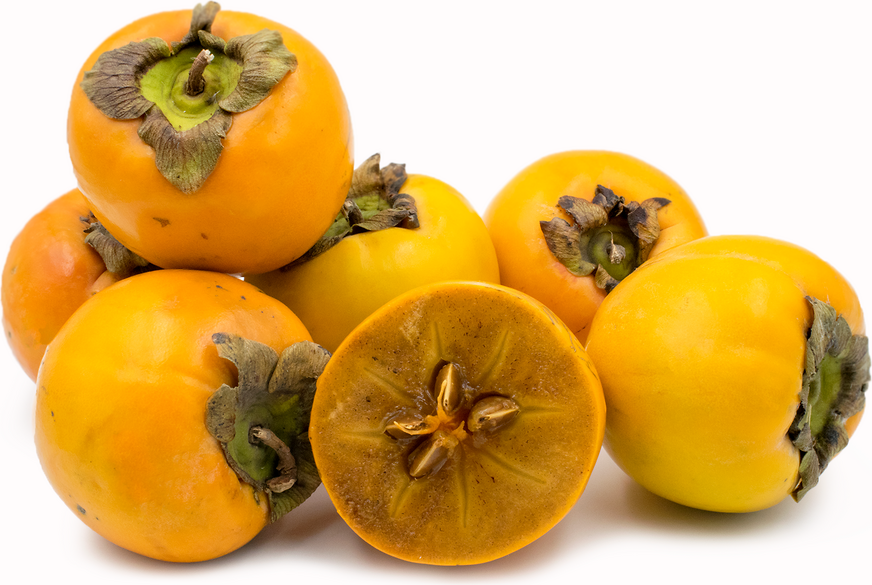 Vanilla Kaki Persimmons
Inventory, lb : 0
Description/Taste

Vanilla Kaki persimmons are yellow-orange, thin-skinned spherical fruits with slightly flattened ends. Each fruit is 5 to 7 centimeters in diameter, with stiff, green glossy leaves on their tops. The pulp of Vanilla Kaki persimmons is a reddish, sometimes dark bronze color, and each fruit contains between 1 to 8 seeds. The texture of the ripe fruit is juicy, and soft to the point of being mushy. The flavor of the Vanilla Kaki persimmon is rich and sweet, with tasting notes of pear, apricot, and a hint of bourbon vanilla. It has very little of the astringent tartness that marks other persimmon varieties.


Seasons/Availability

Vanilla Kaki persimmons are available in the late autumn to early winter months.


Current Facts

Vanilla Kaki persimmons are also known as Vaniglia persimmons and Campania persimmons, and may be referred to as "cachi" fruit, which is the Italian word for persimmons. Vanilla Kaki persimmons are botanically classified as Diospyros kaki, along with other persimmon varieties. Vanilla Kaki persimmons are one of 200 known species of persimmons, and are a relatively recent variety that were first grown in Italy. The provinces of Salerno, Napoli and Caserta are particularly known to be persimmon-growing regions.


Nutritional Value

Vanilla Kaki persimmons are rich in carbohydrates, vitamins A and C, and potassium. They also contain calcium, phosphorus and sodium. Persimmons in general have been shown to have antioxidant and anti-inflammatory benefits.


Applications

Vanilla Kaki persimmons are best eaten raw, when they are at their ripest. To do so, slice them in half and scoop out their soft, juicy flesh with a small spoon. They are most often enjoyed this way as a dessert. Vanilla Kaki persimmons may be made into jams, and used in cakes and liquors. They may also be pickled in oil, producing a sweet-and-sour kind of pickle. Store ripe Vanilla Kaki persimmons in the refrigerator, where they can last for 3 to 4 days.


Ethnic/Cultural Info

Vanilla Kaki persimmons, like other persimmons, are seen as a beautiful Fall fruit in Italy. In Italy, food tours held in the Fall will usually take tourists through markets where in-season fruit such as persimmons and persimmon products may be sampled. According to folklore, Mussolini, Italy's prime minister from 1922 to 1945 and the leader of the National Fascist Party, thought that persimmons were an energy-giving food for his soldiers, since they are high in carbohydrates. It is said that he thought that persimmons would help his people be better prepared for war, and supposedly passed a decree that every farmhouse must have a persimmon tree.


Geography/History

Persimmons are an important food crop in Asia, and are particularly prized in Japan and Korea. They were first introduced to Europe as an ornamental plant, but around 1860, persimmons began to be known as a delicious fruit fit for consumption. They spread first to France, and then to Italy, where the first persimmon made its debut in 1870 in Florence's Boboli Gardens. The first persimmon orchards were established in Campania, in the beginning of the 20th century. Vanilla Kaki persimmons enjoy warm climates and deep, fertile, well-drained soils. They require full sun to fully mature and ripen. Vanilla Kaki persimmons may also be found in the United Kingdom as a specialty fruit.