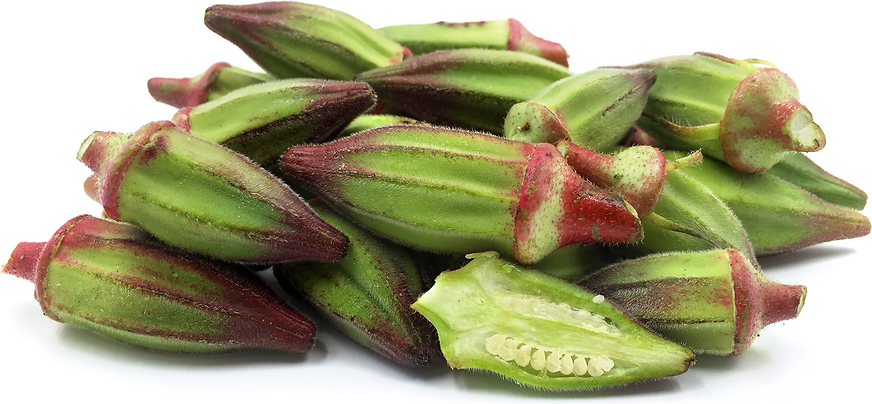 Hill Country Red Okra
Inventory, lb : 0
Description/Taste

Hill Country Red okra grows on 5 to 6 foot plants with burgundy-colored stalks and pale yellow, hibiscus-like flowers. The pods develop once the blossoms fall away, and grow straight up like corn. Hill Country Red okra pods are generally harvested under 5 inches long, with the ideal size being around 3 inches. The pods are much wider than other varieties and are light green with maroon highlights and streaks, often clustered around the tips and tops of the pods. Longer pods may be more bronze-colored than green. The red-stemmed pods are said to have a more traditional okra taste, which is similar to eggplant or asparagus. The pods are firm, but tender. Each pod has defined ribs, and within the pod, each rib section contains small pale yellow seeds.


Seasons/Availability

Hill Country Red okra is available in the summer and into the fall months.


Current Facts

Hill Country Red okra is a burgundy-tinged variety of Abelmoschus esculentus. Okra is botanically related to cotton, cacao, and hibiscus. This heirloom variety is named for the "Hill Country" of southern Texas, which is home to a varied agriculture with vineyards and farms. This region of Texas is known for its limestone hills.


Nutritional Value

Hill Country Red okra, like other varieties, contains essential vitamins A, C, and B6, as well as the minerals Calcium, Iron, potassium, and magnesium. Okra also contains high levels of folate.


Applications

When harvested young, the small, pudgy Hill Country Red okra can be eaten raw. Smaller pods are good for pickling; add blanched pods to a brine of water, vinegar and spices or peppers and. Spicy pickled okra is a very popular condiment in the south. Pan roast Hill Country Red okra with shrimp and tomatoes. Okra is ideal for frying, breaded or battered, because it retains its shape and it enhances the flavors. Cut okra into one inch pieces, add bacon, chopped tomatoes and corn, along with Cajun seasonings for a Creole okra dish. Substitute Hill Country Red okra for the common green okra when making gumbo. Grilling brings out the flavor in the okra, and it can be frilled and served as is. Keep Hill Country Red okra in the refrigerator, loosely wrapped in plastic in for up to a week.


Ethnic/Cultural Info

In 1863, a surgeon from Savannah, Georgia, who also happened to be the former editor of the "Cotton Planter," penned a letter to Southern Field and Fireside. In this letter, he proclaimed okra the best substitute for coffee. He was not alone. During the Civil War in the United States, a blockade kept coffee from being imported to the US and various states. Regular coffee drinkers found themselves with few substitutes. Many slaves had small gardens and often grew okra and used the seeds, that were roasted and ground just like coffee beans. Many families in the area turned to okra seed for their coffee needs.


Geography/History

Hill Country Red okra is native to an area of southern Texas that stretches from Austin down to San Antonio and then west about 200 miles, known as Hill Country. The exact date of origin of the Hill Country Red variety of okra is unknown. It likely came to Texas with the slaves, who may have brought seed from Africa. Okra is originally native to Ethiopia and parts of eastern Africa. From Ethiopia, okra spread east to the Arabian Peninsula and into India and China, and then west through the Mediterranean and across Africa. The plant was introduced to the Americas in Brazil, where it was first recorded in 1658. The name 'okra' is based on an Igbo (mainly spoken in Nigeria) word for the sticky vegetable, "okuru." Hill Country Red okra is a highly productive plant and can produce up to 20 pounds of okra per plant in the ideal climate. Hill Country Red okra is well-suited to the hot temperatures and humidity of the southern and southeastern United States. This variety isn't available commercially, but it is grown by many small farms in the south and can be found at local farmer's markets.