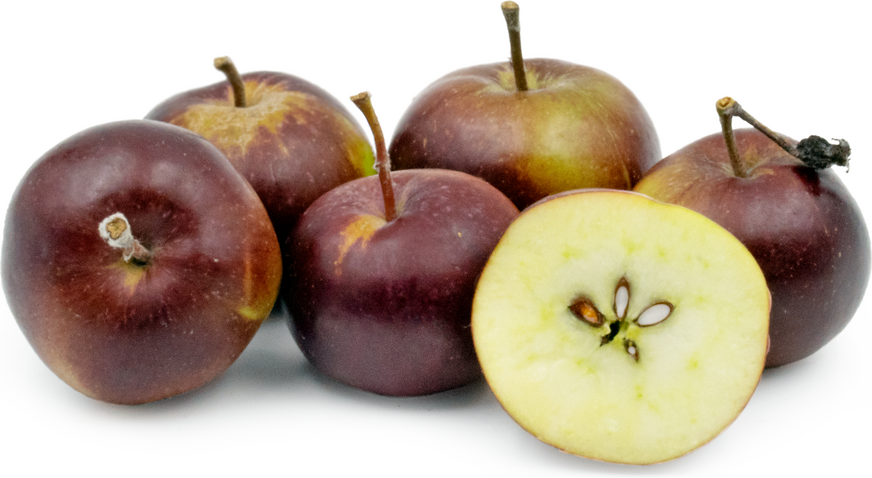 Api Noir Apple
Inventory, lb : 0
Description/Taste
Api Noir apples are small in size, averaging 4 to 5 centimeters in diameter, and have a round, conic, to flattened shape. The apple's stem is slender, long, and woody, connected to the stem cavity covered in a textured, rough, brown russet. The fruit's shoulders are also typically slanted to one side or appear flat, and the skin is semi-thin, smooth, and taut. Api Noir apples have a matte appearance but can develop a shine when polished. The apple's skin has a yellow-green base almost entirely covered in a dark purple, red, burgundy, to wine-colored blush. The blush is saturated, showcasing the tan lenticels scattered across the surface. Underneath the skin, the flesh ranges in color from white to green-toned and oxidizes quickly, turning brown. There may also be faint red tones just below the skin, depending on the climate and growing environment. The flesh is fine-grained, crisp, and aqueous with a soft, crunchy, and succulent consistency. The flesh also encases a moderately sized central fibrous core filled with tear-drop-shaped black-brown seeds. Api Noir apples emit a perfumed fragrance when ripe and have a light, sweet, and delicate flavor with subtly nutty and vinous notes.
Seasons/Availability
Api Noir apples are harvested in the mid to late fall through the early winter. Once harvested, the fruits can be stored through the spring.
Current Facts
Api Noir apples, botanically classified as Malus domestica, are a French heirloom belonging to the Rosaceae family. The variety grows on deciduous trees reaching 3 to 4 meters in height and are late-season apples favored for their ornamental and culinary attributes. It is important to note that Api Noir apples are part of a larger category known as Api apples. Notable Api-type apples include Api Noir, Api Gros, Api Etoile, and Api Panache. Api apples are also known as Lady apples as the fruit's small size was a favored on-the-go snack for ladies in France. The apples could be placed in a purse without causing a bump, a trait that was especially important among the fashion-conscious nobility and upper class. In regard to Api Noir apples, the variety is known separately from other Api apples under the names Pomme de Calvau Noir, Calvau Noir, Schwarze Api, Black Lady apples, De Pommier a Fruit Noir, and d'Api Noire. Api Noir apples were a popular variety in France in the 17th and 18th centuries as the tree was considered highly ornamental in gardens and was praised for its pigmented fruits and blossoms. The fruits also held well on the tree after maturing, allowing them to be picked and stored in stages, extending availability as a fresh eating and cooking apple. In the modern day, Api Noir apples are a rare variety that is challenging to find in fresh markets. The apples are primarily grown in home gardens or specialty orchards and are sold as an heirloom novelty.
Nutritional Value
Api Noir apples are a source of fiber to regulate the digestive tract, potassium to balance fluid levels within the body, and calcium to build strong bones and teeth. The apples also provide vitamin C to boost the immune system and reduce inflammation, vitamin A to maintain healthy organ functioning, and other nutrients, including zinc, iron, vitamins K and E, magnesium, copper, and boron. The apple's pigmented skin contains antioxidants to protect the cells against the damage caused by free radicals.
Applications
Api Noir apples have a sweet taste suited for fresh and cooked preparations. The variety is primarily consumed straight out of hand and can be eaten with or without the skin, depending on preference. Api Noir apples can also be sliced and served on charcuterie boards, dipped whole in caramel as a dessert, or chopped into green and fruit salads. During the holiday season in France, Api Noir apples are often served with their skin intact to showcase their vibrant, jeweled-tone coloring. Api Noir apples complement sweet and savory dishes, and the variety can be used in any recipe, calling for dessert or cooking apples. Try adding Api Noir apples to roasts, stuffing, rice-based dishes, or cooking with root vegetables. The apple's small size can also be sliced and incorporated into baked goods such as bread, pies, muffins, crisps, and applesauce. Api Noir apples pair well with meats such as pork, beef, game, and veal, herbs including parsley, thyme, rosemary, and mint, spices such as ginger, cardamom, cinnamon, and nutmeg, and nuts including hazelnuts, cashews, and pecans. Whole, unwashed Api Noir apples will keep up to four months when stored in a cool, dry, and dark location such as a cellar or refrigerator.
Ethnic/Cultural Info
Api Noir apples were traditionally used as a decorative element in garlands and wreaths during the holiday season in Europe. The small fruits were valued for their rich coloring, petite size, high yields, and long-lasting nature, allowing them to be woven into greenery for extended periods. Api apples, as a whole category, are often known as Christmas apples and were regarded as a high-end variety in France, as they frequently appeared in orchards belonging to the nobility. The practice of decorating wreaths with fruit is commonly connected to the Della Robbia family of Florence. The family had many famous artists, notably beginning in the 15th century with Luca Della Robbia, and were known for their terra cotta sculptures and carvings. Several Della Robbia art pieces featured images of wreaths decorated with fruits and vegetables, eventually inspiring seasonal holiday decorations throughout Europe. The wreaths were typically made from greenery with apples, citrus, pomegranates, pineapples, herbs, berries, and dried peppers and were made at the beginning of the holiday season, used to decorate front doors, hallways, and home exteriors. Fruit-filled wreaths continue to be inspired by the Italian art pieces in the present day, and fruits, including Api apples, are used in contemporary versions of fresh fruit garlands and wreaths throughout Europe.
Geography/History
Api Noir apples are native to France and are a sport of the Api apple. Several types of apples are categorized under the Api name, and the original Api apples were found in the Api Forest in Brittany, France. Api apples date back to at least the 16th or 17th centuries, but some pomologists believe the apple is much older and may have been grown by the Romans. Pomoglists also mention that Api apples were also once thrived in the royal orchard of Louis XIII. Despite their hazy origins, Api apples were first described by agronomist Olivier de Serres in his work "Le Theater d'agriculture et menage des champs." Api Noir apples were mentioned under the name Calvau Noir and were recorded as being grown throughout the Anjou region of France in the late 17th century. The variety eventually spread in cultivation beyond France and was grown throughout Europe, especially in the United Kingdom. In the 19th century, Api apples were recorded in the catalog of the London Horticultural Society, and they were also carried by European colonists and planted in the United States. Today, Api Noir apples are a rare type of Api apple that is challenging to find in modern markets. The variety disappeared over time, was replaced in orchards by modern cultivars, and is now localized to specialty and home orchards that grow the apples as a novelty. When in season, Api Noir apples are sold through select growers, distributors, and fresh markets, primarily in France and other regions of Europe.
Recipe Ideas
Recipes that include Api Noir Apple. One

is easiest, three is harder.