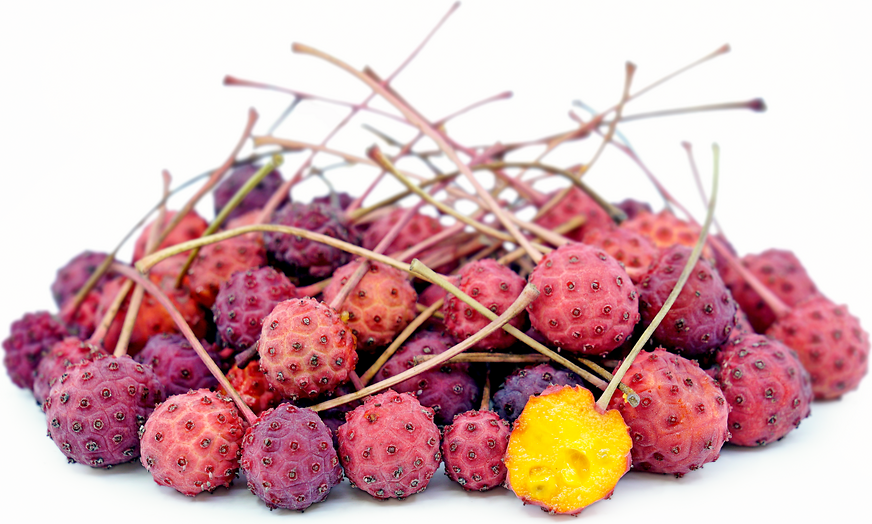 Kousa Dogwood Berries
Inventory, lb : 0
Description/Taste
Kousa Dogwood berries are small fruits, averaging 2 to 4 centimeters in diameter, and have a uniform, globular, to slightly oval shape. The fruits are a type of drupe, comprised of 20 to 40 individual carpels that fuse to form a spherical appearance and are connected to slender, elongated, and fibrous light brown-green stems averaging 7 to 10 centimeters in length. The fruit's skin is semi-thick, rough, and taut, covered in small bumps, creating a pointed, ridged appearance. The surface also ripens from green to orange-red or red-purple and has a gritty and grainy feel with a bitter, astringent taste, making it somewhat unpleasant to consume. Underneath the skin, the bright orange-yellow flesh has a slippery, lightly mealy, sticky, custard-like consistency. The solid, pulpy flesh also encases a few to many small seeds that should be discarded when eaten. Select Kousa Dogwood berries that are bright red and feel soft to the touch. The fruits should be slightly squishy, which signifies that the flesh has converted most of its starch into sugars for a sweeter eating experience. Ripe Kousa Dogwood berries are consumed for their flesh, discarding the skin and seeds. The flesh has a sweet, tropical, and earthy taste with a unique blend of pumpkin, mango, and persimmon-like nuances.
Seasons/Availability
Kousa Dogwood berries are available in the late summer through fall.
Current Facts
Kousa Dogwood berries, botanically classified as Cornus kousa, are the fruits of a deciduous flowering tree belonging to the Cornaceae family. There are over 65 varieties of dogwood grown worldwide, and the spreading, branching trees are favored for their ornamental nature, generally reaching 4 to 9 meters in height. The name Kousa Dogwood refers to specific varieties of dogwood trees native to Asia that produce brightly colored fruits in the late summer through fall. Kousa is derived from the Hakone dialect on Honshu Island in Japan, where the fruiting dogwood tree was once called "Kusa," eventually being altered to "Kousa." The Asian varieties are also known as Japanese dogwood, Chinese dogwood, Korean dogwood, and Japanese Flowering dogwood. Outside of Asia, Kousa Dogwood has become a popular ornamental in the United States, planted along city streets, gardens, and urban landscapes. The species is favored for its hardiness, disease resistance, productive nature, and showy blooms and fruits. When in season, Kousa Dogwood berries are a type of drupe foraged and not commonly commercially cultivated. The fruits are delicate in nature and have a short shelf life, leading them to be a seasonal delicacy consumed fresh or incorporated into various cooked sweet preparations.
Nutritional Value
Kousa Dogwood berries are a source of calcium to build strong bones and teeth and carotene to produce vitamin A in the body. Vitamin A is used to maintain the overall health of organs to keep them functioning properly and helps to improve skin complexion. The fruits also contain antioxidants to protect the cells against the damage caused by free radicals and help counteract oxidative stress. In Traditional Chinese Medicine, the fruits are used as an anti-inflammatory, an aid to cleanse the liver, and as an ingredient to help improve energy levels.
Applications
Kousa Dogwood berries have a tropical, sweet, and earthy taste suited for fresh and cooked preparations. The fruits are primarily eaten fresh, out-of-hand, but the skin is often discarded due to its unpleasant, grainy texture and bitter taste. The seeds are also discarded. When eating the fruits fresh, it is recommended to pull off the stem and suck out the flesh through the hole that is created in the skin from removing the stem. The flesh can be easily enjoyed in this process, and the seeds can be spit out. Kousa Dogwood berries can also be pressed and strained to create a fresh juice or made into wine and infused into various dessert recipes. In addition to fresh eating, the strained pulp can also be incorporated into dressings and sauces or simmered to make jams, jellies, and preserves. Try adding the flesh to fillings for cakes, cheesecakes, puddings, and pies or blending and freezing it into a homemade sorbet or sherbet. Kousa Dogwood berries pair well with maple syrup, vanilla, brown sugar, cream, citrus, and spices such as cinnamon, cloves, and nutmeg. The fruits should be used immediately for the best quality and flavor and will only keep for 1 to 2 days when stored in the refrigerator. Kousa Dogwood berries can also be peeled and dried for extended use.
Ethnic/Cultural Info
In the spring, Kousa Dogwood trees are recognized and highly valued for their ornamental blooms. The trees appear to produce large white flowers with pointed petals, but in actuality, the white "flower petals" seen on the tree are bracts, a type of modified leaf. The bracts surround the tree's true flower, which is a tiny cluster of yellow-green blooms, and the bracts are meant to attract pollinators to the flowers using their bright white hue. The flowers, combined with the bracts, range 2 to 7 centimeters in diameter and almost entirely cover the tree when in bloom, giving the trees an appearance reminiscent of a cherry blossom tree. In Japan, the blooms have inspired some to refer to the trees as Yamaboushi, a curious descriptor meaning "mountain priest." It is said the yellow-green smooth flower bulbs resemble the bald heads of priests that reside in the famous temples on Mt. Hiezian in Kyoto, and the white bracts look like the hoods or clothing that the priests commonly wear. Beyond their whimsical moniker, Kousa Dogwood trees symbolize purity and friendship according to the Japanese language of flowers. This symbol has been used in public relations between Japan and the United States since 1912, when Japan gifted the United States over 3,000 cherry trees as a token of friendship. Later between 2012 and 2015, the United States sent Japan over 3,000 dogwood trees as a part of the Tree of Friendship Dogwood Initiative. The dogwood trees sent to Japan were a North American species favored for their blooms and were planted throughout 84 sites in Japan, including areas in Okinawa, Chubu, Shikoku, Kanto, Tohoku, Chuoku, Kyushu, and Shikoku. One of the most historical sites where the trees were planted was at Peace Boulevard in Hiroshima, Japan. The trees were planted on the 70th anniversary of the atomic bombing in 2015, and Kousa Dogwood trees are used as a living reminder of international friendship that extends beyond historical conflicts.
Geography/History
Kousa Dogwood trees are native to Asia, specifically temperate forests of China, Japan, and Korea, and have been growing wild since ancient times. The trees have been domesticated over time in Asia as a landscape ornamental and are valued for their size, durability, and disease resistance. The trees are also planted for their colorful fall foliage and springtime blossoms. In 1875, Kousa Dogwood trees were introduced into the United States and were widely planted along the east coast from New York to Georgia. Kousa Dogwood berries are a seasonal delicacy only foraged from the landscape, naturalized, or wild trees. The fruits are not commercially cultivated due to their delicate nature and short shelf life, but they are widely gathered throughout Asia and the eastern United States as a specialty drupe. In Japan, Kousa Dogwood trees thrive in the mountains from Honshu Island south to Kyushu Island. The trees are planted in public gardens, parks, and along streets in Asia and are also found in China and Korea. In the United States, Kousa Dogwood trees have naturalized in New York state and are grown in home gardens and in forests along the east coast of the United States. When in season, Kousa Dogwood berries are occasionally offered through fresh markets, farmer's markets, and select distributors.
Recipe Ideas
Recipes that include Kousa Dogwood Berries. One

is easiest, three is harder.