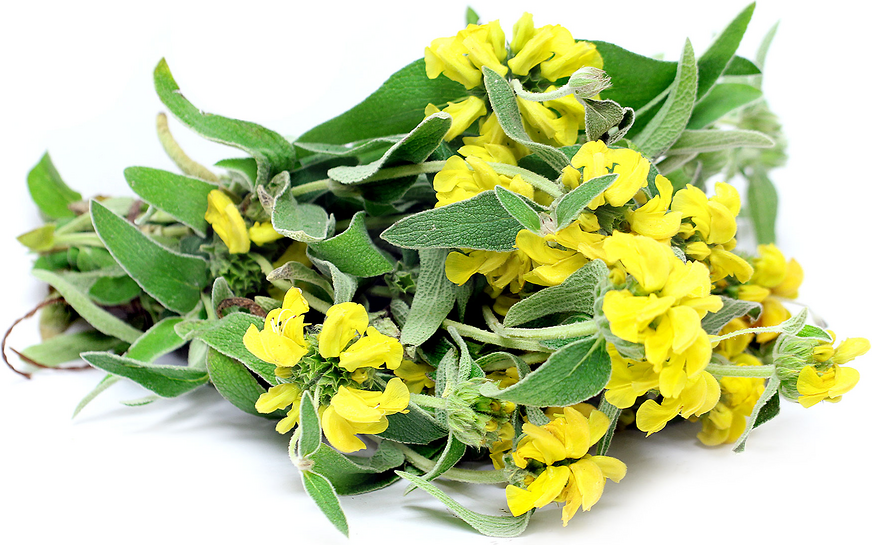 Jerusalem Sage
Inventory, bunch : 0
Description/Taste
Jerusalem sage is a multi-stemmed, semi-woody shrub that produces long stems with textured leaves and brightly colored flowers. The stems are slender, pale green, and hairy, and attached to each stem are several elongated, lanceolate-shaped leaves that taper to a distinct point. The leaves range from 5 to 12 centimeters in length and are gray-green with branched veins across the surface, covered in a silver, velvety fuzz. The underside of the leaf is also densely covered in fine hairs, giving it a white appearance. At the top of the stems, bright yellow flowers appear in whorls, and each grouping may contain anywhere from 15 to 25 flowers. The flowers average 2 to 3 centimeters in length and are soft, delicate, smooth, and unscented. When lightly bruised, Jerusalem sage emits a clove-like, earthy, sweet, and herbal aroma, and the leaves offer a robust, vegetal, and herbaceous flavor with subtly peppery, minty nuances.
Seasons/Availability
Jerusalem sage flowers in the late spring through the early fall. The shrub is semi-evergreen, depending on the climate, and the leaves remain on the plant almost year-round.
Current Facts
Jerusalem sage, botanically a part of the Phlomis genus, is a fast-growing, perennial shrub belonging to the Lamiaceae or mint family. The semi-evergreen plant reaches up to one meter in height, and despite its sage moniker, Jerusalem sage is closely related to mint. Jerusalem sage acquired its sage descriptor from its silvery, green-green leaf coloring, similar in appearance to sage leaves. There are over one hundred varieties within the Phlomis genus, and many of these cultivars are generally labeled as Jerusalem sage. The varieties may also be known as Golden Wickweed, Lampwick plant, Hardy sage, Sticky Jerusalem sage, Shrubby Jerusalem sage, and Jupiter's Distaff. Jerusalem sage is an ancient wild herb that has become domesticated for home garden cultivation. The leaves have traditionally been used as a culinary and medicinal ingredient, used fresh or dried, and the shrub is also valued for its ornamental appeal in landscapes.
Nutritional Value
Jerusalem sage contains some vitamin K to assist with faster wound healing and essential oils that provide phenolic compounds with antioxidant and anti-microbial properties. Antioxidants protect cells from free radical damage, and the anti-microbial properties help prevent harmful organisms from hurting the body. In European and Western Asian folk medicines, Jerusalem sage is commonly steeped into a tea to soothe the body, aid digestion, calm the throat and stomach, and curb hunger cravings.
Applications
Jerusalem sage is not a common culinary herb, but the leaves have a robust flavor that can be used similarly to sage or Salvia officinalis. The leaves can be used fresh or dried, folded into butter, fried in oil as a savory garnish, or finely chopped and stirred into soups and stews. Jerusalem sage can also be incorporated into pasta, rice, or vegetable dishes, minced into fillings that are stuffed into poultry or turkey, or served as a complement to root vegetables or artichokes. In addition to fresh preparations, Jerusalem sage can be dried and crushed into a spice. Dried Jerusalem sage can be used in many recipes calling for fresh sage, and the dried herb is rubbed over meats in Europe for enhanced flavor. The leaves can also be used to garnish salads, flavor sauces, or infuse into oils and vinegar. In Greece, Jerusalem sage is foraged from the wild, tied into herb bundles in fresh markets with other local herbs, and served as an everyday seasoning. The leaves can also be steeped in boiling water to make tea. It is important to note that Jerusalem sage has a strong, permeating flavor. The herb should be used sparingly, and a little goes a long way. Jerusalem sage pairs well with aromatics such as garlic, shallots, and chives, tomatoes, green bell peppers, other herbs such as rosemary, parsley, and bay leaf, creamy cheeses, and nuts such as pine, walnuts, and pecans. Whole, unwashed Jerusalem sage will keep up to one week when lightly wrapped in paper towels and stored in a plastic bag in the refrigerator.
Ethnic/Cultural Info
Phlomis fruticosa is one of the most popular varieties of Jerusalem sage, primarily used as a home garden ornamental. The genus name Phlomis is derived from Greek, translating to mean "flame," a descriptor given for the leaves, once used as lamp wicks in ancient times. Jerusalem sage leaves and flowers were also traditionally dried for potpourri, as the flowers retained their bright coloring, adding visual appeal and a pop of color to the aromatic mix. In the modern-day, Jerusalem sage received the Royal Horticultural Society's Award of Garden Merit in 2002, an award given to recognize plant varieties that exhibit quality growth characteristics in gardens. The shrubs are valued for their velvety green leaves and bright yellow flowers, providing contrast in landscapes, and both the flowers and leaves remain on the plant for an extended season. Jerusalem sage flowers also attract beneficial pollinators such as bees and butterflies.
Geography/History
Jerusalem sage is native to the Mediterranean, specifically the areas around Turkey and Syria, and has been growing wild since ancient times. In the Early Ages, the plant was spread throughout the Greek islands, Cyprus, Italy, and Malta in the Mediterranean and traveled east into Kazakhstan and Uzbekistan. Jerusalem sage is drought and frost-tolerant, growing in arid climates with rocky or sandy soils along the edges of woodlands, limestone hills, and borders. Over time, Jerusalem sage was introduced to the United States, where it has been widely naturalized throughout California. Today Jerusalem sage is primarily grown as a home garden plant and is available through online seed catalogs and specialty growers. As a culinary ingredient, Jerusalem sage is sometimes sold through fresh local markets in the United States, Europe, Asia, Africa, and Australia.
Recipe Ideas
Recipes that include Jerusalem Sage. One

is easiest, three is harder.