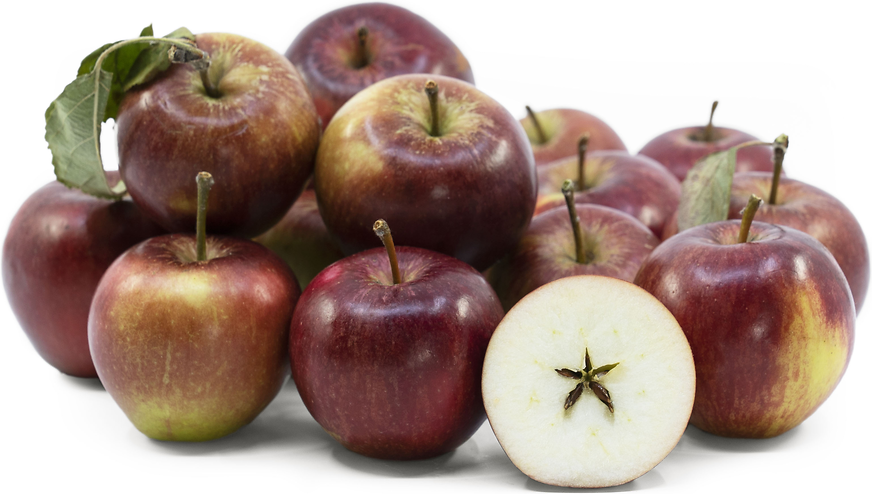 Milton Apples
Inventory, 1 Lb : 0
Description/Taste

Milton apples are a small to medium-sized varietal, averaging 4 to 6 centimeters in diameter, and have a round to ovate shape with flattened, curved shoulders and a thin, fibrous brown stem. The apples sometimes appear lopsided, slanting and tapering at their base, and the fruit's surface is generally smooth with a sticky, waxy coating, occasionally textured with russet spots and pale lenticels. The semi-thick, chewy skin bears a yellow-green hue, covered in large patches of bright to dark red blush and striations, and the vibrant blush may also appear slightly purple due to a moderate bloom that can appear on the surface. Underneath the skin, the flesh is white, aqueous, and fine-grained with a soft, crisp, and tender consistency. The flesh also encases an inedible core filled with oval, black-brown seeds. Milton apples are faintly aromatic with a light, fruity, and subtly grassy aroma. The apple has a primarily sweet-tart flavor combined with tangy, fruity nuances reminiscent of berries, pear, citrus, and spice.


Seasons/Availability

Milton apples are available in the late summer through fall.


Current Facts

Milton apples, botanically classified as Malus domestica, are an early-season variety belonging to the Rosaceae family. The sweet-tart apple was originally created from a breeding initiative to cross mcintosh apples with heirloom apple varieties. Milton apples were selected for their dual-purpose nature, favored by apple enthusiasts for their tangy, sweet, and sour, fresh eating flavor and ability to be cooked into a smooth puree for desserts, sauces, and baked goods. Since their release in the early 20th century, Milton apples have never reached large-scale commercial success due to their short shelf life and soft, easily bruised flesh. The variety is somewhat rare in the modern-day, but select orchards in New England and the United Kingdom cultivate and sell the apples through local markets.


Nutritional Value

Like other apple varieties, Milton apples are a good source of fiber to regulate the digestive tract and potassium to balance fluid levels within the body. The apples also contain vitamins, including vitamin C to strengthen the immune system, vitamin E to protect cells against free radical damage, and vitamin A to maintain healthy organ functioning. In addition to vitamins, apples provide minerals such as phosphorus, iron, manganese, and calcium to build strong bones.


Applications

Milton apples have a sweet-tart flavor suitable for raw and cooked preparations. Most apple enthusiasts consider this variety a cooking apple, but the cultivar's tangy and fruity flavor appeals to some as a fresh-eating apple. Milton apples can be sliced and served with cheeses on appetizer plates, chopped and tossed into green salads and slaws, or used as a fresh topping over grain bowls, breakfast porridges, or chia seed pudding. Milton apples can also be blended into smoothies or sliced and layered over peanut butter toast. In addition to fresh preparations, Milton apples are well-known for cooking down into a smooth puree. This puree can be incorporated into baked goods, and it can also be combined with spices to make apple sauce, apple butter, jams, and other preserves. Milton apples create a dynamic pie flavoring when mixed with tart berries, and the apples are popularly cooked into crisps, crumbles, turnovers, cakes, and tarts. The apples can also be sliced into rings and sauteed, cooked in butter and spices as a savory dessert topping, or hollowed, filled with dried fruits and nuts, and baked whole. Milton apples pair well with spices such as cinnamon, cloves, ginger, coriander, nutmeg, and rosemary, cheeses including brie, feta, and blue, nuts such as pine, almonds, and walnuts, brown sugar, vanilla, maple syrup, and dried fruits including cherries, raisins, and cranberries. Whole, unwashed Milton apples have a short shelf life and will only keep for a few weeks when stored in a cool, dry, and dark place. The apples should be immediately consumed for the best quality and flavor.


Ethnic/Cultural Info

Milton apples were one of the apple varieties created at the New York Agricultural Experiment Station, NYSAES, also known as Cornell AgriTech, in the modern-day. The station was established in Geneva in 1880 after New York State passed an act to promote the scientific study and research of agriculture. Since its creation, NYSAES has sought to develop new fruit varieties, innovative programs, and utilize advanced technology to improve the business of agriculture and educate farmers and the public on the importance of food cultivation and research. American pomologists and growers often attribute NYSAES to be one of the most successful apple breeding programs in the United States, and more than sixty-six apple varieties have been released through the program since the late 19th century, including famous cultivars such as Jonagold, Empire, Fortune, and Ruby Frost. Milton apples were named in honor of Milton, a small community within Ulster County, New York. The community was named after John Milton, an English poet most famous for his poem "Paradise Lost."


Geography/History

Milton apples were developed by Cornell professor and apple breeder Richard Wellington at the New York State Agricultural Experiment Station, located in Geneva, New York. The variety was created in 1909 and was bred from crossing mcintosh apples with yellow transparent, sometimes known as white transparent apples. Milton apples were the product of an initiative to breed mcIntosh apples with old heirloom varieties, and Milton's other parent apple, the yellow transparent, was an heirloom Russian summer apple. Milton apples were released commercially in 1923 by the New York Start Fruit Testing Association and were primarily grown by New England and Eastern United States apple growers. Today Milton apples are somewhat challenging to find commercially but are produced by select farms in the United States. The variety is also featured in the National Fruit Collection of England at Brogdale Farm near Faversham, Kent.