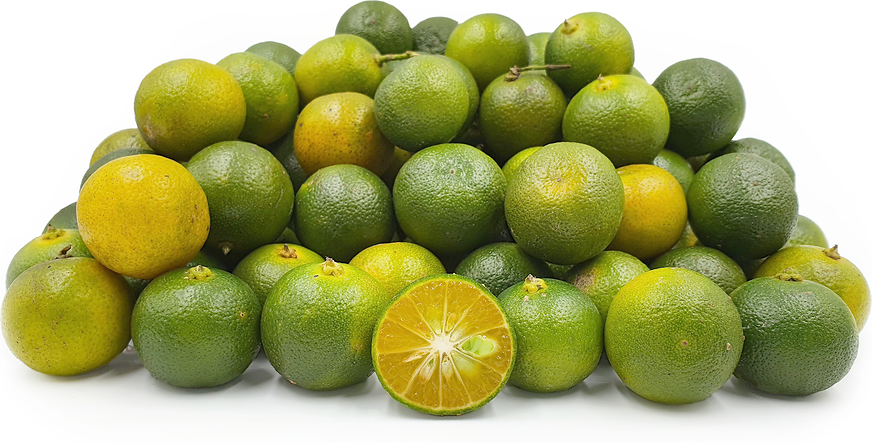 Limau Kasturi Limes
Inventory, lb : 0
Description/Taste
Limau Kasturi is a small citrus varietal, averaging 2 to 5 centimeters in diameter, and has a round to ovate shape, appearing slightly flattened on both ends. The skin is smooth, thin, glossy, and taut, covered in prominent oil glands, giving the surface a pebbled texture. The peel also ranges in color, determined by ripeness, transitioning from green, yellow-green, to orange with maturity. Depending on the climate and region grown, the citrus may also remain green when ripe. Underneath the surface, the flesh is pale orange, aqueous, and soft, divided into 7 to 9 segments by thin, white membranes. The flesh also encases many small, green to cream-colored seeds. Limau Kasturi is aromatic with a bright, floral scent and has a tart, pleasantly sour, and acidic citrus flavor. It is important to note that both the flesh and peel are edible. The peel contains a tangy, slightly sweeter taste, while the flesh is characteristically tangy and sour.
Seasons/Availability
Limau Kasturi is available year-round in Southeast Asia. In North America and colder climates, the fruits are available in the winter through early spring.
Current Facts
Limau Kasturi, botanically a part of the Citrus genus, is a hybrid citrus variety belonging to the Rutaceae family. The small fruits grow on compact evergreen shrubs or trees that can reach 3 to 4 meters in height and are native to Asia, where the trees have been grown as an ornamental and culinary addition to home landscapes for centuries. Limau Kasturi is the name of the citrus variety in Malaysia, and the fruits are also known by several local names worldwide, including Jeruk Kesturi in Indonesia, Kalamunding, Kalamansi, Calamansi, Limonsito, and Agridulce in the Philippines, Kat Chai in China, Somchit in Thailand, and Calamondin and Kalamondin in Europe and the United States. The hybrid fruits are widely produced and sold in local markets throughout Southeast Asia, favored for their tart flavor, juicy nature, and bright, aromatic scent. Limau Kasturi is used similarly to common limes in the United States and is squeezed as a finishing element over a wide array of fresh and cooked culinary dishes. The trees are also planted in home gardens, valued for their year-round fruit production and ability to be grown in small spaces, especially containers.
Nutritional Value
Limau Kasturi is an excellent source of vitamin C, an antioxidant that strengthens the immune system, boosts collagen production in the skin, and provides anti-inflammatory properties. The fruits are also a good source of potassium to balance fluid levels within the body, calcium to protect bones and teeth, vitamin A to maintain healthy organ functioning, and other nutrients, including vitamin E, zinc, iron, magnesium, manganese, copper, and phosphorus. In Southeast Asia, Limau Kasturi is often dried in salt and used as a natural remedy to soothe sore throats. The salted, dehydrated fruits are immersed in hot water for 20 minutes, and the beverage is consumed and refilled until the hot water turns clear. Some also eat the softened flesh of the salted fruits as a method to remove heat from the body.
Applications
Limau Kasturi has a bright, tart, and tangy flavor well suited for raw and cooked preparations. The fruits are entirely edible, including their sweet peel, and are sometimes included whole into jams, jellies, syrups, and marmalades. Limau Kasturi is mainly used for their tart juice and is freshly squeezed over dishes to impart an acidic and refreshing flavoring. The juice can be sprinkled over salads, rice and noodle dishes, and ceviche, stirred into marinades, salsas, and sauces, or squeezed over seafood and roasted meats for a bright taste. Limau Kasturi can also be cooked into chutney, used as a flavoring in custards, cheesecake, and other desserts, or the peels can be dehydrated and shredded into salt or sugar for a zesty flavoring. In the Philippines, Limau Kasturi is sometimes incorporated into sinigang, a beef stew comprised of savory and sour flavors. Limau Kasturi can be used as a substitute for recipes calling for common limes. Beyond culinary dishes, Limau Kasturi is popularly pressed into a juice and mixed into fruit drinks, cocktails, and smoothies. The juice is often sold in concentrate or bottled form. In Malaysian markets, Limau Kasturi is combined with sugar, dried sour plums, and water to create a refreshing beverage sold on hot days. Limau Kasturi pairs well with herbs such as Thai basil, lemongrass, cilantro, and mint, fruits including pineapple, strawberry, papaya, mango, and coconut, meats such as poultry, beef, and pork, seafood including fish, shrimp, and prawns, carrots, snap peas, celery, cabbage, bell peppers, and aromatics such as ginger, green onion, and garlic. Whole, unwashed Limau Kasturi can be stored at room temperature for up to one week and in the refrigerator for 1 to 3 weeks.
Ethnic/Cultural Info
Limau Kasturi is famous for adding aroma and depth of flavor to sambal belacan, a staple chile paste considered the foundation of Malaysian cuisine. Sambals are a chile-based condiment originating in Southeast Asia widely used in Indonesian and Malaysian cooking. The condiment can be served with a thicker, chunkier consistency, or it can be thinned and served almost like a sauce, spooned over dishes for added heat and flavor. The creation of sambal can be traced to the introduction of chile peppers in Asia, brought by Portuguese and Spanish explorers sometime in the 16th century. After the pepper's introduction, sambal became a mixture of toasted chile peppers, salt, sugar, and lime juice. There are at least 300 variations of sambal created throughout Southeast Asia, and many of the recipes have been passed down among family members for generations. Sambal is often seen as a condiment on tables for every meal of the day, and the spicy mixture is a method to awaken the senses in the body. Each community will also add additional ingredients to the sambal to cater to the dishes they are cooking. In Malaysia, sambal belacan is made with Limau Kasturi for a more aromatic, citrusy, and floral nature. The variation is also made with a hardened shrimp paste known as belacan, giving the sambal a slightly fishier, funky flavor complementing seafood dishes. Sambal belacan is popularly incorporated into fried rice, noodle and rice dishes, soups, curries, fried fish, and seafood platters. The paste can also be used as a dipping sauce for fried meats and vegetables.
Geography/History
Limau Kasturi is a citrus hybrid native to East Asia and was created from ancient citrus varieties that have been growing wild for thousands of years. The small fruits are believed to be a cross between the kumquat and another citrus, with some experts pointing to the mandarin orange. Over time, Limau Kasturi was spread throughout Southeast Asia and became widely planted in the Philippines, Indonesia, and Malaysia. The compact citrus trees were grown in home gardens as an ornamental, and the fruits were traditionally harvested as culinary and medicinal ingredients. In the early 20th century, Limau Kasturi was introduced to the United States and was initially known as an "acid orange," named for its orange, sweet peel when ripe and sour juice. The variety never became an important commercial cultivar in the United States and was localized to home gardens and specialty growers in Florida, the southern United States, and California. Today Limau Kasturi can be widely found in local markets throughout Southeast Asia. The fruits are also sold through distributors and limited markets in Europe, the United States, the Caribbean, and Australia. The Limau Kasturi featured in the photograph above were sourced from a market in the Takashimaya building in Singapore.
Recipe Ideas
Recipes that include Limau Kasturi Limes. One

is easiest, three is harder.