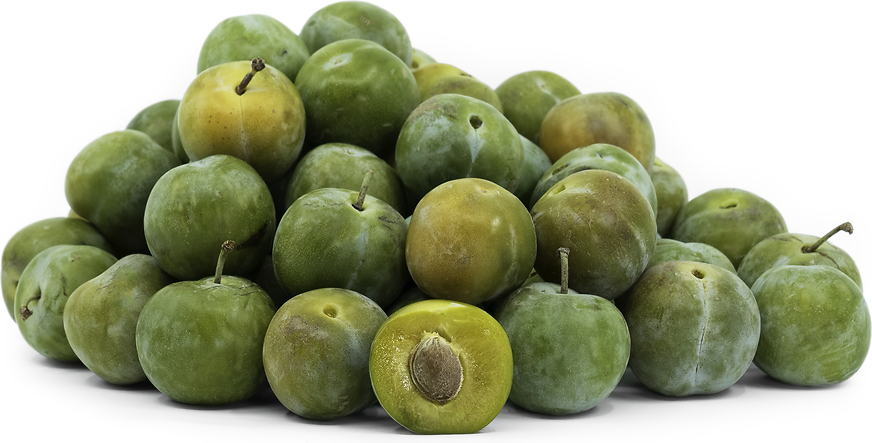 Greengage Plums
Inventory, 14 lbs : 0
Description/Taste
Greengage plums are small, averaging 2 to 4 centimeters in diameter, and have a round, ovate, to oval shape with curved shoulders and a slightly flattened base. The plum's skin is smooth, taut, and thin, ranging in color with variegated hues of green, yellow, to gold. The skin may also showcase dark red speckling, a pale blue to grey bloom, or amber blushing, depending on the variety. Underneath the surface, the flesh is dense, finely-textured, aqueous, and succulent, bearing yellow-green hues with a translucent quality. Greengage plums have a tender consistency when ripe, also encasing a light brown pit that can be easily removed from the center of the flesh. The plums are known for having a high sugar content, measuring between 30 to 38 Brix. Greengage plums have a sweet, honeyed, and syrup-like flesh combined with acidity, creating a balanced and pleasant flavor composed of dried apricot, ripe mango, and citrus marmalade nuances.
Seasons/Availability
Greengage plums are available in the late summer through early fall.
Current Facts
Greengage plums, botanically classified as Prunus domestica, are very sweet fruits belonging to the Rosaceae family. The plums grow on trees that can reach 3 to 4 meters in height and are a self-fertile type, only available for a very short season. Greengage plums are somewhat misleading in their appearance as green-colored fruits are often associated with unripe, sour flavors, but in reality, they are one of the sweetest-tasting plums cultivated worldwide. There are over a dozen cultivars of Greengage plums, including Imperial Gage, Golden Transparent, Bryanston, Cambridge Gage, and Laxton's Gage. Each variety is identified by slight differences in skin color, flesh appearance, and seasonality, sharing a similar shape and confectionary-like sweetness. Greengage plums are favored for their balanced, sweet, and acidic flesh and are primarily consumed fresh as a dessert plum. Despite their revered flavor, Greengage plums are not commercially cultivated due to their biennial bearing, sensitive nature, and challenging cultivation requirements.
Nutritional Value
Greengage plums are a good source of vitamin A to maintain healthy organ functioning, vitamin C to strengthen the immune system, and vitamin K to promote faster wound healing. The plums are also a source of potassium to balance fluid levels within the body and calcium and phosphorus to protect bones and teeth.
Applications
Greengage plums have a sweet, subtly acidic flavor well suited for fresh eating. Plum enthusiasts often promote that the plums should be consumed by themselves to savor their full, honeyed taste, but the fruits can also be used in any recipe calling for common plums. Greengage plums can be sliced for appetizer plates, served with wine and cheese, quartered and mixed into fruit bowls, or chopped and tossed into salads. The plums can also be simmered into compotes, preserves, or jams, diced for chutney, poached in syrup, incorporated into tarts, cakes, and crumbles, or blended into a sweet sorbet. Greengage plums pair well with vanilla, nutmeg, tropical fruits, chocolate, butter, and citrus. Savory pairings include mild fresh cheeses such as chevre and ricotta, arugula, chiles, fennel, basil, bacon, lamb, and raw sashimi-grade seafood such as albacore and scallops. Whole, unwashed Greengage plums should be left on the counter to ripen at room temperature away from direct sunlight. Once ripe, the fruits can be stored in the refrigerator for an additional 1 to 3 days.
Ethnic/Cultural Info
In Portugal, Greengage plums are known as Elvas plums, named after a municipality in the Alentejo region famous for producing candied plums. Greengage plums are well suited to the city's warm climate, contributing to the plum's sugary flesh, and the fruits are harvested and processed into the sweet treat using a recipe that has not changed for over 100 years. The candied plum recipe was introduced to Portugal through nobleman Don Constantino de Bragança in the 16th century, but the sweets did not become widely popular until the 19th and 20th centuries. Elvas candied plums are made by boiling Greengage plums in syrup multiple times, leaving the mixture to blend for several months. Once the flavors have combined, the syrup-soaked plums are dried in the sun and stored away to be consumed during special occasions. Elvas candied plums were once a homemade sweet treat, but as demand grew for the labor-intensive candied fruits, larger businesses began creating the sugar plums for commercial markets. Elvas candied plums gained worldwide notoriety in the 18th century, and production of the candied plums expanded across the Alentejo region, packaging the plums for export to the United States, South America, Africa, and Asia. In Portugal, Elvas candied plums are a favorite Christmastime treat, and the chewy, sugary plums are frequently served as a topping to sericaia, a traditional cake-like dessert made from a spiced batter. Sericaia is also known as Portuguese Egg Pudding and is one of the most popular desserts created in the Alentejo region, served at birthdays, Christmas, and baptisms.
Geography/History
Greengage plums were thought by experts to be descendants of a wild plum variety first grown in Iran in ancient times. The plums are a cross between Prunus domestica and Prunus institia and were spread in the early ages to civilizations situated along the Silk Road. Greengage plums were later planted in the royal gardens of Francis I in France in the 16th century. Francis I named the plums after his wife, Queen Claude, and in the modern day, the fruits are still known in France as Reine Claude Doree plums and Queen plums. Greengage plums were later brought to England by Sir William Gage in the 18th century. Gage purchased a tree from Paris and planted it in his home garden. Gage eventually renamed the sweet variety after himself as he lost the tree's label. Over time, Greengage plums were spread throughout Europe and were also sent to Asia, New Zealand, Australia, and the United States. Thomas Jefferson was rumored to have been a fan of the plums, planting them in his Monticello Garden. Today Greengage plums are reserved to select farms worldwide and are not commercially grown due to their challenging nature. The sweet fruits thrive in temperate regions and are found for a short season through farmer's markets, specialty distributors, and online vendors.
Recipe Ideas
Recipes that include Greengage Plums. One

is easiest, three is harder.
Podcasts