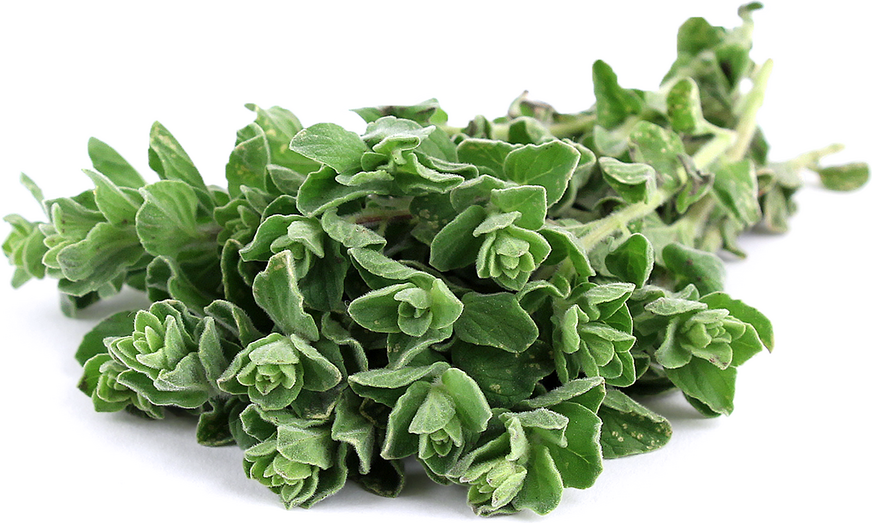 Syrian Oregano
Inventory, bunch : 0
Description/Taste

Syrian oregano is one of the tallest varieties of oregano, growing in a large, upright shrub, and is comprised of densely packed, small leaves attached to thick stems. The leaves have an oval to cordate shape and are flat, pale green, fleshy, and succulent when young, covered in a silver, velvety fuzz. Mature leaves will grow to approximately two centimeters in length and develop a dark green hue. The square stems are commonly covered in a layer of fuzz, and as they mature, they develop a brown hue with a fibrous, woody consistency. Syrian oregano is known for its aromatic nature, and the leaves contain a rich, herbal, and warm flavor with peppermint, grass, and peppery nuances. In addition to the leaves, the young white to light pink flower buds are also edible and grow in clusters along the tops of the branches. The flowers have a concentrated herbal flavor and appear on the shrub in the mid to late summer.


Seasons/Availability

Fresh Syrian oregano is generally available in the early spring through summer. Dried Syrian oregano leaves are available year-round.


Current Facts

Syrian oregano, botanically classified as Origanum syriacum, is an ancient herb belonging to the Lamiaceae family. The aromatic leaves grow on large shrubs reaching up to one meter in height and are native to the Mediterranean and the Middle East, where the leaves have been used medicinally and in culinary applications for thousands of years. Syrian oregano is also known as Bible Hyssop, thought by experts to have been mentioned in the Bible, and was an herb traditionally used in Jewish purification rituals, gathered in bunches and used to sprinkle cleansing water to purify the soul. Over time, Syrian oregano has acquired several other names, including Ezov, Holy Hyssop, and Lebanese oregano, and the herb has also been listed under the scientific classifications of Majorana syriaca and Origanum maru. In the present day, Syrian oregano is widely cultivated and is incorporated into culinary preparations, fresh or dried. The herb has gained notoriety worldwide for its robust, mildly peppery, and grassy flavor.


Nutritional Value

Syrian oregano is a source of vitamin C to strengthen the immune system and fiber to regulate the digestive tract. The fresh herb also contains thymol and other compounds, including carvacrol, terpinene, and pinene, found in the essential oils within the leaves. These compounds provide disinfectant and antiseptic properties, used to treat gum disease and tooth decay in natural medicines. The essential oil compounds are also used to destroy harmful cell bacteria, and the leaves, in general, are consumed as a digestive tea.


Applications

Syrian oregano has a grassy, herbal flavor well suited for fresh, cooked, or dried preparations. Younger leaves are primarily used fresh, and a little of the herb goes a long way in culinary dishes. The leaves can be finely chopped and blended into dips, mixed into yogurt, floated onto soups, or tossed into salads. Syrian oregano leaves can also be fried, similarly to sage, and placed as a crisp, edible garnish over soups, casseroles, and pasta. In addition to the fresh leaves, Syrian oregano can be dried and crushed into a spice, used as a rub with other herbs for roasted meats, stirred into cooked vegetables, or combined into savory sauces. The dried leaves can also be incorporated into spice blends and pressed into soft cheeses, folded into avocado, or whisked into olive oil as a dipping oil. Syrian oregano can be used in any recipe calling for Greek oregano. In the Middle East, Syrian oregano is used in the filling of sambusak, a pastry stuffed with various cheeses or savory ingredients. It is also crushed and coated on flatbreads, sprinkled over potatoes, or steeped into herbal teas. In addition to the leaves, the young flower buds are edible and can be layered into grilled cheese, topped over soups, or used as an edible garnish for egg-based dishes such as quiche. Syrian oregano pairs well with other spices such as thyme, caraway seeds, allspice, sumac, and marjoram, chickpeas, carrots, potatoes, squash, zucchini, bell peppers, eggplant, sesame seeds, and meats such as poultry, beef, and fish. Whole, unwashed, and fresh Syrian oregano leaves should be used immediately for the best quality and flavor and will keep up to one week when stored in the refrigerator. The leaves can also be frozen or dried for extended use.


Ethnic/Cultural Info

Syrian oregano is also known as Za'atar in the Middle East, a term used to describe the herb and a common spice blend. The ancient plant has been foraged from wild plants since Biblical times, and along with using Syrian oregano fresh, it is also dried and ground into a spice to extend the shelf life of the aromatic leaves. Za'atar is the most famous spice blend of the Middle East and dates back to Ancient Egypt, originally comprised of Syrian oregano, thyme, sesame seeds, cumin, sumac, and marjoram. The spice blend is also written as Zatar, Zaatar, and Zaa'tar, and there have been many different variations of the spice over time, with each Middle Eastern family guarding and protecting their own recipe, only passing it down between generations. In the modern-day, the word Za'atar can also be used as a descriptor for several wild herbs that grow in the Mediterranean region, but Syrian oregano is the primary herb referenced with this term. The spice blend has also increased in popularity, leading to the over-harvesting of Syrian oregano, causing the wild plants to become endangered. Many modern Za'atar blends do not include Syrian oregano due to its limited availability and are instead made with common oregano and other savory herbs. Syrian oregano has also been recently commercially cultivated to produce enough fragrant leaves for the spice blends. In the Middle East, Za'atar is combined with olive oil and used as a dipping sauce or brushed onto bread crust. The mixture is also sprinkled over vegetables, spread over pizza, or paired with roasted meats to develop a nutty, earthy, and grassy flavor. Some Middle Eastern families believe that Za'atar can improve brain functioning, and many students consume the mixture before exams for information recollection.


Geography/History

Syrian oregano is a member of the mint family and is native to the Levant region, an area that encompasses parts of Western Asia and the Eastern Mediterranean, including Palestine, Israel, Lebanon, Israel, Turkey, and Jordan. The herb has been growing wild since ancient times and thrives in dry, warm climates. Throughout history, Syrian oregano has been used in medicinal and culinary preparations, foraged from wild plants. As the demand for the herb in spice blends increased over the past century, many wild plants have been overharvested and destroyed, leading Syrian oregano to become an endangered species in some of its native regions. Today Syrian oregano is heavily protected and is considered illegal to harvest in large quantities. The herb is also commercially cultivated, grown in home gardens and fields to process into a dried spice. Syrian oregano may be spotted at local farmer's markets or in home gardens in regions with a dry and warm, Mediterranean-like climate.