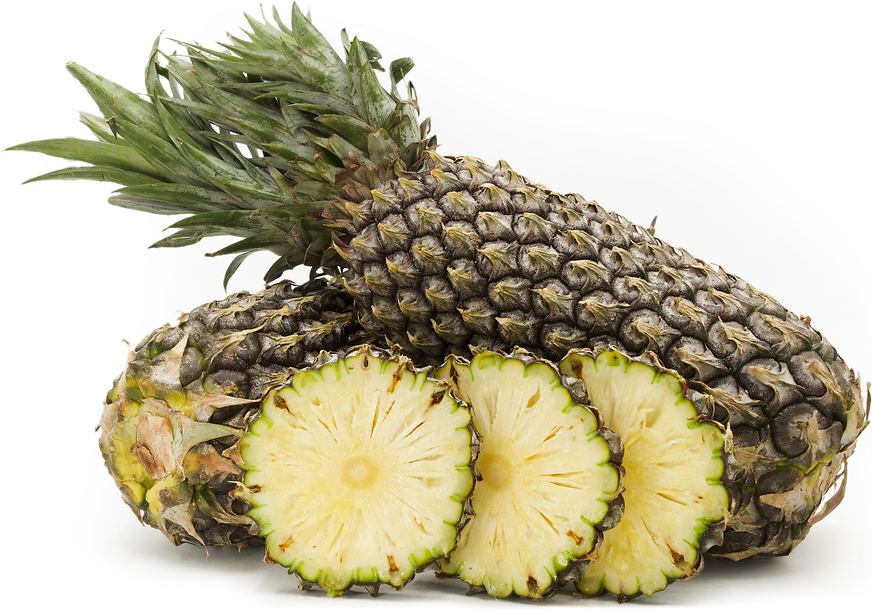 Amazon Pineapples
Inventory, lb : 0
Description/Taste

Amazon pineapples are a variety of pineapple grown in Colombia. The medium to large fruits have a distinct, elongated appearance and are cylindrical and straight with blunt, curved ends. The fruits are also topped with many small, muted green, lanceolate-shaped leaves growing in a thick, spikey, rigid, and fibrous rosette. Pineapples are a type of syncarp, meaning they are formed by flowers that fuse around a central core. The pineapple's surface is covered in textured, round to hexagonal scales, and these small pieces are joined together to form a thick, rough, and dark brown exterior. There also may be golden-yellow hues on the surface, depending on the degree of ripeness. Underneath the exterior, the yellow flesh is soft, tender, and aqueous with some fibers, creating a succulent, chewy consistency. The flesh is also centered around a small core that is not typically consumed. Select Amazon pineapples with a robust aroma and a sweet scent at the base of the fruit. When pressed, the base should also have a slight give, a sign of ripeness. Amazon pineapples are harvested ripe as it is a non-climacteric fruit, meaning they will not ripen once picked, and have a rich, fruity, sweet, and tropical taste with balanced sugar and acidity.


Seasons/Availability

Amazon pineapples are available year-round, with a peak season in March through June.


Current Facts

Amazon pineapples, botanically classified as Ananas comosus, is a rare pineapple variety of the Amazon jungle, belonging to the Bromeliaceae family. Pineapples, in general, are thought to be native to the Amazon, and the ancient fruits have been cultivated among Amazonian populations as a food source for centuries. It is important to note that though the name Piña Amazónica translates from Spanish to mean "Amazonian or Amazon pineapples," a general descriptor sometimes used for any type of pineapple grown in the Amazon, this article refers to a specific variety primarily found in Colombia. Amazon pineapples are also called Crespa, Indian, or Caqueta pineapples and are a popular variety among the indigenous people groups of Colombia. Amazon pineapples are mainly grown in home gardens rather than commercially produced, but a few companies are looking into offering the variety on a small commercial scale. Amazon pineapples are valued for their sweet flavor and tender flesh. The fruits grow on herbaceous, evergreen plants reaching 1 to 1.5 meters in height and are favored for their productive nature, hardiness, and ability to grow in low light conditions. Amazon pineapples are rarely found outside of their native region and are consumed fresh as a delicacy.


Nutritional Value

Amazon pineapples have not been extensively studied for their nutritional properties. Like other pineapple varieties, the fruits are a source of fiber to regulate the digestive tract, vitamin C to strengthen the immune system and reduce inflammation, and potassium to balance fluid levels within the body. Pineapples also provide manganese to develop connective tissues, folate to produce genetic material such as DNA, iron to build the protein hemoglobin for oxygen transport through the bloodstream, and other nutrients, including copper, niacin, magnesium, B vitamins, thiamin, and riboflavin. Beyond vitamins and minerals, pineapples contain bromelain, a type of enzyme that aids digestion, breaks down amino acids, and helps to reduce swelling and muscle aches.


Applications

Amazon pineapples have a soft, sweet, and aromatic taste suited for fresh and cooked preparations. The variety is customarily consumed straight out of hand and is enjoyed as a raw snack or dessert. When served alone, the flesh can be eaten at room temperature or chilled, depending on preference. Amazon pineapples can also be sliced and added to fruit medleys, chopped as an edible topping over tacos, breakfast dishes, and rice bowls, or skewered and served with roasted meats. The variety's sweet, tropical taste creates pleasantly flavored ice creams, yogurt, or sorbets, and the flesh can be incorporated into other desserts. Amazon pineapples can also be added to salads, simmered into jams and preserves, or canned for extended use. In addition to fresh preparations, Amazon pineapples are occasionally pressed into juice and used to flavor concentrates or blended into smoothies and shakes. The variety is also popularly made into wine or liqueur in Colombia. Pineapple guarapo is a Colombian beverage made from macerated pineapple mixed with water, and Amazon pineapples are often used for their sweet flavor. This combination is left to ferment with sugar, creating an alcoholic drink. Amazon pineapples pair well with herbs such as cilantro, parsley, and mint, bell peppers, onions, garlic, tomatoes, and other fruits, including coconut, strawberries, passion fruit, and papaya. Whole Amazon pineapples are harvested ripe and are immediately ready for consumption. Unopened fruits can sit for a few days in a cool, dry, and dark place at room temperature or in the refrigerator. Once opened, the sliced pieces should be stored in an airtight container in the fridge for 3 to 5 days.


Ethnic/Cultural Info

Amazon pineapples, known as Piña Amazónica in South America, is traditionally cultivated among the indigenous people groups in the Caquetá Department of Colombia. This region is a part of the Amazon, and Piña Amazónica is a native species grown among local communities as a staple food and source of income. Piña Amazónica is grown sustainably within Caquetá, and it is said the variety is seldom grown outside of this region. Each family dedicates a percentage of their farmland to cultivating pineapples, and the variety is preferred over more commercially popular cultivars such as MD2. Piña Amazónica is customarily consumed fresh in Caquetá and is also made into beverages such as chica or mazato. The fruits are also used as gifts for celebrations, special events, and business meetings.


Geography/History

Amazon pineapples are native to the Amazon Rainforest, specifically found in a region in Colombia, and has been growing wild since ancient times. All species of pineapples are thought to have been native to the Amazon, and Amazon pineapples are a wild variety favored for their aroma, taste, and hardiness. Much of the variety's history is unknown as it has remained localized to its native growing region as a specialty fruit. Amazon pineapples are not commercially cultivated, but a few organizations are collecting seeds of the variety for possible commercial production. Today, Amazon pineapples are found in the department of Caquetá and sometimes in the neighboring department of Cauca. The fruits are mainly harvested for home use, and a few are sold through fresh markets and directly through the growers.