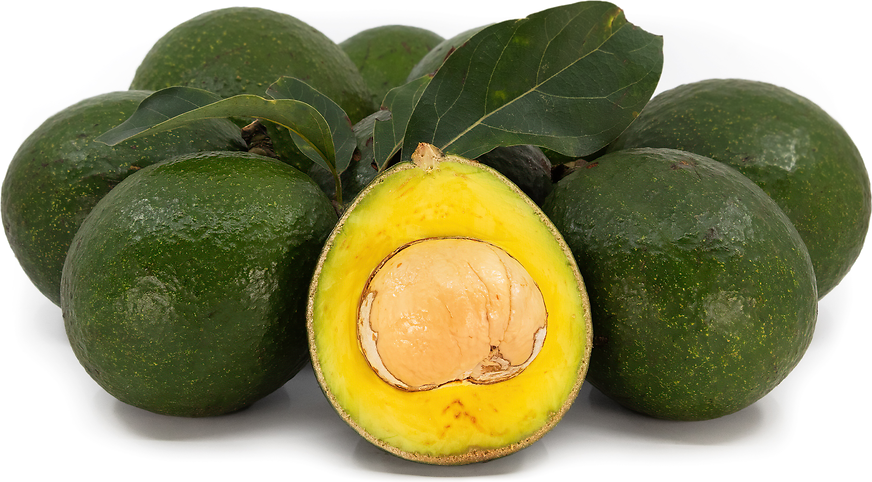 Santana Avocados
Inventory, 1 Lb : 0
Description/Taste

Santana avocados are medium to large in size, averaging 600 to 700 grams in weight, and have a uniform, pyriform shape with a broad, curved base tapering slightly to a rounded top. The variety's skin is thick, semi-smooth, leathery, easy to peel, glossy, and textured with small bumps. The surface also has an olive-green to forest-green hue, a coloring that remains even when the avocado is ripe. Underneath the surface, the yellow-green flesh is dense, smooth, and low in fiber, with a creamy, buttery, and tender consistency. The flesh also encases a moderately sized central seed that is firm, round, and tan. This seed can be removed from the flesh without effort. Santana avocados ripen consistently and can be consumed raw when mature. The variety has a rich, mild, slightly nutty, and earthy taste.


Seasons/Availability

Santana avocadoes are harvested over two main seasons in Colombia. The first season is from May to July, and the second season is from September through November.


Current Facts

Santana avocados, botanically classified as Persea americana, are a Colombian variety belonging to the Lauraceae family. The rich, fibreless cultivar is rare, only produced on a small scale, and makes up less than 25% of the total avocados grown in Colombia. This has led the variety to remain relatively unknown outside of Colombia, but despite their rarity, Santana avocados are highly favored by growers and consumers for the avocado's quality taste and growth characteristics. Santana avocados ripen about eight months after flowering and grow on vigorous, robust trees with a balanced crown of thin branches. The variety is known for its high yields, and the fruits ripen evenly, providing a reliable texture, flavor, and appearance. In the modern day, Santana avocados are a seasonal ingredient primarily utilized in fresh preparations. The avocado's mild flavor complements savory or sweet dishes, and its creaminess provides a pleasant texture for a wide array of culinary dishes.


Nutritional Value

Santander avocados have not been extensively studied for their nutritional properties. Like other avocados, in general, the variety may be a source of calcium to build strong bones and teeth, iron to develop the protein hemoglobin for oxygen transport through the bloodstream, and vitamin C to strengthen the immune system. Santander avocados also provide vitamin A to maintain healthy organs, vitamin E to reduce inflammation, fiber to regulate the digestive tract, magnesium to control nerves, potassium to balance fluid levels within the body, and other nutrients, including vitamin K, phosphorus, folate, niacin, and vitamin B6. Beyond their health properties, Santana avocados are used in homemade topical products throughout Colombia, including lotions, face masks, soaps, and shampoos.


Applications

Santana avocados have a rich and creamy nature suited for fresh preparations. The variety is traditionally consumed fresh and can be sprinkled with salt, lime, or honey for enhanced flavoring. Santana avocados can also be chopped into salsa, mashed with salt, onion, citrus juice, chile, and spices for guacamole, or pureed into an avocado crema. The variety's smooth, fibreless nature allows it to be used as a topping over tacos, roasted meats, and grain-based dishes, or it can be layered into sandwiches, tossed into salads, or smashed on toast. In addition to consuming the flesh whole, Santana avocados are occasionally blended into juices and other beverages in Colombia or pureed and frozen into ice cream. The avocados are also incorporated into various desserts for added texture. Santana avocados pair well with corn, jicama, tomatoes, spices such as coriander, nutmeg, cilantro, and dill, cheeses including feta, cotija, cheddar, and goat, sour cream, seafood, and meats such as pork, beef, poultry, turkey. Whole, unopened Santana avocados will keep at room temperature for a few days, depending on the degree of ripeness when purchased. The variety can be wrapped in newspaper for 2 to 3 days to speed up ripening, and once ready to eat, the avocado can be stored in the refrigerator for a day or two.


Ethnic/Cultural Info

Santana avocados are one of the local cultivars featured and celebrated at the Festival del Aguacate in the department of Santander in Colombia. The festival has been held for over ten years in the city of El Carmen and is an annual gathering to connect growers and avocado enthusiasts. Avocados have been a staple food among indigenous Colombian populations, and the fruits have been utilized for culinary, medicinal, and topical beauty practices for centuries. During the festival, rare varieties, including Santana avocados, are harvested from community gardens and are promoted to protect and preserve cultivars native to Colombia. The Colombian government runs the festival to increase avocado cultivation and encourage growers to plant local varieties. Each year, the Festival del Aguacate hosts various competitions, including sporting events, food tastings, fresh avocado markets, and a beauty pageant.


Geography/History

Santana avocados are native to Colombia and are descendants of varieties that originally came from Central America. Avocados spread from Central America into South America through migrating peoples and trade before the arrival of the Spanish. In the early ages, varieties were naturalized in Colombia in subtropical to tropical regions and incorporated as a food source. Once the trees were established in Colombia, many new varieties were bred over time for improved characteristics, and new regional cultivars were generally labeled for sale in local markets. Santana avocados are a type of Colombian avocado and were thought to have been first discovered on the Santana farm in the department of Caldas. The variety's history and parentage are unknown, but some scientists believe it may be a hybrid between an Antillean and Guatemalan-type due to its adaptability. Today, Santana avocados are a rare variety primarily cultivated in Colombia. The avocados are sold directly through growers, at roadside stands, and at fresh markets throughout Colombia, especially in Santander and Caldas. It is also important to note there is a Santana avocado cultivated through specialty growers in California, but it has not been determined whether these are the same variety as the Santana avocados found in Colombia.