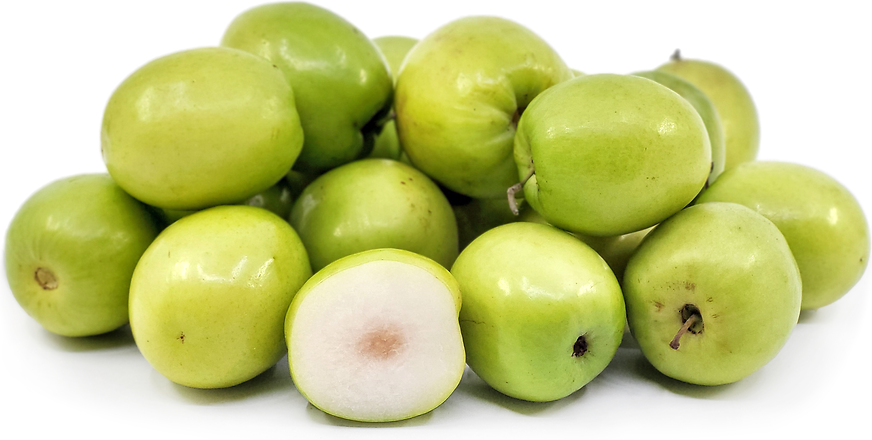 Thai Jujube
Inventory, lb : 0
Description/Taste

Thai jujubes are small to medium-sized, depending on the specific variety, and average 4 to 5 centimeters in diameter and 5 to 6 centimeters in length. The fruits are oval to oblong in appearance and have thin but tough skin with a smooth, taut, and semi-glossy surface. Thai jujubes are customarily sold in their green stage, but the fruits can sometimes be found when they have transitioned into a yellow to yellow-brown hue. Underneath the skin, the flesh is white, aqueous, and firm with a crisp, crunchy, and cracking consistency. The flesh also encases a central core filled with a light tan stone containing two brown seeds. Thai jujubes release a faint apple-like aroma and have a clean, refreshing flavor. The flesh is initially sweet, with a subtle blend of Asian pear and green apple nuances, followed by a tangy, slightly tart aftertaste. If the jujubes are consumed in their more mature stages, their skin will wrinkle and soften, developing a spongy, dry, and chewier consistency with musky undertones.


Seasons/Availability

Thai jujubes are available year-round, fruiting multiple times per year.


Current Facts

Thai jujubes, botanically classified as Ziziphus mauritiana, is a general term for several green varieties produced in Thailand belonging to the Rhamnaceae family. The small fruits grow on bushy shrubs to compact trees that can reach 1 to 12 meters in height and have a drooping, branched nature, giving the plant a full appearance. Jujube trees yield large amounts of fruits each season, and Thailand commercially cultivates jujubes for domestic use and export. There are three main types of green jujubes in Thailand: wild jujubes, Indian jujubes, and Taiwanese jujubes. Each type has many individual varieties that fall under these names, but when grown in Thailand, green jujube cultivars are simply labeled Thai jujubes in markets. This oversimplified label is used as some wild Thai varieties do not have commercial names. One of the most popular green Thai jujube varieties currently in retail markets is known as Nom Sod or Fresh Milk jujubes. This cultivar was created in northeastern Thailand by crossing a Taiwanese honey jujube with an Indian jujube. Nom Sod jujubes have become one of the top varieties for export to neighboring countries, including Singapore and Malaysia. Thai jujubes are traditionally eaten in their green stage and are considered a refreshing, cooling fruit on hot, humid days. The fruits can be purchased in local markets as an on-the-go snack, savored for their sweet-tart flavoring.


Nutritional Value

Thai jujubes are an excellent source of vitamin C to strengthen the immune system, boost collagen production, and reduce inflammation. The fruits are also a good source of potassium to balance fluid levels within the body, iron to develop the protein hemoglobin that transports oxygen through the bloodstream, vitamin A to maintain healthy organ functioning, and provide other nutrients, including manganese, magnesium, B vitamins, calcium, zinc, and phosphorus.


Applications

Thai jujubes have a sweet, subtly tart flavor well suited for fresh and cooked preparations. The jujubes are typically consumed straight, out of hand, as a refreshing snack in Thailand, and the firm fruits are eaten alone, sprinkled with salt, or cut and dipped into sauces. Thai jujubes can also be crushed, mixed with water, and enjoyed as a cooling beverage, blended into other fruit drinks, or sliced and incorporated into salads. In addition to raw preparations, Thai jujubes can be used in their more mature, yellow to yellow-brown stages and can be stewed, simmered, or used as a flavoring in sweet or savory recipes. The fruits are commonly mixed into soups with mushrooms, cooked with aromatics and boiled eggs, or combined into meat-based dishes. Thai jujubes can also flavor desserts and sweet soups, stewed in sugar as a candied treat, cooked into porridges and rice dishes, or steeped into a tea. Jujubes can be utilized fresh or dried, or they can be pickled for extended use. Thai jujubes pair well with roselle, ginger, mushrooms, cinnamon, walnuts, goji berries, ginseng root, watercress, and raspberries. Fresh whole Jujubes can be stored in a sealed container in the refrigerator for 2 to 4 weeks. Dried Jujubes will keep 6 to 12 months when stored in a cool place away from direct sunlight.


Ethnic/Cultural Info

Jujube trees are planted at the Ayutthaya Historical Park in Thailand and are considered significant trees in Thai history. Ayutthaya was once one of the largest cities in Thailand, previously known as Siam, and was home to the Siamese Royal Court. A famous Thai myth recounts the tale of jujube trees helping King Naresuan defeat the Burmese in battle. Legend has it that King Naresuan rode on an elephant into battle against a Burmese general known as Phra Maha Uparaja. At one point in the fighting, the king's elephant almost fell over but used his back legs to support itself against a jujube tree, allowing King Naresuan to stay on the elephant's back, saving him from falling into the battle. King Naresuan eventually defeated Phra Maha Uparaja in the battle, also winning over the Burmese army. After the war, King Naresuan planted jujube trees around the palace as he viewed the trees as life-preserving plants. More jujube trees were later planted by King Rama V, and he encouraged locals to freely harvest the fruits as a blessing. In the modern-day, Ayutthaya Historical Park was established as a Unesco World Heritage Site in 1991 and is home to 785 jujube trees. Many of these trees are over 130 years old and are protected from being cut down.


Geography/History

Thai jujubes are native to Asia and thrive in warm, tropical, and subtropical climates. Many of the varieties grown in Thailand are descendants of jujubes native to a southern region spanning from China, specifically the Yunnan province, through Malaysia and India. Over time, jujubes were extensively planted throughout Southeast Asia and Asia, and commercially cultivated varieties were created through selective breeding. Thai jujube is a general descriptor used for jujube varieties collected from India, Taiwan, and Thailand and planted in Thailand, commercially produced for export and domestic sales. The Thai jujubes featured in the photograph above were sourced from a local market in Chinatown in Singapore. Locals visiting the market were purchasing large bags full of the green jujubes, and when asked why they were buying the jujubes, they commented that the fruits were crisp, refreshing, and favored for fresh eating. The fruits were also regarded as seasonal, only being exported to Singapore in limited quantities, which increased their demand.