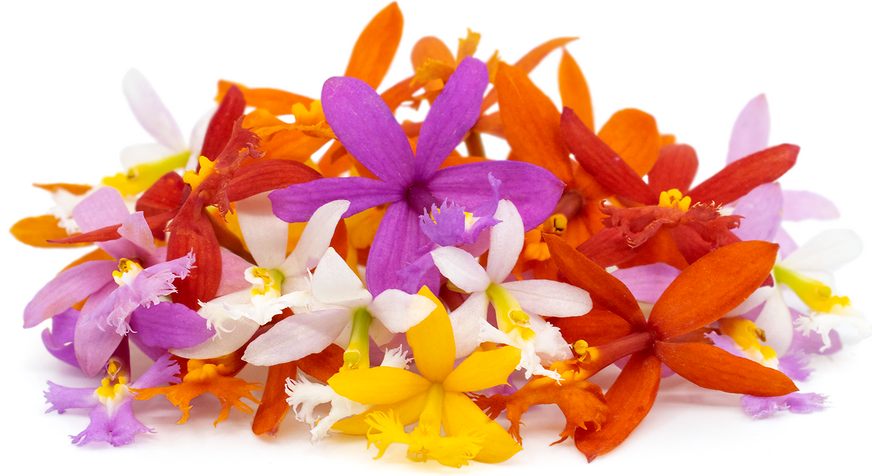 Orchid MicroFlowers™
Inventory, 100 ct : 3.00
This item was last sold on : 12/10/23
Description/Taste
Micro Orchids™ are tiny, delicate flowers averaging less than three centimeters in diameter and have an open, circular shape, around the same size as a quarter. Each flower is comprised of five flat, oval petals that are distinctly separated and bear an elongated, slightly tapered shape at the tips. The petal's surface is also smooth, velvety, and soft. In the center of the flower, a tube-like structure contains the flower's stamens and pistils and is capped with small, fringed petals. Micro Orchids™ appear in shades of bright red, orange, yellow, white, violet, pink, to purple, and the flowers are entirely edible with a crisp, succulent, and tender consistency. The colorful flowers also have a fresh, sweet, and subtly vegetal flavor with unique cucumber and watermelon nuances.
Seasons/Availability
Micro Orchids™ are available year-round.
Current Facts
Micro Orchids™ are small, edible flowers a part of a trademarked line of specialty MicroFlowers™ grown by Fresh Origins Farm in San Diego, California. MicroFlowers™ are one of Fresh Origin Farm's most popular innovations, and the tiny blooms are entirely edible, providing chefs with a modern garnish to enhance the dining experience. Micro Orchids™ were the first flowers selected for the MicroFlower™ line, and the blooms contribute vivacious colors, shapes, and textures to culinary dishes and mixology. Micro Orchids™ are harvested at peak maturity to develop concentrated colors and flavors, and despite the flower's delicate appearance, Micro Orchids™ are durable, able to be floated on drinks, soups, or placed on top of main courses. The bloom's tiny size allows chefs to reimagine the way edible flowers are traditionally used in restaurants, elevating flowers into a sophisticated, contemporary accompaniment. Micro Orchids™ are unique and can be used whole as a garnish, sprinkled generously over preparations, or individual flowers can be selectively placed to make a colorful statement.
Nutritional Value
Micro Orchids™ have not been studied for their nutritional value. Like other edible flowers, Micro Orchids™ are a source of vitamins A and C, nutrients with antioxidant-like properties to strengthen the immune system, boost collagen production within the skin, and defend the cells against damage inflicted by external environmental aggressors. The flowers also contain anthocyanins, pigments that give the petals their colored appearance. These pigments are thought to have anti-inflammatory and anti-bacterial properties, which can help lower blood pressure, reduce inflammation, and protect against disease.
Applications
Micro Orchids™ have a delicate, cucumber-watermelon-like flavor well suited as a garnish or edible accent. The flowers are somewhat sturdy, able to withstand liquids, but they should be added to drinks and culinary dishes at the end of the plating process to avoid softening or wilting. Micro Orchids™ are entirely edible and can be sprinkled over salads, floated over chilled soups, scattered over fruit bowls and platters, or pressed into butter or soft cheeses as a colorful addition to charcuterie boards. The small blooms can also be utilized as a garnish for sushi and sashimi, wrapped into fresh spring rolls, mixed with microgreens and served with seafood, or individually placed on appetizers or fruit skewers as an attractive garnish. In addition to small dishes, Micro Orchids™ can be used to enhance desserts, including crème brule, chocolate cake, pudding, and tarts, or they can be gently pressed into cookies for a whimsical touch. They can also be dusted with sugar or candied for additional shine and texture. In mixology, Micro Orchids™ can be frozen into ice cubes as a festive element, floated over cocktails, tea, smoothies, and sparkling beverages, or gently attached to a stir stick. Micro Orchids™ pair well with fruits such as coconut, watermelon, strawberries, lemons, limes, apples, passionfruit, mango, and cherries, ginger, chocolate, lavender, mint, and cheeses such as brie, blue, goat, and feta. Whole MicroFlowers™ should be used immediately for the best quality and flavor and will keep for 2 to 5 days when stored in their clamshell in the refrigerator.
Ethnic/Cultural Info
In Ancient Greece, orchids were a part of an unusual tradition of predicting the gender of babies. The Greeks were the first civilization to label the flowers as orchids, and the origin of the word orchid can be traced back to the cultural belief that orchids resembled a portion of the male anatomy. This connection led orchids to become vital flowers to consume during pregnancy. The Ancient Greeks believed that if a male consumed large orchid flowers during the pregnancy, it would influence the mother to bear a son. It was also believed that if the mother consumed smaller orchid flowers, it would encourage the body to create a daughter. This tradition was widely accepted and practiced in Ancient Greece, and often, the husband and wife would consume the different sized orchids simultaneously as a social game.
Geography/History
Micro Orchids™ were developed at Fresh Origins Farm in San Diego, California, the leading American producer of naturally grown microgreens and edible flowers since the mid-1990s. Fresh Origins has been using the mild Southern California climate to produce over sixty different types of robust, healthy, and flavorful edible flowers. Micro Orchids™ are grown year-round in greenhouses at Fresh Origins and are watered through drip irrigation. Once the flowers have reached maturity and peak freshness, they are packed and shipped immediately to provide chefs with quality edible ingredients. Today Micro Orchids™ can be found through select distribution partners of Fresh Origins across the United States, including Specialty Produce, and are also found through partners in Canada.
Featured Restaurants
Restaurants currently purchasing this product as an ingredient for their menu.