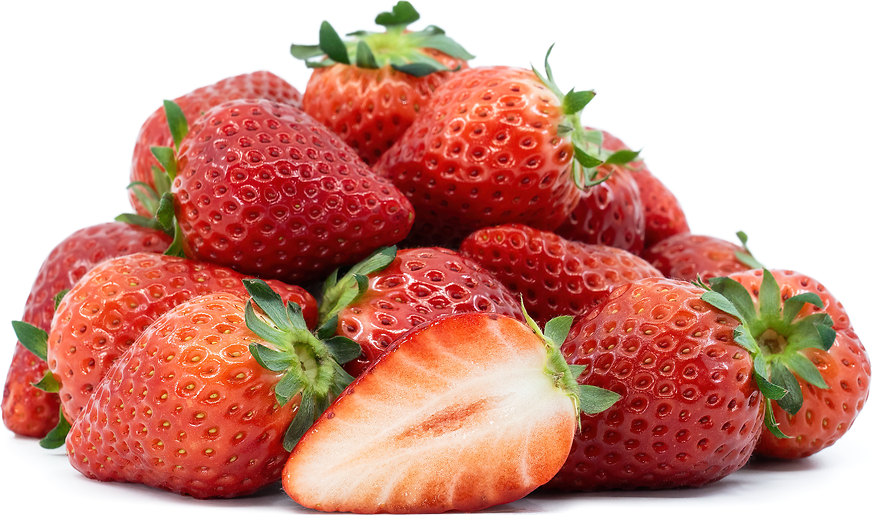 Skyberry Strawberries
Inventory, lb : 0
Description/Taste

Skyberry strawberries are a medium to large varietal, averaging 3 to 5 centimeters in diameter, and have a conical shape with broad curved shoulders tapering to a pronounced, semi-pointed tip. The fruit's skin is taut, slightly firm, and glossy with a bright red-orange hue, speckled with noticeable green seeds. Despite the strawberry's firm nature, the skin is still delicate and is easily bruised and discolored if damaged. Underneath the surface, the flesh transitions from pale red to white and is tender, dense, and aqueous. Skyberry strawberries are solid without a hollow center, an unusual trait for large varietals and the flesh has a crisp and succulent consistency. Skyberry strawberries contain balanced sugar and acidity levels, creating a mildly sweet flavor with a sour, tangy aftertaste.


Seasons/Availability

Skyberry strawberries are available in the winter through early summer.


Current Facts

Skyberry strawberries, botanically classified as Fragaria ananassa, are a modern Japanese cultivar belonging to the Rosaceae family. The variety was developed in Japan in the late 20th to early 21st centuries and was released to commercial markets in 2014. Skyberry strawberries are considered a premium fruit sold at luxury prices for the fruit's large size, juicy nature, bright coloring, and sweet and sour flavor. The strawberries are larger than the tochiotome strawberry, a famous Japanese varietal, and experts report that Skyberry strawberries can sometimes reach almost two times larger in size than tochiotome. Skyberry was selected from over 4,388 entries submitted to name the varietal, once known as Tochigi i27, and the sky-like moniker was derived from the name of the famous Mt. Sukai. Skyberry strawberries are also thought to symbolize a large fruit whose size and flavor could reach the sky, a branding name given to intrigue consumers into purchasing the new strawberries. In the present day, Skyberry strawberries are often given as a luxury gift and are consumed fresh, out of hand, to savor the fruit's sweet and tangy flavor. Skyberry strawberries can also be incorporated into baked goods, desserts, and other raw preparations.


Nutritional Value

Skyberry strawberries are a source of vitamin C to strengthen the immune system while reducing inflammation and contain fiber to regulate the digestive tract. The fruits also provide some potassium to balance fluid levels in the body, calcium to protect bones and teeth, vitamin A to maintain healthy organ functioning, and lower amounts of zinc, vitamin E, vitamin K, manganese, iron, and magnesium. The strawberry's pigmented skin is a source of antioxidants to guard the cells against external environmental damage.


Applications

Skyberry strawberries have a sweet, tart, and tangy flavor well suited for fresh preparations. The strawberries are primarily consumed straight, out of hand, and are regarded as a luxury variety, savored fresh to appreciate their raw flavor and texture. Skyberry strawberries are popularly presented to friends and family as gifts, carefully placed in decorated boxes or individually stored in small capsules to protect their delicate skin. The fruits are also used in desserts, crepes, and parfaits in the Takano Fruits Parlor in Shinjuku, Japan. The fruit parlor reported that they sold over 320 Skyberry strawberry parfaits in one day after launching the new specialty dessert, costing around 1,700 yen, equivalent to approximately $14.80. Skyberry strawberries are also commonly used as edible decorations on Christmas cakes made with whipped cream, sponge cake, and fruits. These cakes are traditionally eaten on Christmas Eve and are adorned with bright red strawberries around the edge as a festive, sweet element. Beyond utilizing Skyberry strawberries in their whole form to highlight their size, color, and shape, the fruits can also be used in any recipe calling for strawberries. Try using Skyberry strawberries on appetizer platters, slicing the fruits into salads, or cutting and serving the fruits on top of berry toast. Skyberry strawberries pair well with vanilla, chocolate, caramel, herbs such as mint, basil, and rosemary, and other fruits including peaches, pears, mango, and blueberries. Whole, unwashed Skyberry strawberries will keep for a few days when stored in a plastic bag in the refrigerator's crisper drawer. It is recommended to consume the fruits immediately for the best quality and flavor.


Ethnic/Cultural Info

The Tochigi Prefecture is home to the only strawberry research institute in Japan, and since its establishment, the institute has released several successful commercial strawberry varieties, including Skyberry strawberries. The Tochigi Prefectural Agricultural Experiment Station Strawberry Research Institute seeks to study strawberry market trends in Japan and develop improved varieties that meet the changing consumer demand. Skyberry strawberries were created from a desire to release a new variety similar to the region's famous tochiotome strawberry, but the new varietal was produced to have higher yields, a larger size, and improved flavor. The research institute also partners closely with Tochigi Prefecture officials to ensure that the prefecture maintains its self-proclaimed nickname as the "Strawberry Kingdom." This regal moniker was given to the area in 1968, and Tochigi is known as the top strawberry producing region in Japan, creating new varieties for year-round production in controlled greenhouses. The prefecture hosts strawberry-themed festivals, u-pick farms, and art exhibits to increase agrotourism, attracting visitors from across Japan to visit the unique region. Skyberry strawberries are one of the newest varieties developed in Tochigi, and the fruits have become so popular that over $5,200 worth of Skyberry strawberries were stolen in one night from greenhouses in the prefecture in December of 2020.


Geography/History

Skyberry strawberries were developed in the late 20th century in Japan through the Strawberry Research Institute in the Tochigi Prefecture. The Strawberry Research Institute is well-known in Japan for its previous strawberry releases, including nyoho and tochiotome strawberries. Skyberry strawberries were developed as a modern varietal that showcased improved appearance, flavor, and size. It took the research institute over seventeen years of trials and studies before they released Skyberry strawberries, and the variety was officially registered with the Ministry of Agriculture, Forestry, and Fisheries in 2011. Skyberry strawberries were commercially released in 2014 and are only grown in greenhouses through select farms within the Tochigi Prefecture. The largest grower of Skyberry strawberries currently resides in Sano City of the Tochigi Prefecture, harvesting fruits from 15,000 Skyberry plants each year. The first international shipment of the strawberries was sent to Kuala Lumpur, Malaysia, in the winter of 2014 and was marketed as a luxury gift for the Lunar New year. Today Skyberry strawberries have become a favored premium variety throughout Japan and are offered through specialty growers, grocers, and fruit retailers such as the Shinjuku Takano Fruits Parlor. The strawberries are also exported to Singapore and Malaysia. The Skyberry strawberries featured in the photograph above were sourced from Meidi-Ya Supermarket in the Millenia Walk in Singapore.