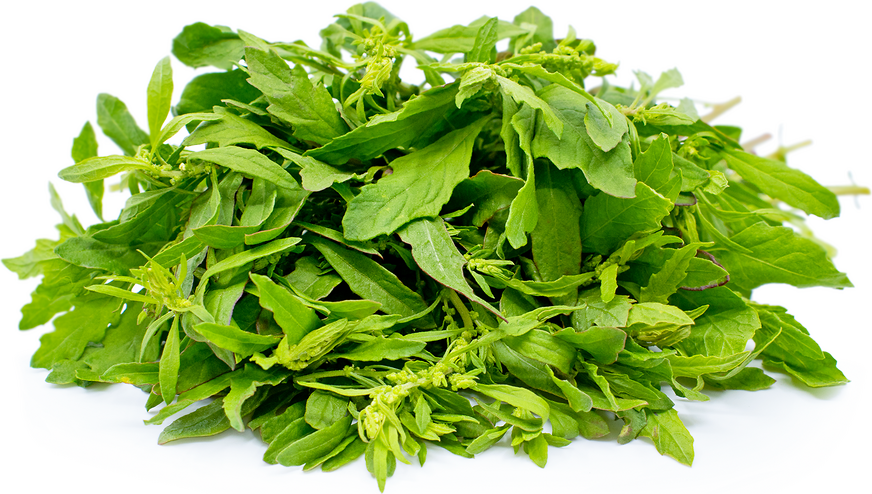 Epazote
Inventory, lb : 0.18
This item was last sold on : 05/31/23
Description/Taste
Epazote is a flowering herb comprised of hollow green stems with large lanceolate leaves, averaging 10 to 12 centimeters in length. The leaves are bright green, flat, pliable, and elongated with prominent veining and jagged, serrated edges, tapering to a point on the non-stem end. Younger leaves will have a crisp, tender, and milder flavor, while more mature leaves will become tougher with a stronger taste. The plant will also seasonally develop small yellow-green flowers along its stem. Epazote is known for its pungent fragrance, often being compared to the smell of earthy, wet asphalt, petroleum with a hint of citrus, or bearing a medicinal aroma with herbal notes mixed with turpentine. The herb's flavor is also distinct, generally being considered an acquired taste. Epazote contains a complex blend of musky, earthy, and herbal flavors combined with mint, citrus, anise, oregano, thyme, and pine nuances.
Seasons/Availability
Epazote is available year-round, with a peak season in the winter through early spring.
Current Facts
Epazote, botanically classified as Dysphania ambrosioides, is an ancient, strongly scented herb belonging to the Amaranthaceae family. The name Epazote is derived from Nahuatl, a language spoken by indigenous populations of Mexico and Central America, and stems from two words, epote meaning "foul" or "stinky" and epatzotl meaning "sweat." Other translations also describe the word's meaning as "skunk sweat," a descriptor given to the herb for its potent, sometimes off-putting aroma. Despite its pungent reputation, Epazote has been utilized throughout history as a medicinal herb to counter flatulence and digestive ailments. Epazote is also known by many other names, including Hierba Hedionda, Pazoli, Mexican Tea, Pazote, Ipasote, and Skunk Weed, and is deeply intertwined in Mexican and Latin American cuisine. The young leaves and tender stems are the main portions of the plant used for culinary purposes, and the leaves are traditionally used fresh for optimum flavor. In the modern-day, Epazote has been introduced worldwide and is considered an invasive species in some regions. The bushy plant is fast-growing, reaching up to 100 centimeters in height, and can grow in poor soil, leading it to easily naturalize and spread, taking over large areas in home gardens and the wild.
Nutritional Value
Epazote is an excellent source of folic acid to produce healthy red blood cells and manganese to assist in developing connective tissue. The herb is also a good source of calcium to strengthen bones and teeth, magnesium to maintain optimal nerve functioning, copper to promote healthy metabolism, iron, and contains lower amounts of fiber, phosphorus, zinc, and vitamin C. It is important to note that Epazote should be used in small quantities, as large amounts can be toxic and sometimes lethal.
Applications
Epazote has a distinct flavor showcased when used fresh in small quantities and added at the end of cooking. Young leaves are preferred as they contain a milder flavor, while mature leaves should be used sparingly as they bear a stronger taste. Epazote is traditionally incorporated into Latin and Mexican cuisine and can be mixed into soups and stews or blended into sauces and salsas. The leaves can also be torn and layered into tamales, enchiladas, and quesadillas, or they can be chopped and stirred into esquites or toasted corn. Epazote can be used as a fresh, edible garnish on cocktails, rice, roasted meats, and other rich, rustic dishes. The herb is most well-known for its use in bean dishes, also known as frijoles de la olla, as the leaves are believed to help reduce flatulence caused by legumes. In addition to fresh leaves, Epazote can also be used dried, but the flavor will be significantly less potent. One teaspoon of dried Epazote is equivalent to one fresh leaf or stem, and approximately one teaspoon of dried Epazote is used for one pound of cooked beans. Epazote pairs well with mushrooms, corn, tomatillos, tomatoes, potatoes, squash blossoms, avocados, meats such as pork, poultry, rabbit, beef, and fish, aromatics including onions, garlic, and chile peppers, herbs such as cilantro, oregano, and parsley, and cheeses such as cotija, ricotta, Oaxaca, and queso fresco. Fresh Epazote leaves can be placed in a glass of water and loosely covered or layered in between damp paper towels and stored in a plastic bag in the refrigerator's crisper drawer, where they will keep up to four days. The leaves can also be frozen for extended use.
Ethnic/Cultural Info
Epazote has been a valued culinary and medicinal herb in Mexico for hundreds of years and was historically grown and utilized by the Mayans, Aztecs, and Incans. These ancient civilizations recognized the medicinal properties of Epazote and primarily incorporated the herb into a tea to remove intestinal parasites such as pinworms, roundworms, and hookworms. Epazote was also mixed into culinary dishes to prevent future parasite infestations as the leaves contain a compound known as ascaridole, which is toxic to many worm species. Within the Mayan civilization, the aromatic herb was traditionally mixed with black beans to reduce gas and bloating. Epazote is believed to contain compounds that can help break down oligosaccharides, which are sugar chains found within the outer layers of beans that are notorious for causing gas. The herb was also blended into a sauce with pumpkin seeds and broth to make papadzules, one of the oldest known dishes of the Yucatan. This dish is still served in the present day, consisting of tortillas stuffed with eggs, covered in the creamy sauce, and the delicately flavored dish is a favorite breakfast item served throughout the Yucatan Peninsula.
Geography/History
Epazote is an annual or short-lived perennial herb native to Central America, South America, and Southern Mexico. The fast-spreading plant has been found in the wild since ancient times and thrives in tropical to subtropical climates, growing similarly to a weed along roadsides, in pastures, fields, and home gardens. Epazote has been cultivated for medicinal and culinary applications for hundreds of years, and in the 16th century, the herb was introduced to Spain through explorers returning from the New World. Today Epazote has naturalized worldwide and has been spotted in India, Tibet, Europe, the United States, Canada, and the Caribbean, as well as its native regions of Mexico, Central America, and South America. Fresh Epazote is primarily sold through specialty grocers, select farmer's markets, and Mexican markets. Dried versions of the herb are sold worldwide through online retailers.
Featured Restaurants
Restaurants currently purchasing this product as an ingredient for their menu.
| | | |
| --- | --- | --- |
| Hilton Mission Valley | San Diego CA | 619-543-9000 |
| Mavericks Beach Club | San Diego CA | 858-999-0348 |
| Mission Pacific | Oceanside CA | 760-450-7864 |
| San Diego Yacht Club | San Diego CA | 619-758-6334 |
| Clara Carlsbad | Carlsbad CA | 760-470-9143 |
| Born & Raised (Events) | San Diego CA | 619-550-5412 |
| Casero Taqueria | Carlsbad CA | 760-533-4997 |
| Olivewood Gardens and Learning Center | National City CA | 619-434-4281 |
| Fairmont Grand Del Mar | San Diego CA | 858-314-1975 |
| The Shores | La Jolla CA | 858-459-8271 |
| Parkhouse Eatery | San Diego CA | 619 295 7275 |
| Blind Lady | San Diego CA | 619-381-4475 |
| Rosemary Trattoria | Coronado CA | 619-669-8435 |
| ALCE 101 | Solana Beach CA | 619-885-8075 |
| Bridges at Rancho Santa Fe | Rancho Santa Fe CA | 858-759-6063 |
| Alila Marea Beach Resort | Encinitas CA | 805-539-9719 |
| Cocina De Barrio | San Diego CA | 760-840-1129 |
| La Dona (Bar) | San Diego CA | 858-352-8134 |
| Luce | San Diego CA | 619-275-2094 |
| Farmer and The Seahorse | San Diego CA | 619-302-3682 |
the other 13...
| | | |
| --- | --- | --- |
| SD Continuing Education Culinary Arts | | 619-719-6924 |
| Herb & Wood | San Diego CA | 520-205-1288 |
| Cocina de Barrio Point Loma | San Diego CA | 858-349-2313 |
| Estancia Adobe | San Diego CA | 858-550-1000 |
| The Remy | San Diego CA | 619-886-1358 |
| Davanti Enoteca India St. | San Diego CA | 619-237-9606 |
| Trattoria I Trulli | Encinitas CA | 760-277-9826 |
| Barrel & Board | San Diego CA | 619-379-2574 |
| Avant | San Diego CA | 858-675-8505 |
| Frankie's | Oceanside CA | 442-266-2270 |
| Born & Raised | San Diego CA | 619-944-1631 |
| Miguel's Cocina Pt Loma | San Diego CA | 619-224-2401 |
| Dan Gonzales Inc. | San Diego CA | |
Recipe Ideas
Recipes that include Epazote. One

is easiest, three is harder.
the other 2...