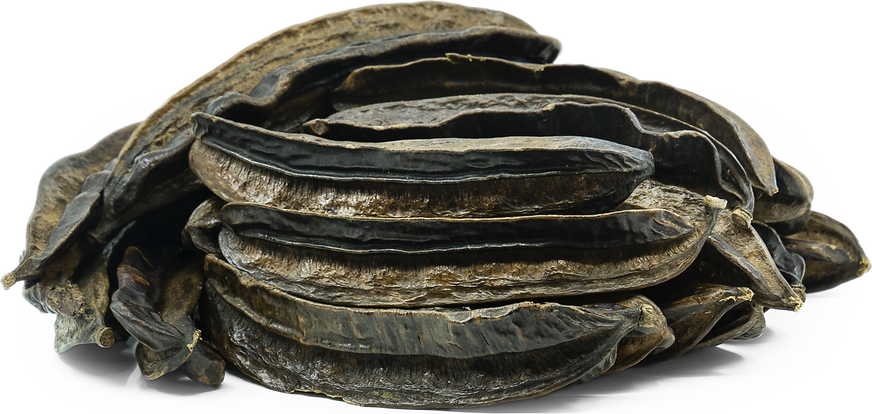 Prekese
Inventory, lb : 0
Description/Taste
Prekese is a woody, angular pod widely varying in length and shape, depending on the growing environment and the pod's age. The pods are generally 15 to 25 centimeters in length and 4 to 5 centimeters in diameter and have a cylindrical, straight-to-curved shape with tapered ends and four longitudinal, wing-like ridges. The exterior is fairly smooth, glossy, tough, and hard with a bumpy surface, showcasing dark brown, brown, to purple-brown variegated hues. Each ridge averages 3 centimeters in width and is thin with slightly rippled or flat edges. Underneath the surface, the pods contain two woody wing interiors, while the other two have a soft, sugary brown pulp. There are also a few black, tapered seeds extending 8 millimeters in length, and these seeds can be heard rattling within the pod when shaken. Prekese releases a permeating, sugary-sweet aroma, and the pods have a subtly sweet, astringent taste. When cooked, the sugary pulp within the pod infuses into the dish, adding a sweet, savory, tangy, and robust, funky flavor.
Seasons/Availability
Fresh Prekese is generally harvested from September through December. Dried versions are available year-round.
Current Facts
Prekese, botanically classified as Tetrapleura tetraptera, is a descriptor for the seed pod of a rare tree belonging to the Fabaceae family. The West African species is a wild, deciduous tree reaching 20 to 25 meters in height, and descending from the branches are long, seasonal pods that naturally fall when ripe. The tough pods are not opened or damaged in the fall and are gathered among local populations as a medicinal ingredient and culinary flavoring agent. Prekese translates from the Twi language of the Akan people in Ghana to mean "soup perfume" and was given to the pods for their permeating aroma. This scent is often infused into soups, stews, and ragus and is a favored spice for creating complex base flavorings in savory and sweet dishes. Prekese is known by several regional names throughout Africa, including Ubukirihu, Oshosho, Aidan, Imiminje, Ighimiaka, Osakirisa, Apapa, Edeminang, and Ighirehimi. In the modern day, Prekese is localized to West Africa, and it is challenging to find fresh outside of markets in the tree's growing regions. Prekese pods are also dried and packaged as a health ingredient, sold worldwide through select retailers and online distributors.
Nutritional Value
Prekese is a source of copper to develop connective tissues, potassium to balance fluid levels within the body, vitamin C to strengthen the immune system, and magnesium to control optimal nerve functioning. The pods and seeds also provide some iron to build the protein hemoglobin for oxygen transport through the bloodstream, phosphorus to repair cell tissue, and other nutrients, including zinc and calcium. In natural medicines throughout West Africa, Prekese is crushed, boiled, soaked, or steeped into teas, tinctures, pastes, and other forms believed to help increase blood flow, remove bacteria from the stomach, reduce ulcers, and lessen the chance of asthma flare-ups. The pods are also thought to reduce hypertension and are given to new mothers to prevent post-pardon contractions and promote milk production. Prekese is beloved for its unusual fragrance. The pods are typically ground into a fine powder and are mixed with shea butter or palm kernel oil for use in soaps and skincare. Prekese is thought to have antibacterial and antimicrobial properties to improve complexion. The flowers and sections of the fruit are also infused into perfumes or used as a natural mosquito repellant.
Applications
Prekese is utilized as a flavor enhancement in cooked dishes and offers subtly sweet, tangy, and stringent notes. The dried pods can be finely ground into a spice and added to roasted meats, stirred into stews and soups, or mixed into broths for cooked grains, roots, and corms. Prekese can also be chopped or broken into smaller pieces and added to dishes to simmer and infuse flavors. It is important to note that large pieces of the pods are not eaten, and they are removed and discarded before serving. Prekese is most popularly incorporated into thick, savory ragus and soups such as Banga, pepper soup, and banana in Togolese, Ghanaian, and Nigerian cuisine. Banga soup is also known as Palm Nut Soup, Abenkwan in Ghana, Ofe Akwu, Moambe, and Mbanga soup. The traditional dish is made throughout West Africa and is comprised of palm kernels, seafood such as fish and shrimp, and spices including salt, cayenne pepper, ground crayfish, and Banga blends. Banga spice mix uses ground Prekese, beletete, chile peppers, and oburunbebe sticks. Pepper soup has a woodsy, floral, nutty, and bitter flavor profile and is commonly sold through street food vendors. The dish uses goat, poultry, fish, or other meats and simmers them with herbs and indigenous spices, including Prekese. In addition to flavoring savory preparations, Prekese can be cooked and infused into baked goods and other desserts as the pods contain high sugar, acting as a partial, natural sweetener. The dried pods can also be boiled with fresh ginger, cloves, lemon, and honey to make a hot beverage, infused into liqueurs such as sugarcane gin to add warm notes, or used to flavor soft drinks. Prekese pairs well with seafood such as shrimp, fish, squid, and crab, meats including beef, poultry, lamb, and goat, spices such as cloves, ginger, garlic, and chile peppers, potatoes, beans, yams, and cassava. Whole, dried Prekese will keep for several weeks to months when stored in a sealed container in a cool, dry, and dark place.
Ethnic/Cultural Info
The Akan people of Ghana regard Prekese as a spiritual protector against evil. Among the Akans, there is a belief that Prekese was mentioned in ancient spiritual texts, including the Bible, giving it supernatural powers to promote blessings, health, and safety. The pods are traditionally crushed, mixed with salted water, and placed in baths. It is said that bathing in this mixture will protect the individual from spirits and evil forces, as ghosts are afraid of the pod's scent and spiritual power. Prekese and salt are also believed to prevent bad dreams and evil energy from entering the body. Beyond pairing the pods with salt, four pods can be placed in the corners of a room to drive out spirits, and burning the pods in specific rituals promotes generational burdens or curses to be lifted.
Geography/History
Prekese is native to West Africa and has been growing wild since ancient times. The pods grow on trees found in rainforests, savannah woodlands, plains, to secondary forests and are harvested after they naturally fall to the ground. Prekese pods have been utilized in medicinal and culinary applications for centuries, and the pods are highly valued among the indigenous tribes as an everyday medicine and spice. Prekese has remained localized to West Africa throughout history and was not well-known worldwide until the 1940s. Scientists began studying the pods for their medicinal and therapeutic properties and performed field and lab experiments to substantiate health claims. Over time, these studies have drawn attention to the rare pod, and many natural medicine companies began drying, packaging, and shipping Prekese worldwide. Migrating families also introduced the pods as a spice into new communities and has expanded the use of Prekese among chefs and home cooks. Today Prekese is still found in West Africa, but populations of the wild trees are in critical danger as they are dwindling due to urbanization, construction of agricultural plantations, and deforestation. Overharvesting is also another contributing factor to the species' growing rarity. When in season, fresh Prekese can be found in local markets in West Africa. Dried Prekese is sold worldwide through online retailers and select distributors.
Recipe Ideas
Recipes that include Prekese. One

is easiest, three is harder.