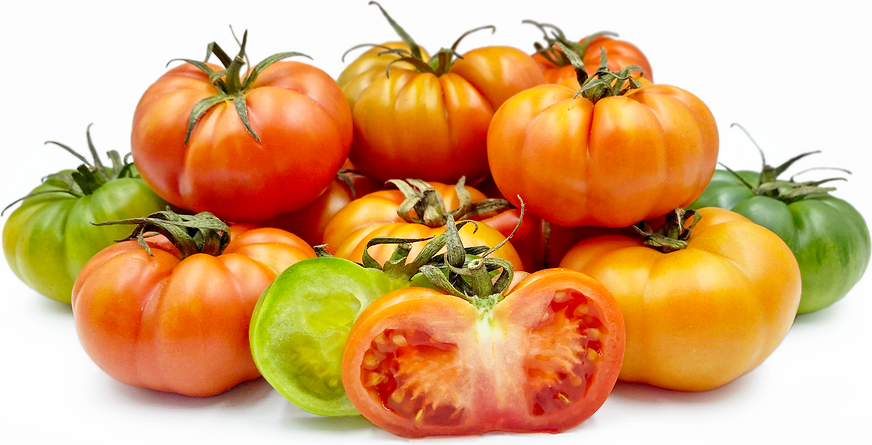 Sicilian Marinda Tomatoes
Inventory, lb : 0
Description/Taste

Marinda tomatoes have a round, flattened shape with deeply ribbed skin, sometimes displaying up to ten prominent ridges. The skin is thick, taut, shiny, and smooth, ripening from green to shades of orange and red with maturity. Marinda tomatoes also have dark green patches on the shoulders when ripe, which is a visual sign of quality and ripeness among the variety. Underneath the surface, the flesh is firm, dense, and crunchy, encasing a cavity filled with small, round and flat, pale yellow seeds suspended in a red-green liquid. Marinda tomatoes have a complex flavor consisting of salty, fruity, and tart notes with an acidic, umami finish.


Seasons/Availability

Marinda tomatoes are available in the late winter through spring.


Current Facts

Marinda tomatoes, botanically classified as Solanum lycopersicum, are a heavily ribbed, winter variety that belongs to the Solanaceae or nightshade family. Developed in the late 20th century in Europe, Marinda tomatoes have become one of the most popular varieties in Italy and are known for their slightly salty, rich flavor. The tomatoes are grown in a unique terroir along the southern Italian coastline and are considered a salad tomato, primarily consumed fresh with simple flavorings such as salt and olive oil. Marinda tomatoes have also earned notoriety for their flavor across Europe and are often exported as their thick, firm flesh is durable during transport and offers an extended shelf life.


Nutritional Value

Marinda tomatoes are an excellent source of vitamin C, which is an antioxidant that can help boost the immune system and is a good source of magnesium, fiber, vitamins A, B, E, and K, and potassium. The tomatoes also contain lycopene, which is an antioxidant that can help protect against environmental aggressors and cell damage.


Applications

Marinda tomatoes are best suited for fresh preparations as their complex, umami flavor is showcased when consumed fresh, out-of-hand. Known as an insalatari in Italian, which means salad tomato, Marinda tomatoes are thinly sliced, sprinkled in salt and olive oil, and consumed as a light salad. The slices can sometimes be paired with fresh herbs or cheeses, but the simplicity of the dish allows the flavor and crunchy texture of the tomato to shine. Beyond salads, the tomatoes are sometimes sliced and used in sandwiches, diced and tossed into pasta, used as a raw topping on pizza, or served with fish. Marinda tomatoes pair well with herbs such as basil, oregano, and thyme, mascarpone, gruyere, cucumber, oysters, halibut, and tea. The fresh tomatoes will keep 15-20 days when stored in a cool and dark place.


Ethnic/Cultural Info

Marinda tomatoes are highly grown in the town of Pachino, Italy, and are often given a mark of quality due to the unique growing environment of coastal, salty air mixed with mineral-rich soil. The tomatoes are purposely stressed during the growing process to create more flavorful crops. Utilizing winter temperatures and lower amounts of daylight, Italian farmers also use a controlled level of saltwater and rainfall to slow the growth of the tomato plant, causing it to absorb the minerals and salts found within the soil to survive. This process creates the beloved, complex flavoring that the variety is known for and allows the tomato to retain its firm texture when ripe. In Pachino, Marinda tomatoes are primarily consumed fresh, often paired with local wines, and are considered a bright sign of the end of winter.


Geography/History

Marinda tomatoes are believed to have been developed from the marmade tomato, which is an heirloom variety that was created and named after the city of Marmade in France. Though the Marinda tomato may have distant French origins, the variety has been widely adopted in Italy and is often regarded as a Sicilian cultivar. Marinda tomatoes were released in the late 20th century as a specialty variety and quickly increased in popularity as a fresh eating, winter cultivar. Today Marinda tomatoes are grown in the town of Pachino, known for its salty, mineral-rich soil and are cultivated in other southern Italian provinces, including Ragusa and Sardinia. Marinda tomatoes are also exported and sold in specialty markets in the United Kingdom.