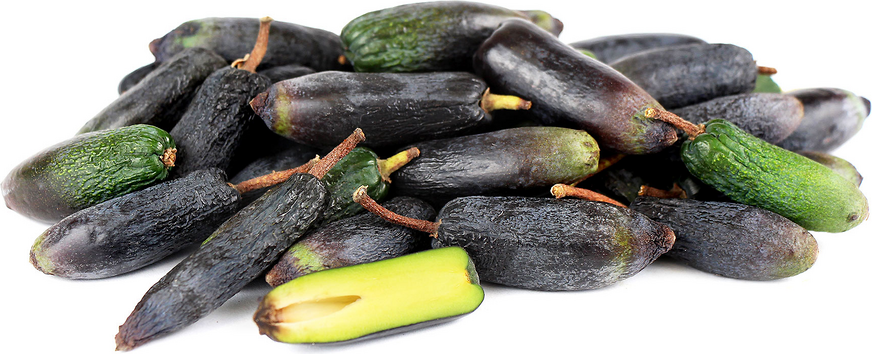 Mexicola Cocktail Avocados
Inventory, lb : 0
Description/Taste
Mexicola Cocktail avocados are very small, oblong-shaped fruits that do not contain the characteristic central seed found in other avocado varieties. They have smooth, glossy and thin skin, which is nearly black in color. A unique trait of the Mexicola Cocktail avocado is that its skin is completely edible, with a flavor similar to anise, so the fruit does not have to be peeled. The flesh is creamy and buttery in texture, with a nutty, smooth, bold flavor. Mexicola Cocktail avocados grow on the same trees as Mexicola avocados. Occasionally, those trees produce seedless, pickle-shaped avocado fruits, called "cukes", which result from improperly pollinated flowers. Those fruits are then harvested and sold as Mexicola Cocktail avocados. The Mexicola avocado tree is tall, spreading, and vigorous. The fast growing tree is a heavy producer that is also remarkably frost tolerant compared to most avocado varieties. The foliage of the Mexicola avocado tree is actually edible, where most other cultivars can be toxic, and is considered an herb for adding flavor to food.
Seasons/Availability
Mexicola Cocktail avocados are available in the fall and winter months.
Current Facts
Avocados are botanically known as Persea americana Mill., and they are members of the Lauraceae, or Laurel, family. The word "avocado" likely originated through attempts to phonetically pronounce the Aztec name, ahuacatl, or the Spanish derivative, aguacate.
Nutritional Value
Avocados are packed with nutrients and essential amino acids, as well as fatty acids like Omega 3 and 6. They contain valuable amounts of vitamins, including A, B-complex, C, E, H, K, and folic acid, plus the minerals magnesium, copper, iron, calcium, and potassium.
Applications
Mexicola Cocktail avocados have edible skin and can be eaten like a peach, making for a delicious snack. They can be used raw in salads or sandwiches, or puréed for guacamole, a cold soup, or vinaigrette dressing. Avocados are most commonly eaten raw because they not stand up well to prolonged cooking. Cook avocados only briefly and avoid exposure to direct heat, like broiling, because the tannins in the fruit result in a bitter flavor when cooked over high heat. Dried Mexicola leaves are used in some Mexican recipes as a flavoring. Similar to bay leaf, the Mexicola avocado leaves can be used whole to stew tough meats or add flavoring to side dishes, such as beans. To preserve a cut avocado's color, spray, brush or dip exposed surfaces with lemon juice and cover with plastic wrap to seal out exposure to air. Cut avocados will keep in the refrigerator for a day or two, while whole, ripe avocados will keep for two to three days. Only fully ripe avocados should be refrigerated, as they will not continue to ripen in the refrigerator.
Ethnic/Cultural Info
Mexicola avocado varieties have edible leaves, whereas most avocado varieties actually have toxic foliage. Mexicola avocado leaves are thought to have antibiotic activity and many medicinal uses. They have been chewed as a remedy for pyorrhea, heated and applied on the forehead to relieve neuralgia, and more. The leaf decoction is taken as a remedy for diarrhea, sore throat and hemorrhage, and oral infusion of the leaves is used to treat dysentery.
Geography/History
Mexicola avocados originated in Pasadena, California in 1910. Mexicola Cocktail avocados are the un-pollinated fruits of the Mexicola avocado tree, and are found growing on the same tree as their larger, seeded, and more recognizable counterpart.
Recipe Ideas
Recipes that include Mexicola Cocktail Avocados. One

is easiest, three is harder.
Podcast