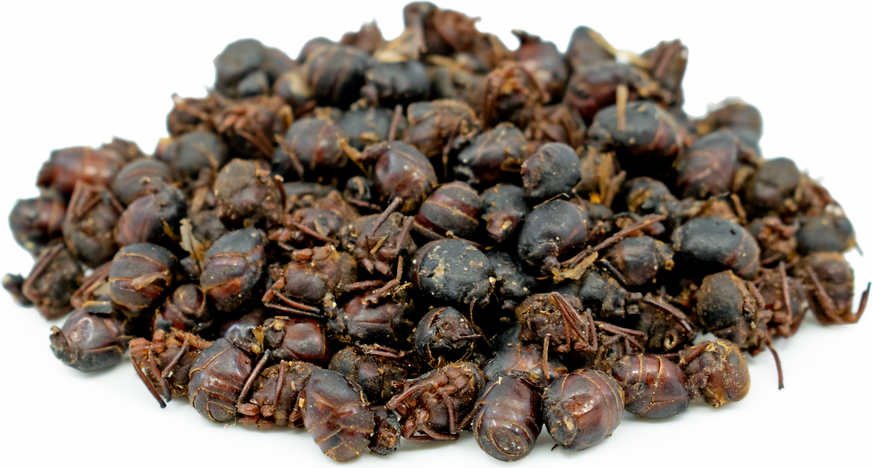 Chicatanas
Inventory, lb : 0
Description/Taste

Chicatanas are small to medium-sized ants, averaging 1.8 to 3 centimeters in length, with the smaller ants considered the worker or soldier ants while the larger ants are the queens. The dark brown ants have a bulbous, fleshy oval abdomen, central thorax, and an angular to oval head with six slender legs, two antennae, and two transparent wings. When the ants are harvested, they are toasted in a hot pan to naturally remove the wings and legs. The heads are also often removed as the abdomen is the most prized portion of the ant for culinary purposes. Chicatanas are not consumed fresh and are enjoyed once heated, developing a crisp, brittle, and crunchy consistency. The ants contain a complex flavoring comprised of earthy, smokey, salty, slightly bitter, and crunchy nuances. Some consumers have commented that the ants also have a nutty element combined with a chocolate-like, cheesy, and savory taste.


Seasons/Availability

Chicatanas are gathered fresh in the late spring through early summer throughout Mexico. Dried and preserved ants are available year-round.


Current Facts

Chicatanas, classified as Atta Mexicana, are a species of leaf-cutter ants belonging to the Formicidae family. These large ants are native to Mexico and have been gathered as a seasonal food source for thousands of years. Chicatanas are a rare delicacy also known as Mexican Leaf-Cutting ants, Hormiga Chicatana, Mochomo, Hormiga Podadora de Hoja, and Chicatana ants. These fleshy insects only appear after the first major rainstorm in the late spring and are collected by hand. Foragers of all ages venture to find the ants in the early morning, typically between 3 am to 6 am, and some communities harvest the ants together as a celebratory gathering. Torrential rains flood the ant's nest, and this causes the ants to fly into the air to mate and find new homes to expand colonies. During their flight, the ants easily fall to the ground and are regarded as clumsy, allowing foragers to pluck the ants from the ground and puddles. Chicatanas are not easy to catch, and they also bite, requiring the gathering of the ants to be swift. Stories of the harvest often mention foragers standing in buckets of water to avoid ants biting their legs. Chicatanas are traditionally gathered for 1 to 2 days and are then heated over a flat griddle known as a comal to dry and preserve the ants. Once preserved, the crunchy ants are used in home cooking and are also sold in local markets as a specialty item to tourists and chefs. Chicatanas are sold at luxury prices due to their limited availability and range from 600 to 1,500 pesos. The preserved ants add texture and flavor to dishes and are primarily consumed as a stand-alone snack, edible garnish over tacos, or ground into sauces and salsas.


Nutritional Value

Chicatanas are mainly consumed as a natural source of protein to provide the body with the amino acids needed to build and repair muscles. Insects in general also contain vitamin C to strengthen the immune system, vitamins E and K, minerals such as calcium and phosphorus to build strong bones and teeth, potassium to balance fluid levels within the body, iron to develop the protein hemoglobin for oxygen transport through the bloodstream, and other nutrients, including zinc, manganese, and copper.


Applications

Chicatanas have a complex flavoring and crunchy texture well suited for raw and cooked preparations. The ants are traditionally toasted before consumption, a process that removes the wings, legs, and sometimes the heads. In Mexico, a comal is used to heat the ants, a large flat griddle that is placed over a wood-burning fire, and the heat preserves the ants for extended use. The abdomen is the most valued portion of the ant as it provides a crunchy and creamy consistency, commonly used in soups, stews, and sauces. Toasted Chicatanas can be consumed straight, out of hand as a crunchy snack and are often served with mezcal or pox, a ceremonial Mexican liquor. The ants can also be tossed in salt, chile powder, hot sauce, or citrus juice and sprinkled as an edible topping over tacos, fried memelas, avocado toast, or soups. In Oaxaca, Chicatanas are traditionally ground into a salsa with avocado leaves, chile de arbol peppers, garlic, and salt. This chunky salsa is served with handmade tortillas, layered into quesadillas, or used as a condiment over tacos. The ants are also ground into sauces such as mole or a filling for tamales. Chicatanas pair well with aromatics such as onions, shallots, garlic, and chile peppers, tomatoes, roasted meats including poultry, beef, and pork, and herbs such as cilantro, oregano, and thyme. Preserved Chicatanas will keep for 1 to 2 months at room temperature and up to four months in the refrigerator. The ants can also be frozen up to one year before their texture and flavor will begin to change.


Ethnic/Cultural Info

In Oaxaca, Mexico, edible insects have been a sustainable food source since pre-Hispanic times. Experts trace the human consumption of insects, known as entomophagy, in Oaxaca back to the 2nd century CE, and insects are a natural source of protein and other nutrients, providing families in rural and urban communities the chance to receive beneficial nutrients. Chicatanas are harvested only once a year, allowing the species to repopulate and maintain a healthy ecosystem. Mexico is home to the most edible insects in one country, and in Oaxaca alone, there have been over 70 documented species of insects consumed in traditional culinary preparations. Historically, Chicatanas were viewed as a poor man's food and were primarily consumed in home-cooked preparations. Over time, as Mexican cultural gastronomy began to be celebrated for various regional traditions, flavors, and ingredients, Chicatanas became a food source consumed with pride. Many Oaxacans view eating Chicatanas as honoring their culture, and the insects have become economically valuable for foraging families. In the modern-day, Chicatanas are foraged, roasted, and sold in local markets to home cooks, tourists, and restaurant chefs. Chicatanas have also increased in popularity outside of Oaxaca among high-end restaurants seeking to capture the rich cultural essence of Mexican gastronomy. Chef Enrique Olvera uses Chicatanas at his restaurant Pujol in Mexico City. The toasted, dried ants are incorporated into a mayonnaise slathered over baby corn, a modern take on elote. Chef Rodolfo Castellanos of Origen in Oaxaca uses Chicatanas in a dark mole sauce with roasted pork loin.


Geography/History

Chicatanas are native to Mexico and have been gathered by various Mexican communities from the wild since ancient times. The ants are most popularly foraged in mountainous, coastal, and central valleys throughout Central and Southern Mexico. Chicatanas are closely associated with Oaxacan cuisine and are also present in the states of Veracruz, Chiapas, Hidalgo, Jalisco, and Puebla. The ants have been consumed as a local delicacy for thousands of years, but they have recently increased in awareness among tourists and high-end chefs as a regionally rare culinary ingredient. Today Chicatanas are sold through local markets, online retailers, and select distributors throughout Mexico.