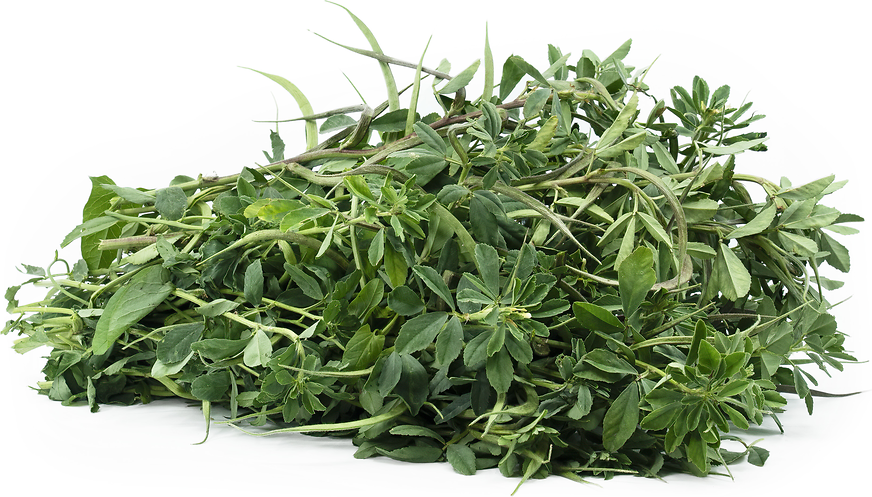 Fenugreek
Inventory, bunch : 0
Description/Taste
Fenugreek plants consist of several hollow and subtly hairy, pale green stems, averaging 25 to 50 centimeters in height, covered in small, oblong to oval leaves. There are two different varieties of Fenugreek that are cultivated for culinary and medicinal use. The first variety bears large, oval-shaped, dark green leaves, while the second type has smaller green leaves, sometimes displaying white roots at the bottom of the plant. The leaves grow in clusters of three, faintly resembling a clover, and display prominent veining across the surface, maintaining a thin, delicate, and pliable nature. Fenugreek leaves are crisp, emit a light, sweet aroma, and contain an herbal, bittersweet, and sometimes peppery flavor with notes of celery, fennel, burnt sugar, and maple syrup. In addition to the leaves, the plants develop sword-shaped pods filled with 10 to 20 square-shaped, yellow-brown seeds. The seeds have a more robust flavor than the leaves and often carry additional bitter nuances.
Seasons/Availability
Fenugreek is available year-round, with a peak season in the summer through early fall.
Current Facts
Fenugreek, botanically classified as Trigonella Foenum-graecum, is an ancient herbaceous annual belonging to the Fabaceae family. The small plant averages less than one meter in height and is one of the few species that utilizes both the seeds and leaves in medicinal and culinary practices. Throughout history, Fenugreek has been incorporated as an herb and spice to impart a distinct, bittersweet flavor reminiscent of maple syrup, and the leaves and seeds are popularly cooked to develop added rich and nutty flavors. Fenugreek seeds are the most widely used portion of the plant by chefs, incorporated whole, ground, or powdered. The plants are also valued by gardeners as a cover crop, grown as animal feed, or used for medicinal purposes.
Nutritional Value
Fenugreek leaves and seeds are an excellent source of vitamin K to promote faster wound healing, vitamins A and C to strengthen the immune system and reduce inflammation, and calcium to protect bones and teeth. The plant also provides fiber to stimulate the digestive tract, iron, folate, and lower amounts of magnesium, phosphorus, and antioxidants to fight against free radical damage. In addition to vitamins and minerals, Fenugreek leaves receive their maple syrup-like aroma from sotolon, a chemical compound found in high concentrations within the leaves.
Applications
Fenugreek leaves are primarily incorporated into cooked preparations and are utilized as a flavoring in North African, Indian, and Middle Eastern cuisine. The leaves can be washed, sprinkled with salt, and squeezed to remove excess water and bitterness, and younger leaves are preferred for a tender texture. Fresh leaves can be chopped and mixed into a dough, later pan-fried into a crisp pancake, baked into a flatbread, or deep-fried into smaller puffs, or they can be lightly sauteed and incorporated into vegetable and potato dishes. Fenugreek leaves can also be stirred into soups, curries, and stews, mixed into dals, chopped into chutney, or used to flavor gravies and sauces. In addition to the fresh leaves, Fenugreek leaves can be dried and crushed, utilized as a spice. Fenugreek seeds are also used as a culinary flavoring. The seeds can be toasted to enhance their nutty, sweet taste, incorporated whole, or powdered. When whole, Fenugreek seeds can be tossed into salads or sprinkled over potatoes, or they are ground into a powder for spice mixes, broths, and sauces. Fenugreek seeds can also be consumed sprouted in grain bowls and salads. Fenugreek leaves and seeds pair well with spices such as paprika, cumin, garam masala, and coriander, potatoes, tomatoes, okra, aromatics, including chile peppers, ginger, onion, and garlic, and yogurt. Fresh Fenugreek leaves will keep up to one week when individually stored in paper towels in a sealed container in the refrigerator. The leaves can also be frozen for up to ten months. Fenugreek seeds will keep 2 to 3 years stored in a cool, dry, and dark location.
Ethnic/Cultural Info
Fenugreek is a valued culinary and medicinal plant in India. In Ayurvedic medicine, Fenugreek is viewed as a warming herb consumed during the winter to protect against sickness. One of the unique traits of Fenugreek is its role as a hot bitter. In Ayurveda, to live a balanced life, six different tastes should be included in each meal for optimal nutrition. These different tastes include sweet, sour, astringent, bitter, salty, and pungent. Typically, foods that contain a bitter taste are classified as having cooling properties, but Fenugreek seeds are one of the few bitter foods to be warming. Fenugreek seeds are traditionally steeped into a tea to increase digestion, and they are also viewed as a remedy for spiritual imbalances. The nutritional properties of the seeds have been used throughout India as a practice to ground the body and increase energy flow. Externally, Fenugreek seeds are pressed into a powder and dissolved into hot baths as a nourishing skin treatment. The leaves have also been crushed and used topically on wounds and sores to reduce inflammation.
Geography/History
Fenugreek is native to Southeastern Europe, North Africa, Middle East, and the Indian subcontinent and is believed by experts to have been cultivated since 4000 BCE. The oldest record of the seeds was documented in Tell Halal, Iraq, and Ancient Egyptians used the seeds to reduce fevers. The Egyptians also used the seeds in mummification and were found in the tomb of famous Pharaoh Tutankhamen. Fenugreek was later spread across Europe, where Ancient Greeks and Romans used it as a yellow dye, animal feed, and culinary flavoring. Over time, Fenugreek was brought to the New World with immigrating families. Today Fenugreek is a specialized herb used fresh or dried as a culinary and medicinal ingredient worldwide. Fenugreek grows best in warm, Mediterranean-like climates and can be found in Europe, Asia, the United States, Africa, and Australia. When fresh, Fenugreek leaves are primarily gathered from home gardens or sold through local vendors at farmer's markets. The leaves and seeds can also be dried and sold through supermarkets, Asian grocers, or online retailers.
Recipe Ideas
Recipes that include Fenugreek. One

is easiest, three is harder.