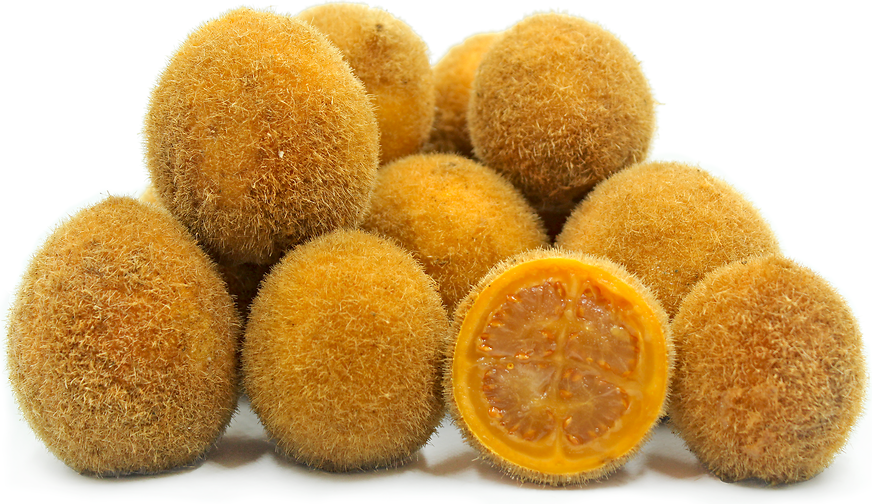 Toronjo Lulo
Inventory, lb : 0
Description/Taste

Lulo Toronjo is a small to medium-sized fruit, averaging 5 to 8 centimeters in diameter, and has a round, oval, to ovoid shape. The fruit's surface is covered in a dense coating of fine, rigid, golden-brown bristles or hairs, which can sometimes cause irritation by becoming stuck in the skin when handled without wearing gloves. Underneath the bristly coating, the skin is dark green when young, maturing to yellow-orange when ripe, and has a smooth, semi-thick, and leathery feel. The flesh is divided by thin membranes into four sections, also known as lobes, and is soft, slippery, and aqueous. When unripe, the flesh will bear shades of pale yellow to white and be hard in consistency, and as the fruit matures, it will transition into a light orange hue, developing a softer texture. There are also many tiny, yellow, orange, to tan seeds that are crunchy, hard, thin, and suspended throughout the pulp. Lulo Toronjo is aromatic and contains a sweet-tart flavor with pineapple and lemon-like nuances. The fruits are also lower in acidity than commercial lulo varieties, contributing to their sweet, tangy taste.


Seasons/Availability

Lulo Toronjo is available year-round, with peak seasons in the summer and winter.


Current Facts

Lulo Toronjo, botanically classified as Solanum vestissimum Dunal, is a wild species of lulo belonging to the Solanaceae or nightshade family. This rare, uncultivated species is found wild in the mountains of Venezuela and Colombia and is known under multiple names, including Lulo Grapefruit, Cuque, Lulo Lanoso, and Tumo. Lulo Toronjo is also known as Lulo de Tierra Fria, which translates to "lulo from the cold land." The fruit earned this chilly moniker from its ability to grow at high elevations and in damp and cold cloud forests. Lulo Toronjo is the only known lulo species able to thrive in cooler regions and is a plant that can reach 5 to 8 meters in height. Despite its unique cool weather growing abilities, Lulo Toronjo has not been selected for commercial cultivation due to lack of recognition among growers and for its dense coating of bristles, which makes harvesting the fruits somewhat challenging. Lulo Toronjo is primarily gathered from wild plants in local villages and is used in sauces, juices, and desserts.


Nutritional Value

Lulo Toronjo is an excellent source of vitamin C to strengthen the immune system and reduce inflammation. The fruits are also a good source of calcium and phosphorus to strengthen bones and teeth, fiber to stimulate the digestive tract, and provides lower amounts of iron and vitamin K.


Applications

Lulo Toronjo has a sweet-tart flavor well suited for both fresh and cooked applications. The dense coating of bristles must be cleaned before consumption, and the bristles can be removed by rubbing vigorously between the hands. It is important to note that the hairs can cause irritation by becoming embedded in the skin, so it is recommended to wear protective gloves. Once the bristles are removed, the fruits are washed and sliced open. Lulo Toronjo can be eaten straight, out-of-hand, by scooping the flesh with a spoon, or it can be blended, strained, and lightly sweetened to make a juice. The fruit juice can also be incorporated into smoothies and cocktails, combined with sugar, other fruits, and water to make a sherbert, ice cream, or sorbet, or mixed into salad dressings. In addition to the juice, Lulo Toronjo pulp can be stirred into sauces for roasted meats, used as a filling for pies, cakes, and other baked goods, or cooked into jams and jellies. The aromatic fruits can also be served as accompaniments to fried foods as a fresh reprieve from rich flavors. Lulo Toronjo pairs well with other fruits, including bananas, mangos, pineapple, passion fruit, and limes, meats such as pork, beef, goat, and poultry, plantains, potatoes, and rice. Unripe Lulo Toronjo can be stored at room temperature for up to one week. Once mature, the fruits should be immediately consumed for the best quality and flavor. The fruits can also be stored for 8 to 15 days in the refrigerator.


Ethnic/Cultural Info

Lulo Toronjo is protected and promoted through the Agrodiva Foundation, a non-profit organization in Colombia that advocates rare fruits in Andean regions of South America. The organization emphasizes conservation, sustainability, and education surrounding wild Andean fruit trees, and Lulo Toronjo is a variety that is promoted as a potential commercial cultivar. Wild fruits such as Lulo Toronjo are generally overlooked by growers as there is little written information available for farmers to learn about the fruits. Lulo Toronjo is similar to lulo de castilla, the only commercially cultivated species of lulo, but Lulo Toronjo has the ability to grow in colder highland regions where lulo de castilla cannot survive. The Agrodiva Foundation highlights the cold-weather characteristic of Lulo Toronjo and aims to inform growers in the Andean regions of its potential to be grown as a secondary source of income. In addition to promoting the rare fruits to farmers, the Agrodiva Foundation also educates consumers on how the fruits can be used in culinary preparations. The organization encourages consumers to use Lulo Toronjo in juices, sauces, salsa, and sweet preparations.


Geography/History

Lulo Toronjo is native to the Andean cloud forests of Venezuela and Colombia and has been growing wild for thousands of years. The ancient fruits are typically found around 1,500 meters above sea level and are fast-growing plants, favoring shady spots in forests, along roads, and on the edge of forests. In Colombia, Lulo Toronjo grows in the departments of Boyaca, Santander, Antioquia, Cesar, Norte de Santander, Magdalena, and Cundinamarca. Today Lulo Toronjo is not commercially cultivated and remains a wild species. The fruits are primarily harvested from naturally growing plants and are sold locally in fresh markets. The fruits may also be found growing in some home gardens throughout Colombia and Venezuela.