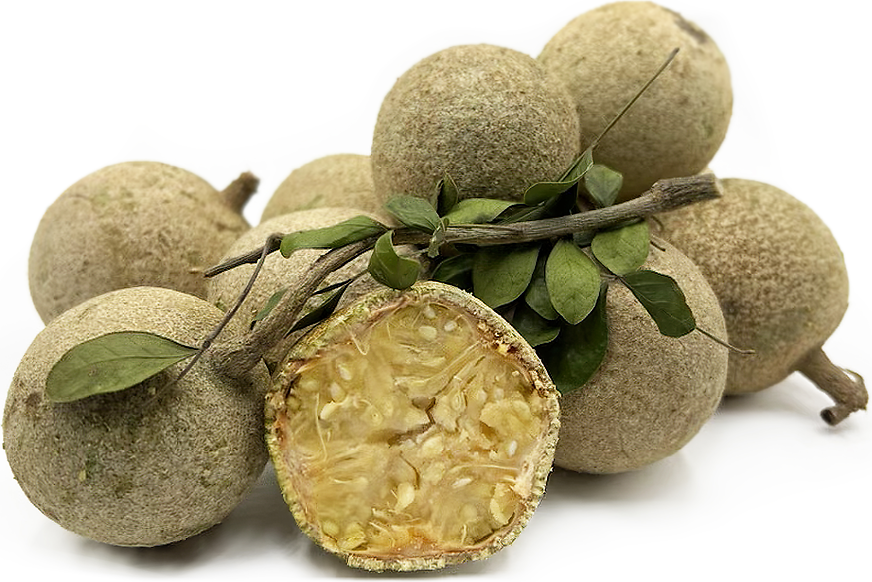 Wood Apples
Inventory, lb : 0
Description/Taste
Wood apples are small to medium in size, averaging 5 to 12 centimeters in diameter, and are round to oval in shape, fitting into the hand like a small coconut. The fruits showcase a hard, woody, speckled, grey-brown to light brown exterior shell, and the surface is rough and textured. The tough, fibrous shell must be cracked open using a rock, hammer, or back of the knife, and once opened, a solid, dense flesh envelops the shell. The flesh ranges in color from ivory to yellow when young, transitioning into an orange-brown or dark brown hue with age. The flesh has an unusual blend of textures due to long, stringy fibers and seeds, creating a sticky, grainy, soft, jammy, mealy, moist, and subtly crunchy consistency. It is important to note that the seeds and fibers are edible and do not need to be removed. It is nearly impossible to determine the ripeness of Wood apples just by appearance alone. To test for maturity, the fruit is traditionally dropped on the ground from a height of about 30 centimeters, and if the fruit bounces, it is not ripe. If the fruit drops and lands with a soft thud without bouncing, it is considered ready to eat. Once ripe, Wood apples release a pungent, permeating, and polarizing aroma. Some consumers liken the scent to a blend of blue cheese and raisins, while others say it smells like an overripe banana mixed with rotten blue cheese. The raw flesh also has an unusual flavor enjoyed by some consumers and despised by others, all dependent on personal preferences and taste. Ripe Wood apple flesh has a sweet, astringent, acidic, and sour flavor with musky, fermented, and tangy nuances reminiscent of tamarind, raisins, and sharp cheeses.
Seasons/Availability
Wood apples have a peak season from October through March in Southern Asia, sometimes appearing later in the summer, depending on the region and growing environment.
Current Facts
Wood apples, botanically classified as Limonia acidissima, are rare wild fruits belonging to the Rutaceae family. The ball-like fruits grow on deciduous trees reaching up to nine meters in height and have historically been used as a food source and medicinal ingredient throughout India and Sri Lanka. Wood apples have also been introduced to other regions in Southeast Asia, where the tree is planted as a novelty in public landscapes or home gardens. Wood apples are primarily wild and have not been selected for commercial cultivation. There are many varieties of Wood apples generally labeled Wood apple in fresh markets, and these cultivars are divided using two main categories, varying by size. Larger Wood apple varieties are the most common in markets as they are valued for their sweeter flavor. Smaller varieties are acidic and sour, making them less desired for culinary preparations. Wood apples are known by many regional names, including Elephant apples, Monkey fruit, Ma-khwit in Thai, Kaith in Hindi, Katbel in Bengali, Gelinggai in Malay, and Kramsang in Cambodian. It is important to note that Wood apples are sometimes confused with bael fruit and may be called bael in some markets, but the two fruits are different species and should not be considered the same. In the modern day, Wood apple trees are in threat of becoming an endangered species, as the wild trees are being cut down without replanting, and the fruits are being foraged unsustainably for sale in markets. When available, Wood apples are consumed fresh or cooked and are also incorporated into Ayurvedic practices as a natural medicine.
Nutritional Value
Wood apples are a source of fiber to stimulate the digestive tract, beta-carotene, which is converted into vitamin A in the body to help improve skin complexion and protect against vision loss, and vitamin C to boost the immune system while reducing inflammation. The fruits also provide calcium to build strong bones and teeth, manganese to metabolize amino acids, iron to develop the protein hemoglobin for oxygen transport through the bloodstream, and other nutrients, including zinc, thiamine, magnesium, riboflavin, and phosphorus. In Ayurvedic medicine, Wood apples are cooling, purifying fruits believed to help stimulate digestion and cleanse the liver and kidneys. The fruits also have antimicrobial properties to soothe the throat and help heal insect stings or bites.
Applications
Wood apples have a complex sweet, sour, musky, and fermented flavor suited for fresh preparations. The hard shell must be cracked open before consumption and can be thrown on the ground, hit with the back of a knife, or punctured using a rock. Once opened, the flesh can be consumed straight out of hand and is commonly scooped with a spoon. Raw Wood apple flesh can also be sprinkled with sugar for a sweeter flavor. Wood apples are a culinary ingredient in select regions of India and Sri Lanka, and the fruits are added to chutney, sauces, and salad dressings. In India, Wood apples are frequently added to rasam, a soup-like dish, and pachadi, a fresh pickle side dish. In Sri Lanka, the flesh is popularly mixed with coconut milk and palm sugar to create a sweet, slightly acidic beverage, a favorite drink for hot weather. Wood apples are also used to flavor smoothies and shakes, blended into ice cream, or cooked with coconut milk or palm syrup for sweet desserts. In rural villages of Southeast Asia, immature Wood apples are sometimes sliced thin and dipped into a sauce of shrimp paste, shallots, spices, and chile peppers. Wood apples pair well with citruses such as limes, calamondins, oranges, and lemons, aromatics such as chile peppers, onions, garlic, and tamarind, and spices including cardamom, curry leaves, and mustard seed. Whole, unopened Wood apples can be kept at room temperature for up to ten days until mature. Once ripe, the fruits should be stored in the refrigerator for 1 to 2 months. Opened flesh should be eaten immediately for the best quality, or it can be frozen in a mixture of lemon juice for up to six months.
Ethnic/Cultural Info
In India, Wood apples are a sacred food offered to Ganesh, the god of fortune, success, and the remover of obstacles. Legend has it that Ganesh was created by the goddess Parvathi. Many stories are associated with the elephant god's creation, but the most famous involves Parvathi creating a son from clay and ghee to keep watch while she bathes. Parvathi ordered the son not to let anyone inside when she was bathing. Soon after, Parvathi's husband, the Hindu god of destruction, Shiva, arrived at the bath and was stopped by the young boy as he tried to enter. Shiva became enraged, cut off the boy's head, and stormed inside, unaware that the boy was his wife's creation. Parvathi was devastated by the boy's death, so Shiva searched for the first animal head he could encounter. Shiva returned with an elephant head and placed it on the boy's body, naming him "Ganesha" or "Lord of the elephants." Ganesh is declared the remover of obstacles, and the god is known by 108 names across India. According to the Hindu moon calendar, Ganesh is celebrated and worshipped each year during a 10-day festival known as Ganesh Chaturthi or Vinayaka Chaturthi. Worshipping Ganesh is believed to bring good luck, prosperity, and protection against adversity. The festival marks the time of Ganesh's birth, and during the event, idols of the god are constructed, worshipped, and then carried to local rivers and bathed in the water. Wood apples are a customary offering to Ganesh, as elephants love the fruits. In India, there is a popular rumor that Elephants can swallow Wood apples whole, and when they excrete the fruits, the exterior hard shell is left intact with the flesh removed. This rumor has not been proven true, but regardless of its validity, it is accepted that Ganesh loves Wood apples, and sweet treats are made from the fruit's flesh as offerings to the god. Wood apples are placed at the foot of Ganesh shrines and are arranged in decorative piles on tables in homes to offer family and friends as snacks when participating in celebrations. The fruits are typically used fresh or blended into beverages, and the shells of the fruit are used as small bowls and ashtrays.
Geography/History
Wood apples are native to regions of Southern Asia and Southeast Asia and have been growing wild since ancient times. The species was historically found throughout India and Sri Lanka, and one of the first known references to Wood apples is found in "Hinduism: An Alphabetical Guide," a text dating to sometime between 1 BCE and 1,000 CE. Wood apples were also referenced by author Chauvundaraya in medicinal remedies between 940 CE and 989 CE. In the Early Ages, Wood apples were a wild food and medicinal source initially considered a "poor man's food." It wasn't until the mid-20th century that the species became a favorite flavoring, digestive aid, and fruit to dedicate to deities. Today Wood apples are primarily a wild fruit and grow on trees found in semi-arid to deciduous, dry regions. The species is found throughout Southern India in forests, hillsides, parks, and villages. Outside of India and Sri Lanka, the species is grown in fields, forests, and along roadsides in Bangladesh, Cambodia, Malaysia, Thailand, Indonesia, and Pakistan. When in season, Wood apples are sold through fresh local markets in their growing region.
Recipe Ideas
Recipes that include Wood Apples. One

is easiest, three is harder.