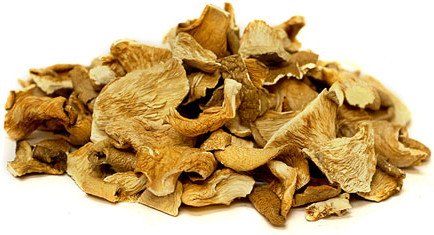 Dried Oyster Mushrooms
Inventory, lb : 0
Podcast
| | |
| --- | --- |
| Food Buzz: History of Mushrooms | Your browser does not support the audio element. |
Description/Taste
Dried Oyster mushrooms are generally small, averaging 2 to 5 centimeters in diameter, and are comprised of flat, shriveled, wrinkled, and slightly curled caps with little to no stems. Some Dried Oyster mushrooms are also cut and dehydrated into pieces, creating a mixture of different shapes and sizes. When dried, the mushrooms are brittle, delicate, and slightly leathery, appearing in light brown to pale grey shades. Underneath the cap, dried gills extend the length of the mushroom cap and are tightly compressed. Dried Oyster mushrooms need to be reconstituted before use, and when rehydrated, the mushrooms are mild, sweet, and earthy with a slightly chewy, tender, and meaty texture.
Seasons/Availability
Dried Oyster mushrooms are available year-round.
Current Facts
Oyster mushrooms, botanically classified as Pleurotus ostreatus, are a common wild and cultivated mushroom belonging to the Pleurotaceae family. The mushrooms are highly favored for their neutral and earthy flavor and are consumed fresh or dried for extended use. Dried Oyster mushrooms are one of the most popular mushrooms grown for worldwide export, and the dried mushrooms can be utilized in a wide variety of culinary preparations. The fungi have been extensively used in Asian cuisine throughout history, but recently, the mushrooms have also increased in demand in commercial markets throughout Europe and the United States for their ability to be used as a meat substitute.
Nutritional Value
Dried Oyster mushrooms, like their fresh counterpart, are a good source of fiber to regulate the digestive tract, vitamin D to maintain phosphate and calcium levels, potassium to balance fluids within the body, and B vitamins to convert food into energy. The mushrooms also contain copper to develop connective tissues, folate to produce healthy red blood cells, and calcium and phosphorus to strengthen bones and teeth.
Applications
Dried Oyster mushrooms should be rehydrated before use and soaked in warm water, broth, or wine for at least thirty minutes. Once reconstituted, the mushrooms can be incorporated into any recipe calling for Oyster mushrooms. The tender, meaty texture of Oyster mushrooms complements stir-fries, soups, stews, and chowders, and the fungi can be cooked into omelets, casseroles, and pasta or used as a pizza topping. Oyster mushrooms can also be fried into tempura, minced into dumplings, or mixed with other mushrooms such as shiitake, porcini, and chanterelle. In addition to savory recipes, Dried Oyster mushrooms can be rehydrated and utilized as a seafood substitute and made into mock calamari, crab cakes, and oysters Rockefeller. The reconstituted liquid can also be used to flavor sauces and broths. Oyster mushrooms pair well with meats such as pork, wild game, poultry, and beef, aromatics such as shallots, green onions, ginger, garlic, and onions, herbs such as thyme, cilantro, basil, and parsley, bell peppers, corn, potatoes, and broccoli. Whole, Dried Oyster mushrooms will keep for 1 to 2 years when stored in a sealed container in a cool and dry place away from direct sunlight.
Ethnic/Cultural Info
During World War I, many European countries experienced food shortages due to a halt on imports. Germany imported approximately one-third of the food consumed within the country, and in 1914, the country began to suffer when the British implemented an import blockade. The German government relied on local farms and large estates to supply the country with produce, and over time, they had to look for other methods to provide a fast, sustainable, and nutritious food source. During the shortage, Oyster mushrooms were selected as a new commercially cultivated item and were favored for their easy-to-grow nature, nutritional content, and fast-production rates. Oyster mushrooms quickly became an emergency food source, and after the war, the mushrooms were cultivated worldwide. In the present day, there has been a resurgence in mushroom cultivation throughout Germany, and one German farmer has utilized a former military base to grow Oyster mushrooms commercially. Georg Heinrich Ruhl owns Druid Austernpilze, an organic farm outside Frankfurt, and annually produces over 880,000 pounds of organic mushrooms. Mushrooms have increased in popularity throughout Germany as a sustainable food source, and Ruhl cultivates Oyster mushrooms in sixteen bunkers that once contained equipment for American soldiers.
Geography/History
Oyster mushrooms are native to regions of Europe, Asia, and North America and have been growing wild since ancient times. The diverse mushrooms have historically been challenging to classify as there are over 200 types found worldwide. Oyster mushrooms were first recorded in 1775 by Dutch naturalist Nikolaus Joseph Freiherr Von Jacquin and were later reclassified in 1871 by German mycologist Paul Kummer. In the 20th century, several Oyster mushroom varieties were selected for commercial cultivation, and the fungi became widely valued for their fast-growing and easy cultivation requirements. Oyster mushrooms are one of the simplest mushrooms to commercially cultivate, leading to their popularity in culinary preparations worldwide. Today Oyster mushrooms are still foraged from the wild on a small scale and grow on hardwood deciduous trees such as beech. Foraged mushrooms are often sold through local markets and specialty distributors. Oyster mushrooms are also commercially cultivated, with China leading the world in production. The mushrooms are primarily grown in controlled environments in spawns filled with rice, grains, cotton, straw, wheat, millet, or maize. Once left to mature, the mushrooms are harvested fresh and are then dried to yield year-round availability. Dried Oyster mushrooms are available through online retailers, specialty distributors, grocers, and select Asian markets.
Recipe Ideas
Recipes that include Dried Oyster Mushrooms. One

is easiest, three is harder.