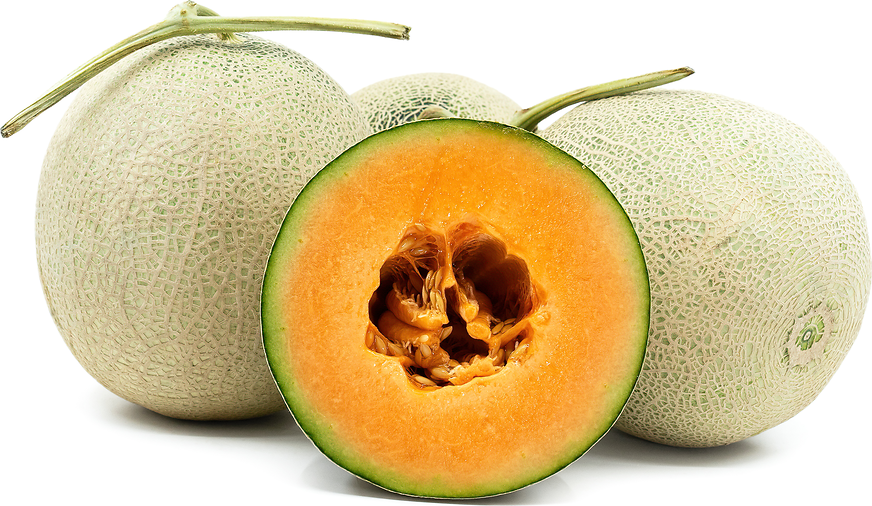 Raiden Red Melons
Inventory, lb : 0
Description/Taste

Raiden Red melons are a small to medium-sized varietal, averaging 10 to 12 centimeters in diameter and 16 to 18 centimeters in length, and generally feel heavy for their size, ranging from 1 to 2 kilograms in weight. The melons are primarily oval in shape, as it is challenging to grow the variety perfectly round, and each melon exhibits a characteristic "T-stem." This stem is a mark of quality among growers and distributors and is provided for the consumers to judge the melon's freshness. The fresher the melon, the more firm and green the stem will be. Shriveled, brown, or wilting stems indicate that the melon is not as fresh. "T-stems" also have a slightly prickly, spongy, and rough feel. The melon's rind is thin, about 1 to 2 millimeters, and has a variegated, mottled coloring featuring light green and dark green speckling and broken striping. The rind is enveloped in a thick, raised, tan netting that is tightly woven, giving the surface a rough and textured feel. When selecting in markets, choose melons with a slight give when pressed on the non-stem end. Underneath the rind, the bright orange flesh is dense, smooth, aqueous, soft, and succulent. The flesh is famous for its firm but dripping, melting quality and encases a central cavity filled with a few tiny cream-colored, oval seeds suspended between stringy orange fibers. The flesh is often described as dissolving on the tongue and releasing a sweet aroma. Raiden Red melons have a high sugar content, thought to be around 20 to 222 Brix, contributing to their delicate, sweet, and pronounced floral notes with accents of vanilla.


Seasons/Availability

Raiden Red melons are available in the early summer through fall in Japan.


Current Facts

Raiden Red melons, botanically classified as Cucumis melo, are brand name for several melon varieties belonging to the Cucurbitaceae family. The melons are cultivated on the island of Hokkaido in northern Japan and are a specialty crop of the Shakotan Peninsula region. Four types of red-fleshed Raiden melons are sold under the Raiden Red name, including Raiden Red 01, Raiden Red 113, Raiden Red Tiara, and Raiden Rupiah Red. There is also one green-fleshed Raiden melon known as Raiden Crown. Raiden Red melons are currently one of the most in-demand melon varieties in commercial markets in Japan. Consumers favor the melons for their thick, juicy, and melting flesh, sweet taste, and pleasant aroma. The variety also has a reputation for being a high-quality melon, as the melons are picked from the fields once scanned using an optical sensor during inspection to ensure the melons are harvested at the ideal time. When in season, Raiden Red melons are a refreshing summer staple, and the melons are typically enjoyed raw and lightly chilled to savor their true texture, flavor, and aroma.


Nutritional Value

Raiden Red melons are a source of potassium to balance fluid levels within the body, vitamin C to strengthen the immune system, calcium to build strong bones and teeth, and vitamin E to protect the cells against the damage caused by free radicals. The melons also provide iron to develop the protein hemoglobin for oxygen transport through the bloodstream, vitamin A to maintain healthy organ functioning, fiber to regulate the digestive tract, and other nutrients, including vitamin K, magnesium, folate, and B vitamins.


Applications

Raiden Red melons have a sweet, floral, and vanilla-forward flavor suited for fresh preparations. The variety is traditionally washed to remove dirt and bacteria from the netted surface, and once cleaned, the melons are sliced and consumed straight out of hand. Only the flesh of the melon is consumed, discarding the rind, and the flesh is revered for its dense but melting quality, dissolving on the tongue into a sugary-sweet juice. Many consumers also choose to chill the melons for 1 to 2 hours before serving to enhance the flavor. Raiden Red melons can be added to fruit bowls, tossed into salads, or mixed with herbs as a fresh side dish. Try incorporating Raiden Red melons into sorbets, ice cream, or popsicles as a refreshing treat. The melons can also be used to flavor fillings for melon buns, a signature pastry of Japan, or added to puddings, custards, jellies, syrups, and jams. One unique method of consuming Raiden Red melons in Japan is halving the melons, removing the seeds, and filling the central cavity with a scoop of ice cream. The ice cream is eaten with the flesh to create a cold, sweet, refreshing dessert. Raiden Red melons pair well with fruits such as grapes, kiwis, strawberries, and citrus, nuts including almonds, walnuts, and pine, and vanilla and chocolate. Whole, unopened Raiden Red melons should be ripened at room temperature. Once ripe, the melons can be stored in the refrigerator, but it is recommended to immediately consume for the best quality and flavor. Sliced melons should be wrapped in plastic and stored in the fridge.


Ethnic/Cultural Info

Raiden Red melons are named after the Raiden Coast, a stretch of land featuring unusual rock formations in Hokkaido, Japan. The scenic coastline is near Kyowa Town, the melon's site of origination on the western side of the Shakotan Peninsula, and it is said the waves crashing against the coastline contributed to the distinct rock formations. In Kyowa Town, Raiden Red melons are also cultivated with green onions as companion plants. This unique plant partnership was created to remove harmful bacteria from the soil. The green onion plants are sown between the melon vines, and their roots release good bacteria known as shademonas fungi that help suppress the harmful bacteria, Fusarium fungus, in the soil that may be detrimental to melons. These green onions allow the growers to use fewer chemicals and preventative sprays, and the green onions are a secondary crop also sold in local markets.


Geography/History

Raiden Red melons were developed in the town of Kyowa-cho on Japan's northernmost island, Hokkaido, at the end of the 20th century. The melons were selectively bred, developed, and planted on the Iwanai Plain, a location surrounded by mountains. This terrain creates an extreme temperature difference from day to night, an ideal environment for melons to develop a high sugar content. Over time, new types of Raiden Red melons were created, expanding the brand to include four different red-fleshed melons. Raiden Red melon producers primarily sell their melons to JA Kyowa, a regional branch of Japan Agricultural, and JA Kyowa, in turn, markets and sells the variety to producers to promote the melons and increase demand. Today Raiden Red melons are a famous variety throughout Japan and are shipped from Hokkaido across Japan, especially to grocers, distributors, and wholesalers in Kansai and Kanto regions. The Raiden Red melons featured in the photograph above were sourced from Takashimaya Shinjuku in Tokyo, Japan.