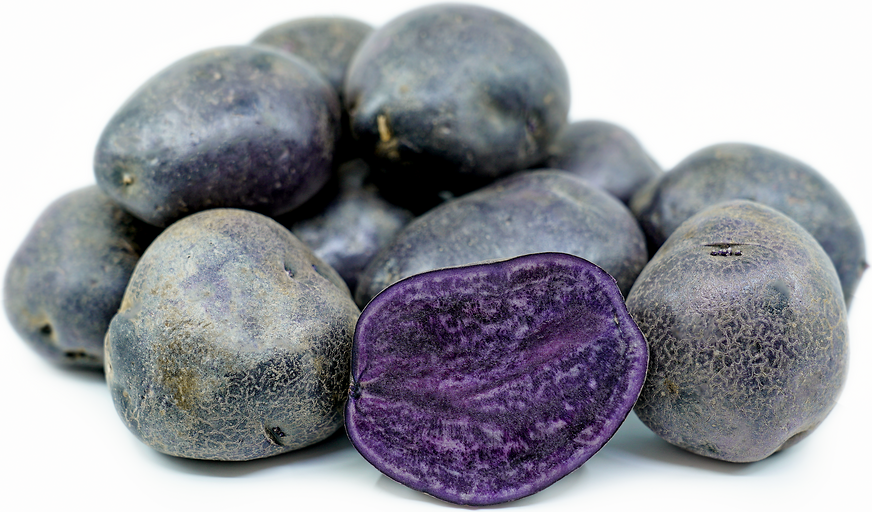 Purple Potatoes
Inventory, 50 lbs : 3.01
This item was last sold on : 12/07/23
Description/Taste
Purple potatoes vary in size and shape, depending on the variety and growing environment, but are generally sold in commercial markets when they are 7 to 15 centimeters in length. The tubers range in appearance from oblong to round and can be uniform or lumpy in nature, exhibiting indentations across the surface. The skin is thin to semi-thick, taut, and hard, either smooth or russeted, depending on the variety. The surface also contains a few to many eyes that can be shallow, moderate, or deep-set. Purple potatoes are found in unique shades of saturated royal purples, violets, blue-purple, to dark purple, almost black. Underneath the surface, the flesh is dense, starchy, and firm, also revealing brilliant shades of solid purple to marbled purple, red, and white hues. Purple potatoes are only edible once cooked and hold their shape well. Each variety will have its own blend of flavors, but the tubers usually have a rich, deep, and earthy taste with sweet and nutty nuances.
Seasons/Availability
Purple potatoes are available year-round, with a peak season in the fall through winter.
Current Facts
Purple potatoes, botanically classified as Solanum tuberosum, are an ancient category of tubers belonging to the Solanaceae or nightshade family. According to the International Potato Center in Peru, there are over 5,000 known varieties of potatoes worldwide, varying in color, shape, flavor, consistency, and size. Purple potatoes only account for a small portion of this number, but the pigmented tubers have made a global impact in the culinary market for their rich, nutty flavor, dense texture, and saturated coloring. Purple potatoes were once known as the "food of the gods," and historically, the purple tubers were reserved for Incan kings. Over time, Purple potatoes expanded in cultivation and were introduced from South America to culinary markets worldwide. It took several years for Purple potatoes to become accepted for culinary purposes in markets outside of South America, but as consumers became more aware of the tuber's nutritional attributes, flavor, and unique aesthetic, the potatoes were recognized as a specialty ingredient. In the modern day, there are around 100 different varieties of Purple potatoes, and the purple moniker is a general descriptor used for heirloom, conventional, and contemporary varieties. Purple potatoes are also referenced as Blue potatoes in select markets. Some popular Purple potato varieties include Purple Peruvian, Purple Majesty, All Blue, Blue Swede, Adirondack Blue, Blue Anneliese, Purple Fiesta, Vitelotte, Magic Molly, Blue Elise, Purple Pelisse, Purple Viking, Congo, and St. Galler. All Blue is the most used purple variety for commercial production in the United States and Europe. Purple potatoes are generally all-purpose cultivars favored in cooked preparations as a filling, starchy ingredient.
Nutritional Value
Purple potatoes are known for their anthocyanin content, natural pigments in the flesh and skin that give the tubers their purple hue. Anthocyanins have anti-inflammatory, antimicrobial, and antioxidant-like properties to protect the cells against the damage caused by free radicals and oxidative stress. The tubers also provide potassium to balance fluid levels within the body, vitamin C to strengthen the immune system while reducing inflammation, fiber to regulate the digestive tract, copper to produce red blood cells, and other nutrients, including manganese, vitamin B6, and iron. Among the Quechua people, an indigenous group in South America, potatoes were used to treat illnesses, reduce pain in childbirth, and soothe injuries. Quechua communities claim to have different types of potatoes for varying needs, and the tubers are used as a natural remedy in their native growing regions.
Applications
Purple potatoes have an earthy and nutty taste suited for cooked preparations such as roasting, boiling, baking, braising, mashing, grilling, and frying. It is important to note that the vibrant coloring will fade in the cooking process, but depending on the variety, the flesh will retain a light purple to lavender hue. Purple potatoes can be used in any recipe calling for all-purpose, moderately starchy potatoes. The tubers can be simmered into soups, curries, and stews, incorporated into gnocchi, mashed as a simple side dish, or boiled and tossed into salads. The potatoes can also be sliced into chips and fried, cut into fries and roasted, mashed and cooked into croquettes, or added to casseroles. Try boiling, smashing, baking, and serving the tubers with crème Fraiche, dips, cashew sauce, or tomato-based sauces as a flavorful appetizer. In South America, Purple potatoes have been customarily baked, roasted, boiled, and fried. The potatoes can be used in a variation of guiso de pollo y papas recipe, whipped into causitas, or incorporated into papa con mani, potatoes served with a savory peanut sauce. In certain areas of the Andes, Purple potatoes are dipped in a sauce made of clay and water. This practice stems back to ancient times when clay protected the digestive system from toxins and provided additional nutrients to the meal. Purple potatoes pair well with savory herbs and garlic, red meats such as pork and poultry, both rich and mild cheeses, other starchy vegetables such as corn and shelled beans, artichokes, and salad greens. Whole, unwashed Purple potatoes will keep for several weeks when stored in a cool, dry, and dark place.
Ethnic/Cultural Info
Potatoes were revered by the Incas and were used to worship Axomamma, the goddess of potatoes. Axomamma translates to mean "potato mother," and the goddess is the daughter of Pachamamma or the supreme Earth Mother. Within the Inca Empire, potatoes were a vital source of energy and sustenance, and it was essential that Axomamma was honored and respected to ensure a successful harvest. Axomamma is often seen as a neutral goddess who spends her time helping Incan growers cultivate potatoes. Depictions of the deity show Axomamma holding potato stalks in each hand, and in Incan households, it was common to see people worshipping unusually shaped potatoes as an idol of the Potato Mother. Potatoes were also buried with the dead as a symbol of the blessings found in the afterlife, and throughout the potato harvest, offerings and portions of the crop were dedicated to Axomamma out of respect. One of the traditional offerings to Axomamma was placing coca leaves in groupings of three with llama fat. The mixture is placed into the first hole where the tubers were planted, and thanks is given to entice Axomamma to bless future seasons.
Geography/History
Purple potatoes are native to South America and are descendants of wild varieties that grew naturally throughout the Andes in ancient times. Experts believe the tuber's site of origin is connected to the High Andes in northwestern Bolivia and southeastern Peru, and the oldest archaeological remains date back to 400 BCE in a region near Lake Titicaca in the Chulca valley and Ayacucho. The Andes mountains are the longest mountain range worldwide, spanning 5,500 miles and reaching as high as 22,000 ft. This expansive geographical region has extreme weather fluctuations, creating an area filled with varying climates and genetic diversity. Wild potatoes were once used among pre-Incan cultures, but extensive cultivation began during the Inca Empire as early as the 13th century. The Incas were known for constructing extensive roadways to connect villages for trade, and this is one of the explanations behind the large number of potato varieties found throughout South America. Each village also had its own microclimate at varying altitudes and preferences of potato characteristics, leading the communities to have tubers unique to them. During this period of cultivation, Purple potato varieties were grown throughout the Andes, and the tubers were used as a food source, religious offering, and medicinal ingredient. In the 16th century, Spanish explorers arrived in South America and observed the indigenous peoples consuming potatoes as a food and medicinal aid. The European explorers later carried the spuds with them on their voyages as a method to cure scurvy and introduced the tubers to Europe. Potatoes spread slowly throughout Europe due to an initial unfavorable reputation and traveled from Spain to Italy, England, Belgium, France, Austria, Germany, and Switzerland by the 17th century. Despite the potato's arrival in Europe, Purple potatoes were a later introduction and did not become a popular type of potato until the 20th and 21st centuries. The pigmented tubers were also introduced to the United States in the mid-1980s and first became popular in Los Angeles for their versatility, health benefits, and vibrant color. Today Purple potatoes are grown as a specialty crop, and there are many different varieties grown worldwide for select markets, distributors, and grocers.
Featured Restaurants
Restaurants currently purchasing this product as an ingredient for their menu.
Recipe Ideas
Recipes that include Purple Potatoes. One

is easiest, three is harder.
the other 22...