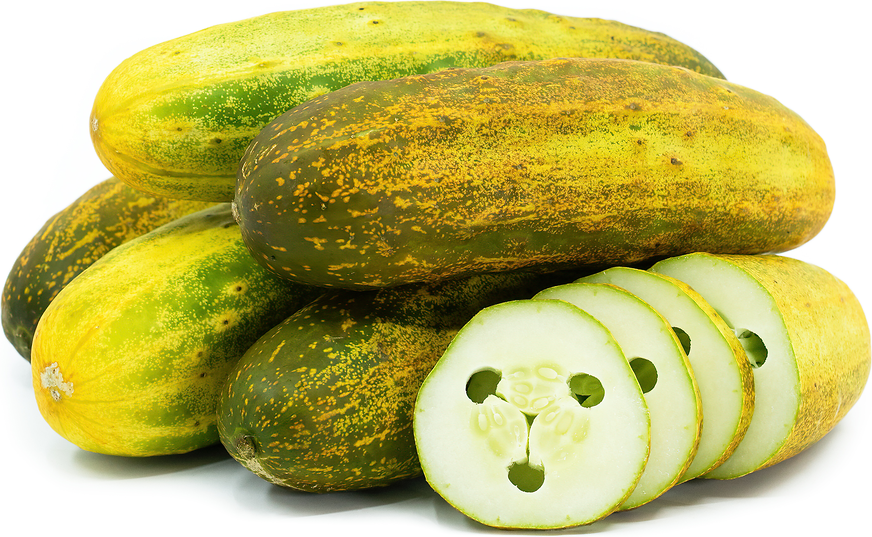 Nukazuka Cucumbers
Inventory, lb : 0
Description/Taste

Nukazuka cucumbers are a medium to large varietal, averaging 6 to 10 centimeters in diameter and 15 to 20 centimeters in length, and have a cylindrical, short, and thick shape with blunt, curved ends. The cucumbers can weigh up to 500 grams and generally showcase a dark to pale green hue, sometimes exhibiting white spots. After Nukazuka cucumbers are harvested, they also develop distinct golden yellow-orange tones, and the shades of green and yellow mix together on the surface in a speckled, mottled, and striped appearance. The skin is thicker than common commercial cucumbers and has parts that are smooth and taut, while other portions are bumpy and hard with black spots. Underneath the surface, the white to pale green flesh may be solid or bear three distinct holes, and the flesh is aqueous and crisp with a refreshing, crunchy, and firm bite. The flesh also encases tiny, edible ivory seeds that are soft and enveloped in a gelatinous, slippery coating. Ripe Nukazuka cucumbers are mild, subtly sweet, green, and light with a faint bitterness. The bitterness will vary in taste depending on the time of the season and growing environment, and some consumers say the flavor is more astringent than bitter.


Seasons/Availability

Nukazuka cucumbers are available in the summer in Japan, typically from the end of June through August.


Current Facts

Nukazuka cucumbers, botanically a part of the Cucumis genus, are a rare heirloom variety belonging to the Cucurbitaceae family. The large, stocky cucumbers are native to Japan and have been cultivated since the feudal period, and the variety is revered as a traditional vegetable of the Aomori Prefecture. Up until the mid-20th century, Nukazuka cucumbers were the most well-known cucumber in the Aomori Prefecture and were a seasonal summertime crop consumed fresh and cooked in a wide array of culinary preparations. Nukazuka cucumbers are notoriously challenging to cultivate as each plant only produces around ten cucumbers per season. The cucumbers are also sensitive to disease and cold weather and readily cross-pollinate with other cultivars, making it difficult to keep the variety pure. These cultivation challenges, coupled with the characteristic that the cucumbers develop prominent yellow skin flushes about one day after they are harvested, led consumers to refrain from purchasing the odd-looking variety in modern markets. Nukazuka cucumbers have become a rare variety only cultivated by a few growers in Japan and are seasonally sold as a delicacy in select markets.


Nutritional Value

Nukazuka cucumbers have not been studied for their nutritional properties. Like other cucumbers, the variety is a source of potassium to balance fluid levels within the body, vitamin C to strengthen the immune system, and calcium to build strong bones and teeth. The cucumbers also provide magnesium to regulate optimal nerve functioning, iron to develop the protein hemoglobin for oxygen transport through the bloodstream, and other nutrients, including zinc, phosphorus, B vitamins, and phytochemicals.


Applications

Nukazuka cucumbers have a mild, lightly sweet, green, and subtly astringent taste suited for fresh and cooked preparations. The cucumbers can be washed and consumed in their entirety, but the skin can be peeled due to its thick nature. The seeds can also be removed and discarded, depending on personal preference. Nukazuka cucumbers are most popularly chilled, deseeded, and served with miso as a crunchy, savory snack. The cucumbers can also be shaved into thin ribbons and sliced into smaller pieces as a side dish, dressed with sauces, herbs, and salt. Try dipping Nukazuka cucumbers into mayonnaise as an alternative to miso. Nukazuka cucumbers can also be tossed into stir-fries, stuffed with meats, simmered into soups, or mixed into salads. In Japan, beyond eating the cucumbers fresh, they can be salted and combined with dried young sardines and sesame oil to make aemono. Nukazuka cucumbers pair well with meat such as poultry, pork, or fish, wakame seaweed, snap peas, tomatoes, carrots, and aromatics including garlic, ginger, and onions. Whole, unwashed Nukazuka cucumbers should be wrapped in newspaper and stored in the refrigerator's vegetable drawer. Though it can be stored for a few days, the cucumbers should be immediately consumed for the best quality and flavor.


Ethnic/Cultural Info

Nukazuka cucumbers are protected by the Hachinohe Traditional Vegetable Nukazuka Cucumber Production Tradition Association. The association was created in February 2014 in a movement to preserve, protect, and pass along the traditions of cultivating Nukazuka cucumbers. Historically, Nukazuka cucumbers were a crop unique to the Aomori Prefecture and were one of the most popular summer vegetables, but as consumer demands changed in the present day, Nukazuka cucumbers almost disappeared from cultivation entirely. There is only one leading grower of Nukazuka cucumbers currently in Hachinohe City that produces seeds for preservation. Mr. Kanehama has dedicated his life to growing Nukazuka cucumbers, and in several interviews, he comments that this crop is more important to him at times than his own children. He was an integral part of creating the Hachinohe Traditional Vegetable Nukazuka Cucumber Production Tradition Association, and there are nine active members of the group. Mr. Kanehama has shared Nukazuka cucumber seeds with the nine members, and the association hopes to inspire the next generation to cultivate the variety. The association is also working to preserve seeds to prevent the cucumbers from becoming extinct and to develop partnerships with restaurants and retailers to promote the variety as a summer crop.


Geography/History

Nukazuka cucumbers are native to the Aomori Prefecture, the northernmost region on Japan's main island of Honshu. Aomori is known as one of Japan's leading agricultural prefectures and has been cultivating vegetables since the feudal era, 1185 CE to 1603 CE. Nukazuka cucumbers are believed by experts to have first been grown in the Nukazuka District of Hachinohe City in Aomori. It is said the traditional variety may have been a descendant of a Siberian cucumber introduced centuries ago into Japan, distinguishing it from most cucumber varieties introduced from China. Cucumber seeds were carried from Edo into the Nukazuka District in the Feudal Era during the implementation of Sankin Kotai, a time when the daimyos were required to alternate living between their residences in Edo and their home regions. During this time, the Nukazuka District was responsible for cultivating vegetables, and the cucumbers became a seasonal delicacy valued for their refreshing crunch. Later in the 1950s, Nukazuka cucumbers were so popular that when someone in Hachinohe city referenced cucumbers, they were referring to the Nukazuka variety. Over time, Nukazuka cucumbers faded from commercial production as retailers struggled to sell them due to their yellow coloring and bumpy nature. Modern dark green cucumber varieties began phasing out the heirloom cultivar, and growers abandoned Nukazuka for more profitable cucumbers. In 2014, producers in the city established the Hachinohe Traditional Vegetable Nukazuka Cucumber Production Tradition Association to protect and preserve the variety, creating a small, seasonal resurgence of the cucumber. Today Nukazuka cucumbers are a rare variety offered as a delicacy during the summer. When in season, the cucumbers are sold through high-end department stores and select fresh markets in Japan. Some Nukazuka cucumber enthusiasts also drive to Aomori and purchase the cucumbers directly through the few growers left in Hachinohe City. The Nukazuka cucumbers featured in the photograph above were sourced through Isetan Shinjuku in Tokyo, Japan.