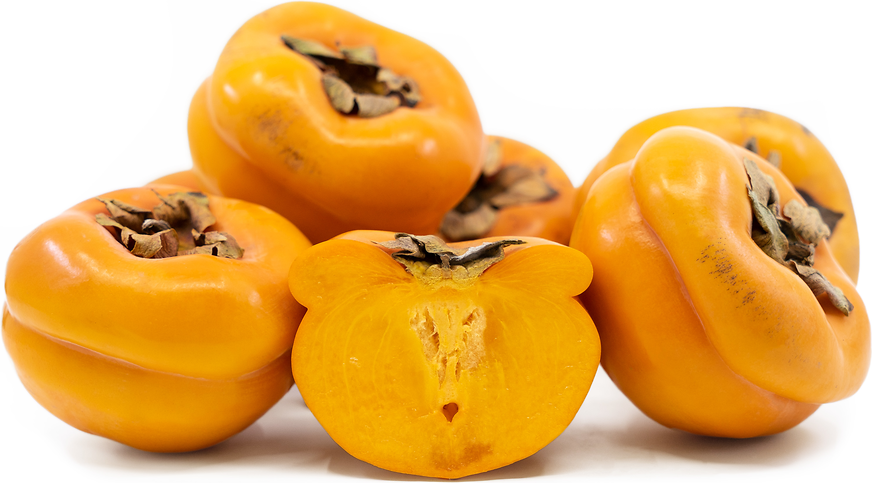 Tamopan Persimmons
Inventory, 1 Layer : 0
Description/Taste
Tamopan persimmons are a medium to large varietal, averaging 7 to 12 centimeters in diameter, and have an oblate, flattened appearance with curved, rounded edges. The variety displays a distinct horizontal constriction line just below the stem, creating a bulbous, cap-like top that gives the fruit a resemblance similar to an acorn. The persimmon's stalk is thick and brown-green with a few papery leaves, while the skin is glossy, smooth, and waxy, ripening from light orange to red-orange when ripe. The skin is also thick, allowing the fruits to be sliced in half and scooped out with a spoon, using the tough skin as an edible bowl. Underneath the surface, the golden orange flesh is seedless and contains a small central core. The flesh is very firm, astringent, and unpalatable when unripe. Once the persimmon softens and matures, it will develop a jelly-like, malleable, and dense consistency with a sweeter, aromatic, and fruity taste composed of subtle pear, cantaloupe, and mango nuances.
Seasons/Availability
Tamopan persimmons are available in the fall through winter.
Current Facts
Tamopan persimmons, botanically classified as Diospyros kaki, are the fruits of a deciduous tree belonging to the Ebenaceae family. The mid to late season persimmons grow on large trees that can reach up to nine meters in height and are native to Asia, where the variety is developed as a home garden cultivar. Tamopan persimmons are easy to grow, disease-resistant, and self-pollinating, producing fruits without needing nearby trees. The trees are also highly ornamental, with leathery, multi-colored leaves in the fall, and in the winter, the large fruits hang bare on the trees creating an unusual visual in gardens. Tamopan persimmons are also known a Kaki fruit, Tamopan Giant, and Asian persimmons, and the large fruits are considered a specialty astringent variety, rare to find in commercial markets due to their fragile, easily bruised nature. The fruits are generally consumed fresh when ripe and sweet, but the variety is also versatile and can be incorporated into sauces, baked goods, and other cooked preparations.
Nutritional Value
Tamopan persimmons are an excellent source of vitamin A to maintain healthy organ functioning and vitamin C to strengthen the immune system while reducing inflammation. The fruits are also a good source of fiber to regulate the digestive tract, calcium to build strong bones and teeth, vitamin E to protect the cells against free radical damage, and contain other nutrients, including copper, iron, manganese, potassium, vitamin K, and vitamin B6.
Applications
Tamopan persimmons are an astringent variety that must be consumed ripe and can be utilized in fresh and cooked preparations. Pomologists have noticed that the Tamopan-type persimmons grown in Asia can be eaten when they are ripe but still slightly firm, but in the United States, the fruits are mainly consumed when they are mature and have a jelly-like feel, otherwise, they are regarded as unpalatable due to their astringency. In China, Tamopan persimmons are sliced into salads, used as a fresh garnish over desserts, or incorporated into salsas. They can also be half-frozen and consumed as a sorbet-like treat. In the United States, most Tamopan persimmons should be fully ripened before consumption, and the ripening process ranges from a few days to a few weeks, depending on the firmness of the flesh. The persimmons can be left to ripen on the counter at room temperature, and once soft and gelatinous, the flesh can be eaten straight from the fruit, using the skin as a bowl. The fruits can also be spooned over oatmeal, yogurt, pancakes, and ice cream, blended into sauces, jams, and purees, or stirred into custards and puddings. In addition to consuming the fruits in creamy preparations, the soft flesh can be baked into bread, cakes, pies, and muffins. The fruits are also traditionally dried and eaten as a chewy snack. Tamopan persimmons pair well with nuts such as almonds, walnuts, hazelnuts, and pistachios, spices including nutmeg, cinnamon, allspice, and ginger, fruits such as pomegranates, oranges, apples, and pears, cheeses including chevre, goat, parmesan, and manchego, maple syrup, vanilla, and honey. Whole, unwashed Tamopan persimmons can be kept at room temperature to ripen. Once ripe, the fruits should be immediately consumed for the best quality and flavor or stored in the refrigerator for an additional 1 to 2 days.
Ethnic/Cultural Info
Tamopan persimmons earned their English name from their large, oblate shape, and the name was derived from the Chinese descriptors for the fruit. Tamopan persimmons were once known as Ta Shi Tze in China, meaning "Big Persimmon," or Ta Me Pan Shi Tsz, roughly translating to "Big Grindstone." American pomologists believe the sound of the Chinese name, Ta Me Pan Shi Tsz, was eventually shortened and slightly altered to create the name Tamopan. The flattened persimmon variety is also sometimes known as Chinese Grindstone, Tamopan Grindstone, Tamopan Oriental Persimmon, and Tam-O-Pan.
Geography/History
Tamopan persimmons are believed to be native to China, but much of the variety's parentage and history is unknown. Persimmons have been cultivated for thousands of years in Asia, and astringent persimmon cultivars were eventually spread to Korea and Japan before the 7th century. Persimmons were extensively produced by the 10th century throughout Asia and became a popular home garden plant. In 1905, the United States Department of Agriculture sent agricultural explorer Frank Meyer to China to acquire seeds for various fruits and vegetables. During his journey, Meyer selected several persimmon varieties to introduce to American horticulture, including Tamopan persimmons and planted experiment trees in California. After research and cultivation, Tamopan persimmons were established as a favored home garden variety, but the cultivar never achieved widespread commercial success due to its astringent nature and easily bruised flesh. The persimmons were also introduced in 1912 to growers in the southern United States, where the variety became valued for their large size. Today Tamopan persimmons are a rare variety in the United States, sold through select farm stands, specialty grocers, and distributors. Outside of the United States, the fruits can be found throughout Asia in local markets, grocers, and distributors.
Recipe Ideas
Recipes that include Tamopan Persimmons. One

is easiest, three is harder.