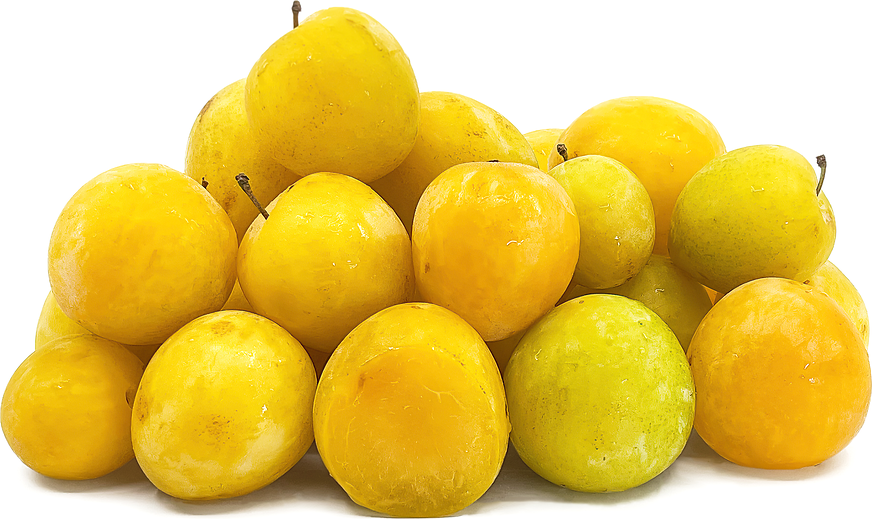 Plumcot
Inventory, 7 lbs : 0
Description/Taste
Plumcots vary in size and appearance, depending on the specific variety, and are generally round, ovate, to oval in shape with curved edges. The fruit's thin skin ranges from smooth, taut, and glossy to slightly fuzzy and can be found in variegated shades of red, orange, purple, yellow, and green. The skin can also be covered in mottling, and there is a prominent suture line that extends from the stem cavity to the bottom of the fruit on one side. Underneath the surface, the flesh can be pale yellow, amber, red, to a marbled red-white hue, and is aqueous, semi-firm, dense, and tender with a succulent consistency. The fruit's flesh also encases a central brown pit that is either tightly adhered or easily removed. Plumcots have a light, floral fragrance and vary from very sweet to tart, sweet, and tangy, depending on the sugar and acid content. Some varieties will also contain fruity nuances of berries, cherries, apples, pomegranates, or peaches.
Seasons/Availability
Plumcots are available in the late spring through summer.
Current Facts
Plumcots, botanically a part of the Prunus genus, are interspecific hybrids of plums and apricots belonging to the Rosaceae family. The sweet-tart, hybrid fruits are only available for a short season during the summer, and there are many different varieties that exhibit early, mid, to late-ripening times. Plumcots are not genetically modified fruits and were created through natural, open-pollinated crosses. Interspecific hybrid fruits possess unique flavor qualities, and stone fruit enthusiasts highly value the fruits for their unique appearance, taste, and consistency. Plumcots are a novel fruit primarily consumed straight, out of hand, but they can also be incorporated into a wide variety of fresh and cooked preparations.
Nutritional Value
Plumcots are an excellent source of vitamin C to strengthen the immune system, vitamin A to maintain healthy organ functioning, and fiber to regulate the digestive tract. The fruits also contain potassium to balance fluid levels within the body, calcium and phosphorus to protect bones and teeth, and darker pigmented varieties provide a rich source of antioxidants to guard the cells against free radicals and external environmental damage.
Applications
Plumcots have a sweet-tart flavor well suited for both raw and cooked preparations. Like other stone fruits, Plumcots are best enjoyed fresh at their peak ripeness and can be consumed with or without the skin, depending on preference. Plumcots can be sliced for green salads, grain bowls, yogurt, and ice cream, or they can be blended into smoothies or dropped into sparkling cocktails as an edible component. The fruits can also be chopped into salsa, cut and dipped into dark chocolate, or used as a topping over waffles, toast, and pancakes. In addition to fresh preparations, Plumcots can be baked into scones, cakes, tarts, pies, and crisps, simmered into jams, jellies, and butter, or lightly grilled or poached for a healthy dessert. The fruits can also be sliced thin and cooked into hot, cheesy sandwiches, blended and frozen into sorbet or popsicles, or served with grilled meats. Plumcots pair well with maple syrup, brown sugar, vanilla, fruits such as mango, peaches, pineapple, and melon, nuts including almonds, pistachios, and walnuts, cheeses such as goat, mozzarella, ricotta, and manchego, and herbs including mint, basil, and lemon verbena. Whole, unwashed Plumcots should be ripened at room temperature. Once ripe, the fruits can be stored for an additional 3 to 5 days in the refrigerator.
Ethnic/Cultural Info
In the modern-day, Plumcots are often given unique marketing names to distinguish between the different varieties on the market. Each Plumcot cultivar exhibits varying appearances, flavors, and textures, and distributors have created names such as Plapple, Burbank Plumcot, Fall Fiesta, Eagle Eye, and Amigo Plumcot to simplify the buying process for the consumer. Unusual marketing names generally appeal to a wide range of consumers, and the names also give the fruits an air of whimsicality, a nod to the fruit's creative, hybrid nature. Beyond Plumcots, there are also plum-apricot hybrids labeled as pluots and apriums. Plumcots represent the fruits that are a 50-50 hybrid between the parent varieties, while pluots are more plum than apricot, approximately 25% plum to 75% apricot. Pluots also tend to have smooth skin. Apriums are more apricot than plums, about 75% to 25%, and bear a slightly fuzzy coating across the surface. Plumcots, apriums, and pluots can be challenging to distinguish in stores as some retailers will interchangeably use the names to describe multiple hybrids. Recently, there has been a movement to simplify and consolidate the terminology, but many companies have instead used marketing names to streamline the fruit's short season in commercial markets.
Geography/History
Plums and apricots have naturally cross-pollinated since fruit cultivation began in the Early Ages, but horticulturist Luther Burbank is primarily credited by experts to have been the first geneticist to officially create Plumcots during the late 19th and early 20th centuries. Burbank named the fruit hybrid, and Plumcots were later patented and credited to Burbank after the 1930 Plant Patent Act, which allowed plant breeders to protect new varieties they have created. The patent was approved four years after Burbank's passing, and in total, Burbank received sixteen posthumous plant patents in honor of his work. In 1989, geneticist Floyd Zaiger continued Burbank's work and created another 50-50 plum and apricot cross, developing the Plumcot that is sold in markets in the present day. He also released pluots and apriums, which both exhibit varying degrees of the plum-apricot heritage. Today Plumcots are cultivated in the San Joaquin Valley of Central California and are also grown in home gardens worldwide. The sweet-tart fruits can be found through farmer's markets, specialty distributors, and select grocery stores.
Recipe Ideas
Recipes that include Plumcot. One

is easiest, three is harder.
Podcasts