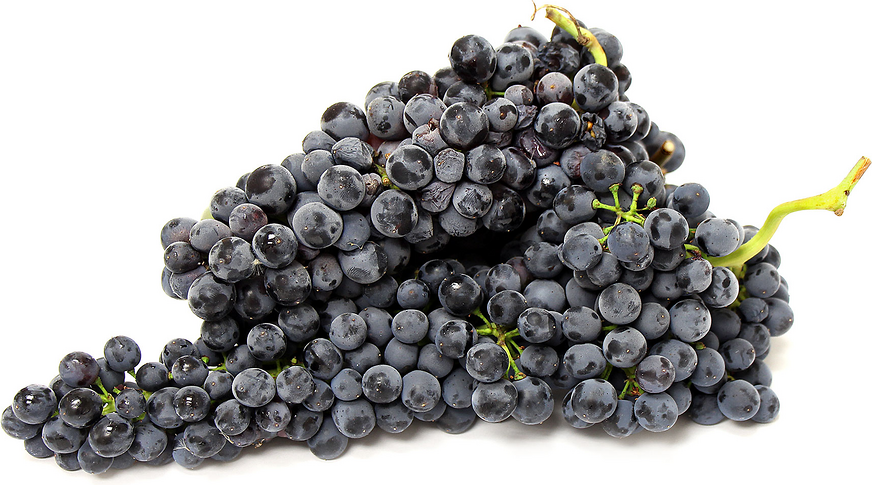 Pinot Noir Grapes
Inventory, lb : 0
Description/Taste

Pinot Noir grapes are small to medium in size and are round to oval in shape, growing in large dense clusters that are similar in shape to pine cones. The skin is very thin and has a smooth, dark blue-purple hue. The flesh is translucent, juicy, and may contain some seeds. Pinot Noir grapes have a sweet aroma with a flavor that offers a slight spice with cherry and strawberry-like tones. The flavor of Pinot Noir grapes will also vary depending upon the terrior, which is the natural environment the grape is grown in including the composition of the soil, climate, and topography.


Seasons/Availability

Pinot Noir grapes are available mid-summer and have an extremely short season.


Current Facts

Pinot Noir grapes, botanically classified as Vitis vinifera, are one of the oldest cultivated varieties of grape found in the genus Vitis and are the signature grape of the Burgundy wine region in France. Its name is derived from French and roughly translates to black pine, and this name may be in reference to the pine cone-shape of the grape bunches. Pinot Noir grapes are notorious for being difficult to grow due to their tightly packed clusters and thin skin, but they are still the tenth most widely cultivated grape in the world and are highly valued in the winemaking industry. Pinot Noir grapes produce wine that is regarded by many as one of the food-friendliest of all wines. It also is the main grape that is used in champagne and sparkling wine. Pinot Noir wine is so popular today that it has its own holiday called International Pinot Noir Day on August 18th.


Nutritional Value

Pinot Noir grapes contain anthocyanins, resveratrol, carotenoids, tannins, and terpenes.


Applications

Pinot Noir grapes are used almost exclusively in wine production. The grapes are harvested when young, between 18-20 Brix to make champagne or sparkling white wine. For red wine, Pinot Noir grapes are allowed to mature and sweeten longer on the vine until they reach at least 23.5 Brix. Pinot Noir grapes offer a complex flavor sought after by winemakers but are difficult to grow, a characteristic which makes them less ideal for commercial table grape production. They can also occasionally be found at farmer markets in wine growing regions when in season and are sold as table grapes. Unlike many wine grapes, the skin of Pinot Noir grapes is thin enough to eat as a snacking grape. The grapes can also be used to make a non-alcoholic grape juice or preserved to make jams and jellies. Pinot Noir grapes pair well with Asian cuisines such as sushi or sashimi, mushrooms, and meats such as braised ham, duck, chicken, pork, veal, and fish such as salmon. They will keep up to a week when stored in the refrigerator.


Ethnic/Cultural Info

The Pinot Noir grape elevated the region of Burgundy, France in status as a wine region. The wines, often referred to as red burgundy, were touted by the powerful Dukes of Burgundy, specifically Roger Dion, as the finest in the world and demand for both the grapes and the wine spread throughout Europe. The Pinot Noir grape's status has stood the test of time, and it has gone on to be the first grape and fruit to have its genome mapped. The mapping revealed that the Pinot Noir grape has around 30,000 genes (more than even the human genome) with over one hundred of these genes dedicated to creating flavor. Researchers hope that in the future this knowledge will help them create new, intricately flavored wine grapes.


Geography/History

Pinot Noir grapes are believed to be native to Europe and mention of a thin-skinned grape thought by some historians to be an early version of Pinot Noir can be found in written works of early Roman authors that date back to the first millennium BCE. Today France leads the way in Pinot Noir grape production with Germany and the United States coming in a close second. It can also be found growing in some degree of volume in Italy, Moldova, Australia, New Zealand, Switzerland, South Africa, Chile, and Argentina.