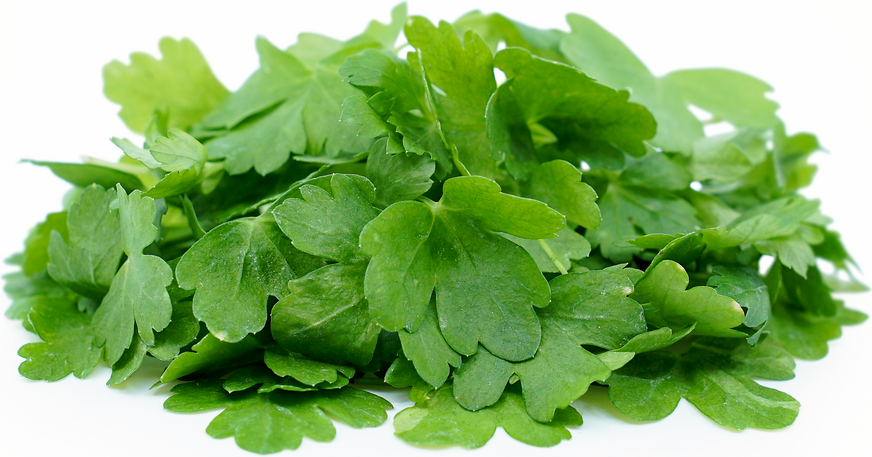 Petite® Curled Parsley
Inventory, 4 oz : 0
This item was last sold on : 01/06/23
Description/Taste

Petite® Parsley Curled is comprised of small lobed leaves attached to slender, pale green stems. The bright green leaves are smooth, broad, and flat with curved, even edges and bear a crisp, succulent, and tender consistency. The leaves also showcase a few faint veins across the surface, connecting into the thin stems, contributing a slightly chewy and crunchy mouthfeel. Petite® Parsley Curled has a fresh grassy aroma and a bright, herbal, and vegetal taste with subtle green nuances and a slight bitterness.


Seasons/Availability

Petite® Parsley Curled is available year-round.


Current Facts

Petite® Parsley Curled is a part of a specialty line of boutique edible greens grown by Fresh Origins Farm in San Diego, California. Petite® Greens are more mature versions of microgreens, harvested approximately 4 to 6 weeks after sowing, and Fresh Origins currently grows over 125 varieties in-house. Petite® Parsley Curled is an innovative creation developed for chefs to reimagine the way parsley is used in culinary dishes. The sturdy, crisp greens are a slightly smaller, more tender version of the classic, full-grown herb belonging to the Apiaceae family, and chefs value Petite® Parsley Curled for its ability to add color, flavor, height, and texture to culinary preparations. Incorporating fresh Petite® Parsley Curled modernizes dishes and captures a bright, vegetal, and herbaceous flavoring in a compact, edible green to create a lasting impression. In addition to Petite® Parsley Curled, Fresh Origins also offers Micro Parsley Curled as a younger, more delicate alternative.


Nutritional Value

Petite® Parsley Curled has not been studied for its nutritional properties. Like mature parsley leaves, Petite® Parsley Curled is a source of vitamin C to strengthen the immune system, vitamin E to protect the cells against free radical damage, vitamin K to assist in faster wound healing, and vitamin A to maintain healthy organ functioning. The greens also provide minerals such as copper, potassium, and iron, and other nutrients such as folate. It is important to note that the vitamins and minerals are found primarily within the leaves and not in the stems of the greens. Growing conditions also significantly impact the nutritional content, and Fresh Origins cultivates their Petite® Greens in a natural setting, an ideal climate for healthy, optimal greens.


Applications

Petite® Parsley Curled has a fresh, bright flavoring incorporated as a natural element in savory preparations. The greens are commonly utilized raw and placed as a garnish, but they can also be combined into dishes for a more robust flavoring. Petite® Parsley Curled can be blended into salad dressings, marinades, and cream-based sauces or used as a decorative garnish on appetizer plates and charcuterie platters. The greens also act as an elevated pop of color, floated on soups and curries, torn to flavor stocks, used as a delicate bed of greens for seafood, or piled on roasted meats. In addition to its aesthetic appeal, Petite® Parsley Curled contributes a grassy, vegetal flavoring when mixed into potato dishes, grilled vegetables, coleslaws, salads, and side dishes such as tabbouleh. The greens can also be blended into smoothies and dips as a refreshing addition. Petite® Parsley Curled pairs well with herbs such as bay leaves, thyme, tarragon, chervil, and chives, aromatics including garlic and onions, meats such as pork, beef, poultry, turkey, and lamb, and seafood including shrimp, white fish, lobster, clams, and crab. Petite® Greens will generally keep up to seven days when stored unwashed, dry, and in a container in the refrigerator. It is recommended to use Petite® Parsley Curled immediately for the best quality and flavor.


Ethnic/Cultural Info

Parsley is native to the Mediterranean and has been growing wild for thousands of years. Despite the herb's immense popularity in the modern-day, parsley was once associated with funerals and death. In Ancient Greece, parsley leaves were scattered across corpses to help mask odors, and the leaves were also woven into garlands and wreaths for graves. Experts attribute the herb's association with death due to the Greek legend of Archemorus, also known as Opheltes. Archemorus was a child prophesized never to touch the ground before learning how to walk; otherwise, he would be killed. One day, the child's nurse set Opheltes down to help give directions to the Seven Against Thebes. Once the child was left unattended, he was killed by a snake, fulfilling the prophecy. Legend has it that the Seven Against Thebes buried the child and saw his death as an omen, renaming Opheltes to Archemorus, which means "the forerunner of death." The Nemean games were also established as a funerary game in the child's honor. Parsley later became a part of a common phrase throughout Greece to describe someone who is about to pass away. The expression "the man's in need of parsley" alluded to the subjects looming demise and further illustrated the herb's close ties to death. Later in Ancient Rome, parsley was remarketed as a method to freshen breath and absorb smells. The herb was worn in crowns on the head, placed across dinner tables, and eventually put on plates to mask odors, one of the first records of the greens being used as a culinary garnish.


Geography/History

Petite® Parsley Curled was developed at Fresh Origins Farm in San Diego, California, the leading American producer of naturally grown microgreens and Petite® Greens since the mid-1990s. Fresh Origins has been using the mild Southern California climate year-round to produce robust, healthy, and flavorful Petite® Greens, and the farm closely partners with chefs to create innovative varieties with unique flavorings. Fresh Origins also has the highest level third-party-audited food safety program and is a certified member of the California Leafy Greens Marketing Agreement, which follows science-based food safety practices to promote transparency and honesty in production. Today Petite® Parsley Curled can be found through select distribution partners of Fresh Origins across the United States, including Specialty Produce, and are also found through partners in Canada.