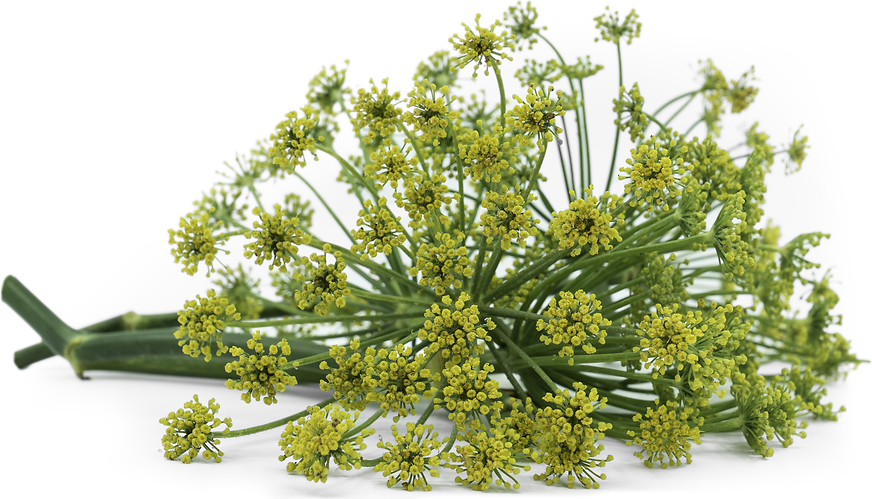 Fennel Blossom
Inventory, 50 ct : 3.00
This item was last sold on : 11/30/23
Description/Taste
Fennel blossoms are clusters of bright yellow, petite, and round flowers with petals that curl toward the center. The blossoms form at the very top of thin, short, green stems and spread out in umbels containing 20 to 50 tiny flowers measuring 5 to 15 centimeters in diameter. Each Fennel blossom contains light yellow to golden brown pollen. Fennel blossoms have an aromatic anise scent and an herbaceous and bright flavor with intense notes of anise, honey, and lemon.
Seasons/Availability
Fennel blossoms are available year-round, with a peak season in the summer.
Current Facts
Fennel blossoms are harvested from a perennial herb, botanically a part of the Foeniculum genus. The plants send up 4 to 5 smooth and hollow stalks with delicate, feathery linear foliage that eventually bears medium to large clusters of bright yellow tiny flowers known as umbels. If left to fruit, these flowers will develop into small and green oval-shaped seeds. There are many cultivated and wild species of fennel, and depending on the variety, it may be grown for the seeds, flowers, or bulbous stem. While all varieties of fennel will develop flowers, Foeniculum vulgare, or herb fennel, is most likely to be found with flowers as it is left to seed instead of being harvested early as a vegetable. Fennel belongs to the Apiaceae family and is closely related to carrots, dill, and parsley. Fennel grows wild throughout the countryside of Italy and along coastal regions of the Mediterranean and California, covering the land in a blanket of fragrant yellow flowers in the summer. Foraging for these delicious blossoms and their pollen is prevalent in these regions, even though the plant is considered invasive in some areas. Fennel blossoms are popular in farmer's markets and in dishes and cocktails during June and July, when they are most fragrant and flavorful. Along with their culinary use, the flowers are used in perfumes, cosmetics, and dyes.
Nutritional Value
Fennel blossoms have yet to be extensively studied for their nutritional content. The flowers, like the rest of the plant, are believed to contain antioxidant and anti-inflammatory properties and are a source of vitamin C to strengthen the immune system. The flowers may also provide some minerals, including potassium, manganese, iron, and calcium. Fennel seeds have often been used as an appetite suppressant and as an aperitif to aid in digestion, however, it is unclear if the flowers contain these same traits. The seeds were also used as a contraceptive and may induce miscarriage in early pregnancy.
Applications
Fennel blossoms are best suited as an edible accent, added at the end of preparation to maintain the flower's delicate shape and texture. The entire umbel is edible and can be used whole, or the petals can be separated and spread throughout the dish. The flowers can be sprinkled over salads, floated over soups and curries, placed into fruit bowls, or used as a garnish for sushi and sashimi. They can also be used to decorate seafood dishes such as calamari, ceviche, and shrimp cocktail or strategically placed on pasta, seafood, sandwiches, appetizers, and other main plates for added aesthetic. In addition to using the flowers in their natural form, the blooms can be frozen into ice cubes to add color and flavor to a beverage, mixed into butter sweetened with honey to create a vibrant compound butter, or pressed into cookies and soft cheeses for an elevated appearance. A liqueur is regularly made from the aromatic blossoms and pairs particularly well with drinks featuring rhubarb, strawberries, or bitter orange. Fennel blossoms can also accent desserts such as cakes, scones, sorbets, crème brulee, cookies, puddings, and tarts, or they can be used to garnish drinks. The flowers are also commonly battered and deep-fried as a fritter. Fennel blossoms pair well with meats such as pork, turkey, lamb, and poultry, seafood including fish, squid, scallops, and shrimp, herbs such as mint, thyme, and oregano, citruses including lemons and oranges, and springtime vegetables including asparagus, peas, green garlic, and fava beans. The flowers should remain attached to the stem for as long as possible and used within 48 hours for the best quality.
Ethnic/Cultural Info
Fennel has been used for thousands of years as a digestive aid. Seeds from the plant were enjoyed following rich meals, often added to bread and desserts or eaten straight out of hand. Tonics, syrups, and liqueurs were also made from the plant's seeds, leaves, and flowers to be enjoyed at the end of dinner parties and events. Hundreds of years later, the lingering perception of the plant's medicinal properties led the medical community to create alcoholic infusions used to treat a variety of ailments. In Italy, the production of wild fennel liqueur, known as finocchietto, is a family tradition. The flowers and fresh seeds are collected throughout the countryside each summer, infused into liquor, and mixed with simple syrup to create a highly aromatic, sweet, and intensely licorice-flavored light green liqueur stored in the freezer and enjoyed as an after-dinner drink. Each family makes their own recipe for the liqueur that is passed down through generations and is often given as a gift at dinner parties. In California and other parts of the United States, the popularity of fennel-infused liqueurs and spirits rose at the beginning of the 21st century, with restaurants and bars creating their own fennel flower syrups, and liqueurs to add to craft cocktails featuring whiskeys, gins, and vodkas. The combinations capture the bright summertime flavor of the herb, creating intoxicating experiences for their patrons. Fennel flowers are used not only in the infusions but are also featured as garnishes to these cocktails, giving a punchy visual with a bold flavor and aroma.
Geography/History
Fennel is native to the Mediterranean region of Europe and Asia minor. The plant has been cultivated since 1,000 BCE and can be found growing throughout Asia, India, Australia, Europe, and North America. The seeds were popular in Ancient Egypt, Greece, and Rome for culinary and medical purposes. Charlemagne spread fennel to many parts of Europe in the 8th century. Seeds of the plant were also distributed in the opposite direction along the Silk Road into China and as return cargo along spice routes into Indonesia and India. As maritime trade developed, Fennel seeds were exported to Africa along trade routes for gold and salt. By the 14th century, Fennel had become a staple crop in England and most of Europe. The vegetable was introduced to America by Italian fisherman who brought the seeds with them along the coast of California, Oregon, and Washington. In the present day, Fennel grows wild throughout California and Oregon, where it is considered naturalized and invasive. Fennel blossoms can be foraged in these areas in the summer months, and they can be found at farmer's markets and in specialty markets during this time.
Featured Restaurants
Restaurants currently purchasing this product as an ingredient for their menu.
Recipe Ideas
Recipes that include Fennel Blossom. One

is easiest, three is harder.