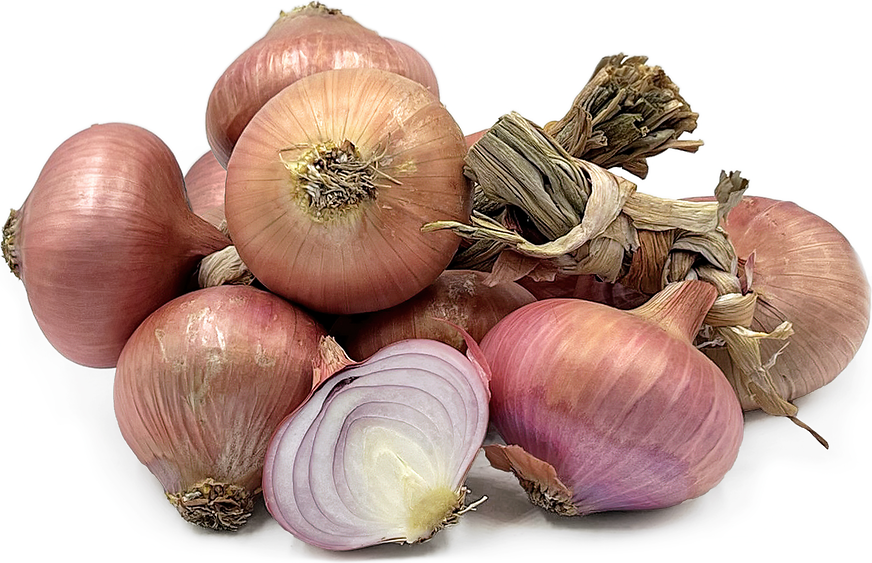 Ramata di Montoro Onions
Inventory, lb : 0
Description/Taste

Ramata di Montoro onions are a small to medium-sized varietal, often sold in braided bunches with multiple bulbs. Each bulb has a globular to flattened, squat shape and is covered in several papery, protective copper skin layers. The smooth, flaky skin has a slight sheen and is easily removed, revealing layers of fibrous flesh. The surface of each flesh layer showcases violet to red-pink tones, giving the onion a white and pigmented ringed appearance. The flesh is primarily white, except for the edges, becoming solid white at the center, and is dense, compact, and drier than other onion varieties, creating a concentrated flavor and texture. Ramata di Montoro onions are crisp with a succulent crunch and emit a fragrant, lingering aroma when sliced. The onions have a delicate, sweet, and clean flavor that stands up to raw and cooked preparations.


Seasons/Availability

Ramata di Montoro onions are available year-round, with a peak season in the summer through early fall.


Current Facts

Ramata di Montoro onions, botanically classified as Allium cepa, are a rare Italian variety belonging to the Amaryllidaceae family. The heirloom onions are only grown in the Campania region of Italy and are sought after by chefs and home cooks for their unique coloring, aroma, sweet taste, and extended storage capabilities. Ramata di Montoro onions are also known as Montoro onions, Copper Montoro onions, Coppery Onion, Ramata Montoro, and Cipolla Ramata di Montoro. The name Ramata di Montoro onions translates from Italian to mean "Copper Onions of Montoro," and the copper descriptor was given to honor the variety's shiny brown, coppery skin. Ramata di Montoro onions take over one year to harvest and are planted by hand using traditional techniques. Onion seedlings are sown in the fall in double lines and are left for several months to mature. Once ready for harvest, the bulbs are pulled, allowed to dry in the field, and are later braided into a bunch using the dried leaves. This is a traditional and famous preservation technique, often used as an identifiable characteristic in markets. Ramata di Montoro onions can be eaten raw or cooked and have a distinctly sweet aroma and flavor unique to the variety.


Nutritional Value

Ramata di Montoro onions are a source of vitamin C to strengthen the immune system, fiber to regulate the digestive tract, and vitamin A to maintain healthy organ functioning. The onions also provide vitamin E to protect the cells from free radical damage, B vitamins to distribute nutrients throughout the body, potassium to balance fluid levels, and other nutrients, including calcium, manganese, copper, and phosphorus. In natural remedies of Italy, Ramata di Montoro onions are consumed raw to improve gastrointestinal operations, fight against sickness, and help reduce cholesterol levels.


Applications

Ramata di Montoro onions have a perfumed aroma and sweet taste suited for fresh and cooked preparations. The variety is commonly used raw as its flavor is delicate and not overpowering, chopped into salads, slaws, spreads, and dips, or incorporated into dressings. Ramata di Montoro onions also have dense, fibrous flesh, allowing them to be cooked for extended periods, maintaining their signature fragrance. The onions are traditionally simmered in soups and stews, cooked into gratins, stirred into sauces, or used to flavor jams. Ramata di Montoro onions can also be thinly sliced and used as a pizza topping, grilled as an accompaniment to meat, stuffed into peppers, or candied and baked into panettone, a type of sweet bread filled with nuts, fruits, and spices, served during the holiday season. Ramata di Montoro onions pair well with fruits such as apples, oranges, apricots, and cranberries, carrots, celery, zucchini, chile peppers, herbs such as coriander, basil, oregano, and parsley, seafood, and meats including beef, pork, poultry, turkey, and lamb. Whole, unpeeled Ramata di Montoro onions can be stored for up to nine months when braided into a bunch and hung in the air away from direct sunlight.


Ethnic/Cultural Info

In Italy, Ramata di Montoro onions are slowly cooked in the famous candele alla Genovese, a sauce made with cuts of meat such as lamb, beef, or pork, spices, wine, carrots, onions, and celery. Several legends surround this dish's creation, and recipes dating back to the 14th century are thought to be the foundations of the rich sauce. Some Italians believe the sauce was developed by a Genovese chef working in Naples, while others claim that the sauce was created in taverns along the Naples port, possibly by a sailor, merchant, or unnamed cook. Genovese sauce, also known as Genovese or Genoese ragu, is a thick braised sauce traditionally served in the Campania region of Italy, especially in Naples. Ramata di Montoro onions are also native to this region, and chefs specifically seek out this onion variety to slow cook in the sauce. The onions maintain their aromatic fragrance in the sauce and develop a tender texture to create a creamy consistency. The tomato-less sauce is also customarily prepared with candele, a long tubular pasta that captures the sauce in its center to create the perfect savory bite.


Geography/History

Ramata di Montoro onions are native to the municipality of Montoro, an area in the Avellino Province, situated beside the Salerno Province in the Campania region of southwestern Italy. The exact origin date of the variety is unknown, but Ramata di Montoro onions have been cultivated in the Irno Valley for centuries, thriving in the region's fertile volcanic soil and mild and sunny climate. The tomatoes are a specialty product of the region, declared a traditional Campania agri-food product of PAT since 2001. Ramata di Montoro onions are hand sown and harvested using traditional techniques that have been passed down for generations. The onions are also sold with a Collective Geographical Mark. This traceable code shows the entire lifespan of the onion, including where it was grown, production methods, who processed and transported it, and who is selling it. This provides quality protection over the onion variety and distinguishes the onion from other cultivars that may be sold in markets. Today Ramata di Montoro onions are a rare, specialty cultivar, sold domestically in local Italian markets and exported to countries in Europe. Ramata di Montoro onions are listed on Slow Food's Ark of Taste to raise awareness of the heirloom variety. The onions are being replaced with faster-growing commercial cultivars and are in danger of disappearing. Despite their limited availability, there is a coalition of Ramata di Montoro onion growers seeking to expand production by exporting the variety. Currently, Germany is the largest importer of Ramata di Montoro onions. The Ramata di Montoro onions featured in the photograph above were sourced from a produce market in Berlin, Germany.