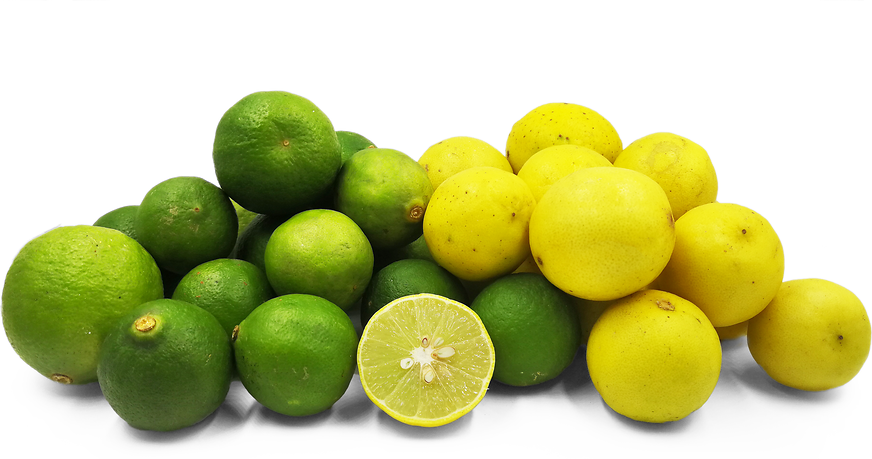 India Lemons
Inventory, lb : 0
Description/Taste

Indian lemons are small to medium-sized fruits, averaging 3 to 7 centimeters in diameter, and vary in appearance, depending on the variety, from round, oval, to oblong. The lemons typically have glossy, smooth, and thin flesh with a slightly bumpy texture due to the presence of prominent oil glands sunken into the rind. The skin is green when unripe, transitioning from variegated yellow-green hues to bright yellow when mature. Underneath the surface, the yellow-green flesh is divided into 12 to 13 segments by thin membranes, encasing several cream-colored seeds. The flesh is also aqueous, fibrous, and succulent, releasing a tangy, lemon-lime-like scent when sliced. Indian lemons, depending on the variety, are used in their green, variegated, or yellow stages. The lemon's green state will contain the most acidity, creating a sour, bitter, and tart flavor, while the yellow lemons will have a refreshing, sour, and subtly sweet taste.


Seasons/Availability

Indian lemons are available year-round.


Current Facts

Indian lemon, botanically classified as Citrus limon, is a general descriptor used to encompass several varieties of lemons produced in India belonging to the Rutaceae or citrus family. Lemons are grown in both southern and northern India, and in each region, there are specific varieties cultivated that are suited to the area's climate and culture. The term Indian lemon refers to indigenous lemon varieties such as the Nepali Oblong, Nepali Round, Rough lemons, and Assam lemons, and also refers to other lemon varieties commercially produced in India, including Lisbon, Genoa, Villafranca, Meyer, and Eureka lemons. The lemons featured in the photograph above are believed to be Nepali Round lemons, a variety primarily grown in southern India, valued for its acidic juice. The term lemon is also interchangeably used with lime in India. It is common to harvest or buy Indian lemons when they are green and unripe, appearing like a lime, and lime varieties in India can also turn yellow when mature, resembling a lemon. There is no distinction in Indian recipes between limes and lemons, and the Hindi word for lemon, nimbu, is also used for limes. Indian lemons are traditionally used to balance heat in savory dishes, add a tangy essence to sauces and side dishes, or provide refreshing elements to beverages.


Nutritional Value

Indian lemons are an excellent source of fiber to stimulate the digestive tract and vitamin C to strengthen the immune system, boost collagen production within the skin, and reduce inflammation. The fruits are also a good source of potassium, copper, vitamin B6, calcium, magnesium, and iron. The sour taste in lemons is derived from citric acid, a compound in the lemon juice that is acidic. In addition to vitamins and minerals, Indian lemons are used in traditional Ayurvedic medicine as a digestive aid. They are believed to have antibacterial properties and can also be used as a remedy for sore throats.


Applications

Indian lemons have an acidic, sour, and tart nature well suited as a flavoring for culinary dishes and beverages. The juice is traditionally used to balance the heat in spicy dishes, especially curries, and is used in the popular Mumbai street food bhelpuri, a mixture of puffed rice, spices, chutney, potatoes, and other aromatics. In Southern India, the most famous lemon juice preparation is chitranna, also known as lemon rice. Chitranna uses lemon juice and turmeric to impart a pale-yellow hue to the rice and is combined with chile peppers, spices, and fried nuts to create a rich, tangy, and savory dish. Indian lemons are also customarily served in a beverage known as nimbu pani or shikanji, a lemonade variation. This sweet and sour beverage is a favorite refreshing drink on hot days, and the juice is sometimes frozen into popsicles as a summer treat. Beyond solely using the juice, Indian lemons can be utilized for their zest for sauces, dressings, and garnishes, or the small lemons can be used whole, pickled in nimboo ka achar. Pickled lemons in India are a mixture of sliced lemon, salt, pepper, chiles, and carom seeds left to ferment in a jar for several weeks before consuming as a sour, tangy condiment. Indian lemons pair well with herbs such as lavender, mint, cilantro, basil, and lemongrass, aromatics such as garlic, onion, ginger, and fennel, white wine, sesame, curry leaf, turmeric, and fruits such as strawberry and cucumber. Whole, unwashed Indian lemons will keep up to two weeks when stored in a plastic bag in the refrigerator's crisper drawer.


Ethnic/Cultural Info

Lemons are deeply intertwined into India's spiritual, medicinal, and culinary traditions. Lemon juice has been used in Hindu temples as an act of purification, squeezing fresh juice over symbols of deities, and the juice is also commonly used in dishes given as prasadam or offerings to Krishna. Prasadam is derived from Sanskrit and roughly translates to mean "mercy," implying the food dishes presented as prasadam will receive blessings and mercy from Krishna, a famous god in the Hindu religion. In Hindu teachings, all types of food contain karma, infused into the food by the farmer, seller, the process of growing the ingredients, and the method of making the food. Once the food is consumed, the karma will be absorbed into the consumer's body. When Hindus prepare foods for prasadam, they create a clean vegetarian dish made with love and devotion out of respect for Krishna. The dishes are offered to Krishna at the temples, and once they have been provided, they believe Krishna blesses the prasadam with spiritual energy and removes bad karma from the food. Blessed prasadam is considered a clean and sacred food to Hindus, and one of the most popular prasadam dishes in southern India is lemon rice. Outside of temples, lemons act as a shield against Alakshmi, the goddess of poverty and misfortune. Alakshmi is the older sister to Lakshmi, the goddess of prosperity and fortune, and legend has it that she wanders around towns looking for food. Hindu businesses traditionally string Indian lemons with seven green chiles outside of their doorways as a guard against Alakshmi. The goddess loves spicy and sour foods, and it is believed she will be full after devouring the lemons and chiles, preventing her from entering the business and leaving it alone to prosper.


Geography/History

Lemons are believed by experts to be descendants of ancient, wild species native to an area spanning across northeastern India, northern Myanmar, and western Yunnan in Asia. While much of their history is unknown, lemons were developed and naturally bred over time, creating many new varieties utilized for medicinal, culinary, and cleaning uses. Lemons have been cultivated in India for thousands of years, leading the country to become one of the largest producers of lemons worldwide in the modern-day. Indian lemons thrive in subtropical to tropical regions in northern and southern India and are primarily cultivated in Gujarat, Andhra Pradesh, Maharashtra, Karnataka, Tamil Nadu, Bihar, Rajasthan, and Assam. The lemons are commercially produced for domestic and export markets, and export markets include Thailand, Singapore, Nepal, the United Kingdom, Germany, and the Middle East. The Indian lemons featured in the photograph above were sourced from local produce stands nearby Tekka Center in the region of Little India in Singapore.